We can help you find the best VoIP providers phone for your business. To write this article, we compared features, pricing, support, and more from hundreds of VoIP providers to determine the industry's best VoIP providers for corporate communication.
Our goal is to help you comprehend a complicated topic so you can make an educated decision about which VoIP providers are best for your company. But what exactly do we mean when we say 'best'?
When it comes to picking a VoIP service provider, there's a lot to think about, and what's best for one organization may not be best for another. As a result, we've chosen the best VoIP providers based on their ease of use, helpful features, and suitability as a corporate phone system employing internet protocol.
We've produced suggestions based on a variety of scenarios and business sizes and sorts. Before you start looking for a VoIP service, make sure you know what you need, so read our article on how to choose a small business VoIP providers phone service first, or keep reading for some basic recommendations.
What Are the Best VoIP Providers?
Here's an overview of some of the best VoIP providers, along with their benefits, Prices, features, and other information.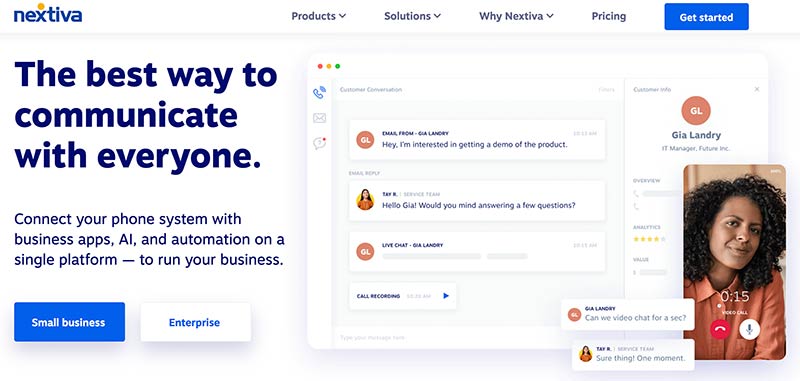 Nextiva is a cloud phone solution that is both simple and economical. They provide a robust cloud PBX with good audio quality. Nextiva provides all of the important characteristics of a robust VoIP service provider, whether you're at a desk, on your mobile device, wearing a headset, or on a conference call.
It's best for:
It is the best VoIP providers for businesses looking for a low-cost business phone service with features such as call recording, call forwarding, online fax, team messaging, and more.
Key Features:
Nextiva offers a variety of features, including:
Automate Customer Data: Organize all of your customer data in one place, including call information, account history, and notes.
Know your customer: It enables a deeper understanding of the customer by recording and sharing data across business channels, empowering teams to act appropriately.
Live Chat: This feature allows agents to interact with customers in real time, allowing them to resolve issues faster and increase overall business productivity.
Manage Customers: Easily keep track of all customer interactions so you don't lose track of the conversation.
Price:
Its VoIP options start at $18.95 per month per user and go up to $32.95 per month per user for businesses: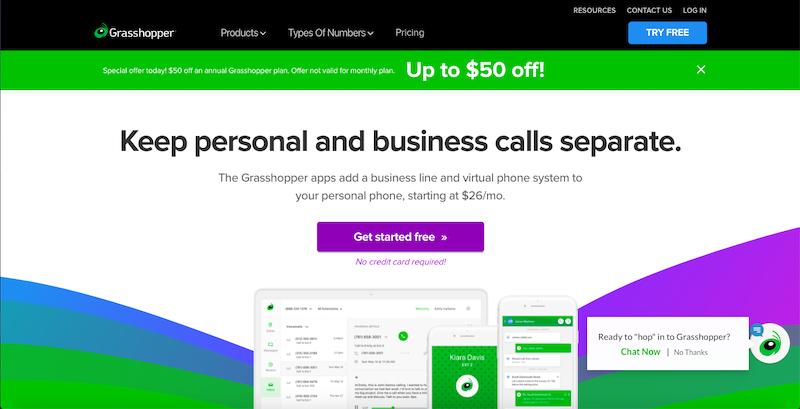 Grasshopper is undoubtedly the most well-known VoIP providers (and for good reason). It is best renowned for its strong and fully functional VoIP solution for mobile enterprises. It allows you to connect your personal phone to a virtual business phone system, and VoIP subscriptions start at about $26 per month. It also has great benefits for mobile firms and freelancers that don't require a landline for business communications.
It's best for:
Small firms and entrepreneurs on the go who want a professional business phone number routed to their cell phone, computer, or desk phone should use it.
Key Features:
Vanity Numbers: This provides customers with easy-to-remember vanity numbers to encourage them to call your company.
Robust Assistance: It offers 24/7 support from the United States to provide consistent service at all hours of the day, every day of the week.
Unified Messaging: Keep track of all important information by managing calls, texts, and emails from a single location.
Integration with Gmail: There's no need to invest in a corporate suite. For all the information, simply link your existing Gmail account.
Pricing:
Its paid options range from $26 to $80 per month.
A 7-day free trial is also available.
Start with a free 7-day trial of Grasshopper.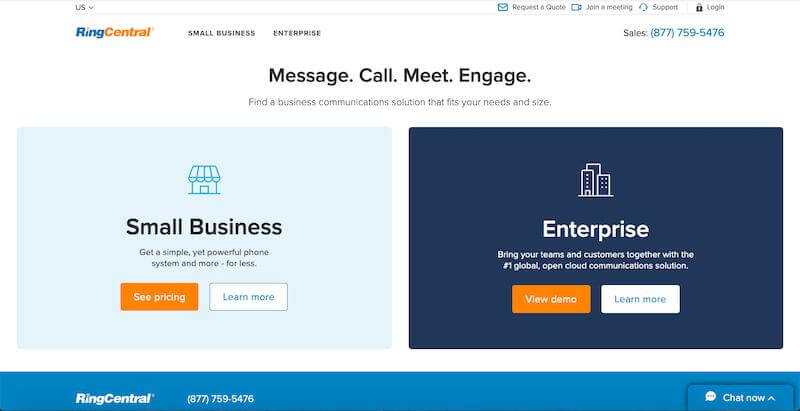 RingCentral is a dependable VoIP phone service provider with a strong network in the United States, Europe, and Asia. The VoIP providers phone system has a wide range of features to fulfill a variety of corporate needs.
It's best for:
RingCentral provides a full-featured VoIP solution that is ideal for small enterprises.
Key Features:
This feature makes it simple to trace changes made by any user in the phone system.
Searchable account history: It has a searchable account history that makes it simple to fix crucial concerns. Users can quickly log in to shared phones and share their own voicemail, extensions, greetings, and other features by using hot desking.
Video Conferencing: This is a video conferencing solution that can accommodate up to 500 individuals in a meeting.
Business MMS and SMS: By providing a professional text solution, it avoids the use of personal phones.
Pricing:
Its monthly subscriptions start at $19.99 per user and go up to $49.99 per user per month.
Start saving money with RingCentral and save up to 33%.
Ooma provides low-cost VoIP providers that are ideal for small and medium-sized enterprises as well as freelancers. Furthermore, it offers reliable, scalable solutions that can readily support your expanding organization.
It's best for:
Ooma Office is the best VoIP service for small businesses and freelancers.
Key Features:
Enhanced Call Blocking: Using automatic call blocking, you can prevent telemarketers and spammers from calling your business.
Multi-Ring: Use this function to have your VoIP phone and smartphone app ring at the same time so you don't miss a call.
Virtual Receptionist: Automate incoming call management by routing and messaging callers.
Mobile App: Its free mobile application allows you to manage all of your business calls while on the go.
Pricing:
It has two pricing plans: $19.95 per month per user and $24.95 per month per user.
CloudTalk enables you to quickly set up a virtual network phone system for your customer service and sales teams. The tried-and-true VoIP providers has served over a thousand customers and provides reliable VoIP solutions.
It's best for:
One of the most popular VoIP providers for call centres is CloudTalk.
Key Features:
Personalization: CloudTalk lets you build personalized greetings that you may use in a variety of scenarios.
Tags for internal phone numbers: Give staff a tag so that they and agents can find out what number the client has dialed and how to change their approach right away.
Call routing: to a specific agent based on their capabilities and skills required to meet the caller's criteria is known as skills-based routing.
CloudTalk's voice: recognizer effectively converts calls into text transcripts that can be easily searched in recordings.
Pricing:
It has a premium plan that starts at $15 per month and goes up to $35 per month payable annually.
Start using CloudTalk right away.
Dialpad Talk is a business phone service designed to help you have better conversations, regardless of where they take place. Staying in the loop at or away from your workplace has never been easier with reliable call quality, seamless messaging, and call transcriptions all powered by your existing devices. It was developed by the same team behind Google Voice.
It's best for:
Dialpad is one of the best commercial VoIP services for small and medium-sized enterprises, and it can easily be scaled up to enterprise levels.
Key Features:
Voice Intelligence: Uses artificial intelligence to automatically record action items, give real-time coaching, note-taking, sentiment analysis, and more so you can focus on the person on the other end of the line.
Analytical power: Get valuable information from your calls to help you make better business decisions.
Call quality that is consistent: On any device and from almost anywhere in the world, you can get high-definition, crystal-clear speech quality.
Integrations with native software: For a smooth experience, integrates with your existing tech stack (Salesforce, Zendesk, G Suite, Office 365, etc.).
Pricing:
Dialpad offers a 14-day free trial and subscription plans that start at $15 per month per user.
Bitrix24 provides a free VoIP providers that may be used for both outward and inbound conversations, as well as as an internal PBX system. The best thing is that it gives distant teams a simple way to communicate.
It's best for:
It's one of the best business VoIP solutions for small organizations and remote teams who need to stay in touch all the time.
Key Features:
CRM: Bitrix24 is the first free VoIP service that also provides its users with a full-featured CRM. As a result, you'll be able to quickly identify clients and link them with the appropriate team members.
Real-Time Communication: Use WebRTC, IM and Group Chat, Audio/Video calls, HD Video conferencing, Screen sharing, and PC/Mac/Linux/iOS/Android to communicate in real time.
Self-hosted editions: with source code access are also available. Using its Private Cloud Suite, you may have very safe and private communications with a lot of customization.
Pricing:
For a group of 12 people, Bitrix24 is free.
The monthly fees start at $17 and go up to $139.
Verizon is well-known in the United States for its mobile devices and fibre optic internet service. However, for end-to-end company telecommunication demands, it also provides a dependable and efficient VoIP business phone system.
It's best for:
For mid-sized organizations, Verizon VoIP is one of the best VoIP phone services.
Key Features:
Auto Attendant: Verizon provides a virtual receptionist service that allows consumers to choose who they want to speak with.
Hunt Group: This feature automatically transmits calls from one line to another until a client call is answered by someone in your business.
Shared Call Appearance: With this functionality, organizations can utilize numerous phones to make and receive calls on behalf of other users.
Visual Voicemail: On a smartphone or computer, it allows users to see who has left a voicemail without having to listen to it.
Pricing:
Paid plans start at $94 and go up to $249 per month.
SIP.US is a low-cost but dependable VoIP providers phone service for businesses. It can operate on any broadband connection and comes with unlimited connection plans. SIP.US is also simple to set up and use, so you can get started right away.
It's best for:
SIP.US is a dependable option for companies searching for a low-cost but reliable VoIP phone system solution.
Key Features:
It comes with a powerful and easy-to-use control panel that allows you to quickly manage your account, including purchasing and managing phone numbers, reviewing and exporting real-time call data records, and managing, adding, changing, or discontinuing service, as well as charging.
Tier-1 Redundant Network: It routes your company's SIP traffic through only Tier-1 upstream service providers for the best quality redundant network and voice experience.
DID Coverage: It provides a vast database of DID numbers from all around the United States, as well as fast number provisioning.

Own Bandwidth:

It allows organizations to choose the bandwidth supplier that best suits their needs, such as

Cable

, T-1, DSL, or Metro Ethernet.
Pricing:
It has a simple $24.95 per month pricing plan.
AVOXI provides a low-cost, high-quality virtual VoIP providers. Through a simple and web-based contact center, the program is capable of efficiently managing all of your business communications requirements.
It's best for:
For businesses looking for agility, flexibility, and cheap infrastructure expenses, cloud-based VoIP software is an excellent choice.
Key Features:
Automated Call Redistribution: Without causing any misunderstanding, your call will be sent to the most qualified agent. It can set up an unlimited number of call queues while also managing additional features such as queue callback, custom greetings, custom ring rules, and more.
WebRTC Softphone: It allows users to upgrade from a standard phone to the AVOXI Genius WebRTC soft-phone for improved sound clarity and stable connectivity.
Cloud IVR: Allows cloud IVR to assist callers in independently locating the best agent for their needs. It also facilitates the management of intros, IVR menus, and call routing choices, among other things.
Pricing:
The Genius Contact plan is $25, while the Genius Enterprise package is $50.
A free trial is also included.