With social distancing becoming the norm and many universities offering online courses, there are multiple online learning platforms to further your education from the comfort of your own home. They are referred to as massive open online courses (MOOCs), and they differ from paid Online Course in that they are free to take.
Instead of hosting files on your own server, courses are available in a marketplace where students can purchase them individually or as part of a subscription. Online learning platforms are advantageous for Online Course authors to use these websites to reach a wider range of potential students.
The disadvantage is that you will not earn as much money per sale and that there will be more competition in the market. Finally, I recommend that you sell courses through one of the suppliers listed above. If you're wanting to sign up for a platform to acquire new skills, here are my recommendations for the top online learning platforms.
Best Online Learning Platforms
If you're looking to sign up for some online learning platforms to improve your skills, here are my top picks.
In addition to having over 24 million students and 35,000 teachers, Udemy has an incredible 80,000+ Online Course on their platform. Creating a course begins with registering as a premium instructor, which is the first step. As soon as your account is approved, you may begin designing your courses without difficulty.
Make sure to keep in mind when generating your video content that the material must be at least 30 minutes in length and contain five lectures. Another advantage of putting your course on Udemy is that you can simply promote your course inside their platform, which is a huge plus.
To take advantage of their marketing tools, you can sign up for site-wide discounts, have your name included in their marketing emails, or become a member of their affiliate programme, which offers tiered revenue rates.
What is the price of Udemy?
It is completely free to use. Instructor coupons generate a 3% revenue share, students who find your course through organic search (SEO) generate a 50% revenue share, and transactions generated through sponsored search marketing generate a 75% revenue share.
Advantages
In the world of online courses, Udemy is one of the most popular platforms for professionals. It has several advantages, the first of which is that you have access to a big number of users. The 40 million users on Udemy are all potential students who will pay for your course if they like it. However, just because you're on their platform doesn't guarantee that you'll start making money right now. You must build a good marketing and sales strategy, just as you would for a new e-commerce company, book, or real estate agent, among other things.
It's all about getting your name out there in the first place. They contribute a significant portion of the revenue generated by tuition fees. You can take part in their marketing promotions if you choose. They have technology and assistance that is dependable.
Disadvantages
There is fierce competition with other golf courses in the area. In addition, there is fierce rivalry from other course publishing companies. Refunds and exchanges are accepted under certain conditions.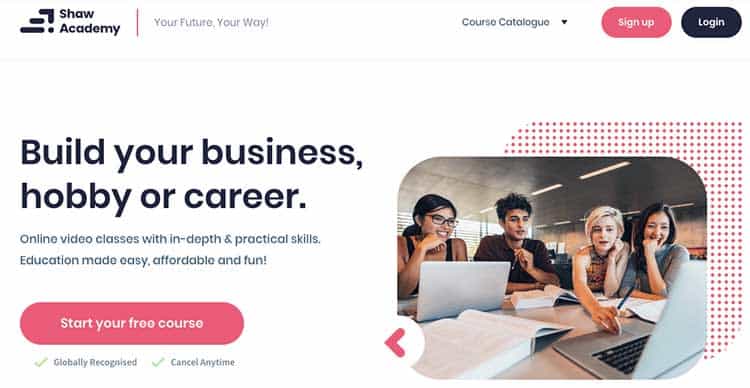 In addition to providing access to professional, accredited online courses, Shaw Academy also provides a variety of other services. Students who join up for Shaw Academy will get access to all of the long-form courses offered by the organization. Their courses can be divided into three categories: courses for enthusiasts, courses for professionals, and courses for entrepreneurs.
For example, in their "For Professionals" area, they provide a Digital Marketing Course that is internationally acclaimed. This course consists of 32 videos and should be completed in around 16 weeks on average.
What is the price of Shaw Academy?
For the first four weeks, all Online Learning Platforms are provided at no cost to participants. After that, you can continue your education by learning on a monthly plan. Monthly fees range from $49.99 to $60 per month, depending on the plan chosen.
Advantages
Their Online Learning Platforms are all internationally recognized, and they provide certifications to aid you in your professional development. The courses they provide are extremely in-depth if you're a working professional in the fields of digital marketing, project management, web development, Photoshop, and Microsoft Excel.
Entrepreneurs can also take advantage of useful classes in social media marketing, viral marketing, wedding planning, photography, and other related topics. Their courses are all asynchronous, meaning that you can complete them at your own pace. They also provide helpful support, as well as the opportunity to download class recordings so that you may watch them later when you are not connected to the internet.
Disadvantages
Despite the fact that they have a large number of excellent Online Learning Platforms, you may not be able to locate the correct one for you depending on your sector. They also don't offer as many hobby classes as platforms such as Skillshare, which is another disadvantage.
Skillshare is a large marketplace devoted to the provision of innovative education. Anything from graphic design and music production to fine art and culinary arts is covered in this course. They offer courses in more technical subjects such as data science, analytics, and e-commerce.
Currently, Skillshare has more than 5 million members and has given out more than $5 million in compensation to teachers. Each class is 20-60 minutes long and is split down into small lessons. There are also projects and a community discussion forum where students may communicate with one another.
Students can share their efforts and receive criticism from their peers during the open conversation, which is extremely valuable for their creative subjects. They may also assist premium members with production, course planning, and even the construction of online Learning Platforms in their New York-based production studio.
What is the cost of Skillshare?
It is completely free for the purpose of creating a quality Online Learning Platforms experience. Instructors are compensated with $10 for paid membership referrals, as well as monthly royalties for each minute of video seen.
Advantages
They have a vast user base of creators and businesses who use their services and products. If you have content that might be of interest to a creative audience, Skillshare is an excellent venue for getting your stuff discovered. Lessons in site design, email list building, photography, painting, personal branding, and other creative themes are the most sought-after by participants.
The classes are of high quality, which can be relied upon. They take great delight in providing professional and high-quality courses. They may assist you in developing an outline for your course based on the demands of their target audience, as well as in the production of your course.
Disadvantages
The earnings are distributed according to a royalty scheme. Between 30 and 50 percent of Skillshare's premium subscription revenue is allocated to a royalty pool for teachers on a monthly basis. The remainder of the funds are used for marketing and promotion of classes, as well as for platform support and day-to-day administration.
As long as you are a well-established teacher, this royalty scheme will work for you because the more minutes watched, the more income share you will receive. However, because of this, it is difficult for new instructors to get a substantial amount of remuneration while they are just getting started. Furthermore, students that watch at 2x speed only contribute half of the total minutes to the royalty pool.
LinkedIn Learning (formerly known as Lynda) is another online course marketplace that caters to business executives and other professionals. With over 1,000 business courses on topics such as project management, web development, and digital marketing, they are a wonderful resource for working professionals who want to keep their skills up to date while still in the workplace.
They also offer credentials that you can use to boost your LinkedIn profile, allowing you to demonstrate your experience while also expanding your online portfolio.
What is the cost of LinkedIn Learning?
Premium LinkedIn membership, which costs $29.99 per month or $24.00 per month if paid annually, is tied to the monthly charge structure. Try LinkedIn Learning today and receive a free month of membership.
This marketplace for educational resources is still in its infancy, but it believes in the democratization of education. Students of all colors, genders, and sociology-economic backgrounds are welcome to participate in their platform, which is "dedicated to making education accessible to all students."
They have more than 300 technical courses on coding and Online Learning Platforms, more than 50,000 students, and more than 27,545 minutes of video content on their site (and counting). Treehouse has partnered with a number of well-known companies, including Microsoft, IBM Watson, Amazon Alexa, and Google Developers, among others.
What is the price of Treehouse?
Treehouse offers a free trial period of seven days. After that, you can choose between three different plans that range in price from $25 to $199 a month. Their base package includes on-demand classes, interactive practice sessions, and access to their online community. They also offer a premium plan with additional features.
Bonuses, beta features, and downloadable content are all available to you with the professional plan. Also available is their Techdegree plan, which allows you to build a real portfolio while also learning job-ready skills. This plan includes individualized feedback, real-time coaching, and a customized Online Learning Platforms.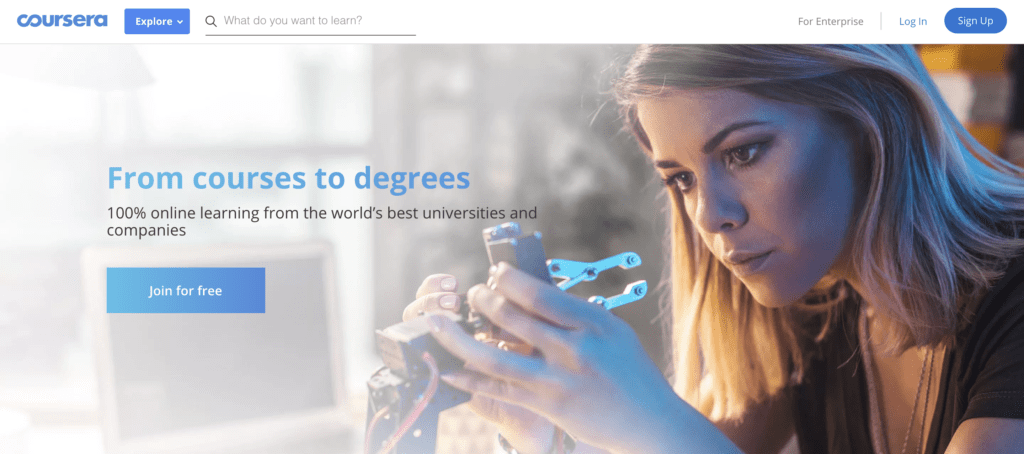 Coursera is a professional online course marketplace that offers virtual classes from some of the greatest organizations and universities in the world, including the University of Michigan, Duke, and Stanford.
Coursera courses, which take roughly 4-6 weeks to complete and feature video lectures, peer-reviewed assignments, and community discussion forums, are taught by instructors from some of the world's leading universities.
What is the price of Coursera ?
Coursera is free to join, but you must be logged in to see individual course cost information. Coursera's class offerings are divided into three categories.  Subscriptions to the main courses range from $29 to $99 per month. These take about 4-6 weeks to complete, and you'll get an electronic course certificate when you're done.
Specialization courses range in price from $39 to $79 per month and are designed to help you master a certain career skill. With hands-on projects and more challenging training, you confront actual business difficulties in these online courses. Online degree programmers are available.
You can even enroll in university-recognized Online Learning Platforms if you want a more advanced education. These take 1-3 years to finish and range in price from $15 to $25,000.
Conclusion
The first step in Online Learning Platforms is to think about your final goal and move backwards from there. How will your students' lives be transformed and how will they be changed once they've completed your course? You should begin your course by imagining the changes your pupils will go through.
Hang out in forums relating to your topic and look at the top questions people are asking to get a sense of what your students want to learn. Create a clearly defined learning route that will bring your learner to a predefined objective once you've figured out how to tackle their challenges.
Make their outcomes obvious at each point of the course journey. Your students will be more interested and active with your information if you create a learning route with a clear end goal.