In the wake of the COVID-19 outbreak, the subject has gained even more attention. While government entities imposed social distancing restrictions, many businesses turned to remote labor as a way to remain competitive. Millions of employees are now working from the comfort of their own homes.
Of course, employers continue to expect their employees to perform well in this environment, regardless of the circumstances. They now have to deal with the additional responsibilities of housework and homeschooling their children.
The majority of employees no longer work on corporate property, and even during business hours, the barriers between work and home continue to blur. So, where does this leave the issue of employee monitoring in this scenario?
Is it possible for businesses to maintain accountability among their remote employees? What methods will they use to do this? keylogger is included in employee monitoring software.
Businesses must deal with liabilities such as data theft, moonlighting during business hours, detrimental communications, and criminal activity such as drug misuse or embezzlement, among other things. With all of the risks associated with remote work, it's likely that you've pondered getting into the keylogger business.
Some organizations have stipulations in their recruitment contracts that require their employees to install a keylogger on their computers before they can start working. Using this piece of software, you can keep track of your keystrokes, emails, websites visited, and even passwords.
As of this writing, no federal legislation has been enacted that would make the use of keyloggers in the workplace — even in a discrete manner — unconstitutional. In other words, so long as a firm installs keyloggers for the goal of trespassing and abuse, the activity is totally lawful.
10 Keylogger Monitoring Software 2023
In this article, we will discuss the top ten keylogger list that you can use for free. If you're still on the fence about whether or not you should spend money on a premium keylogger, we offer a solution that will satisfy your needs. You can test out the top free keylogger software to determine if the product is something that can add value to your company's operations and operations processes in general.
Spyrix
http://www.spyrix.com/en/spyrix-free-keylogger.php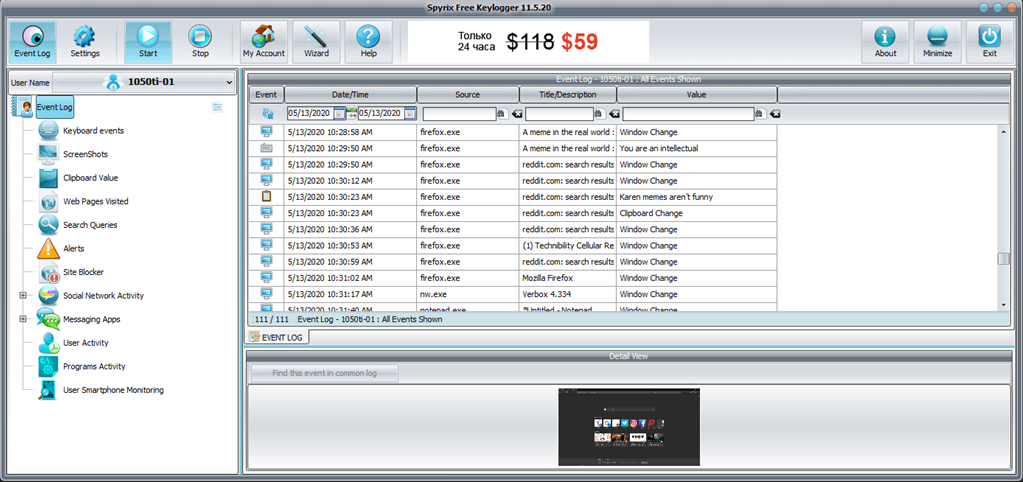 Spyrix is one of the most effective keyloggers available for both Mac and Windows. While it has gained popularity among overbearing parents, it can also be employed in professional settings such as corporations. This keylogger is capable of supporting 12 languages, making it an excellent choice for businesses with employees who are dispersed all over the world.
Spyrix will watch and record every installed application and program that is running on the device once it has been installed. It can capture screenshots of currently open windows, as well as removable drives and peripherals such as printers. It also keeps track of keystrokes and clipboard contents.
Pros:
It is completely free to download and use.
It can be used in conjunction with Internet filtering technologies.
It has a hidden monitoring option.
Cons:
Anti-virus software may identify it as harmful

software

Social

networks

and instant message monitoring are only available as part of the monthly subscription.
Iwantsoft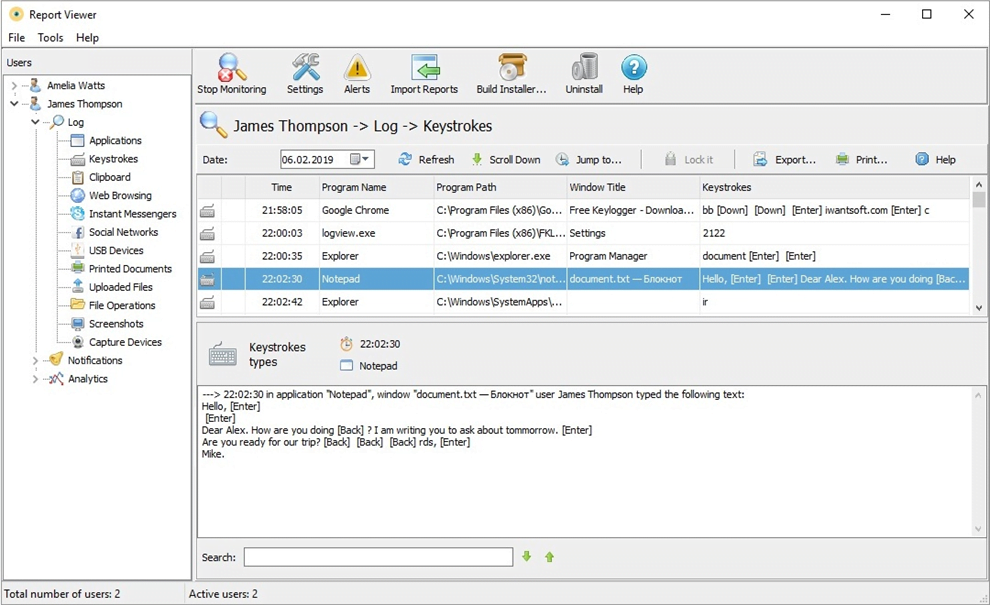 The free keylogger Iwantsoft isn't the best free keylogger for Mac, but it is an effective tool for monitoring activity on Windows computers. It has the ability to record keystrokes, program actions, online surfing history, and even content copied to the clipboard. Furthermore, it has the ability to ban websites and programs that aren't needed.
Pros:
It has a user-friendly interface.
The ability to generate detailed reports
It also has the ability to work in stealth mode.
Cons:
It is not possible to record mouse screen clicks
it is also not possible to follow file operations or content copied from documents.
Best Free Keylogger
Note: No official website.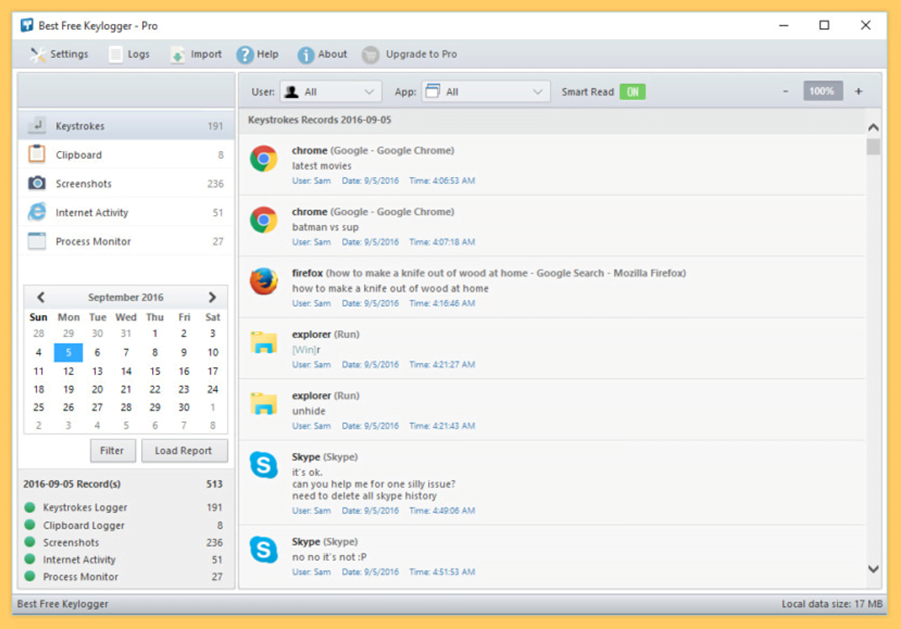 The Best Free Keylogger is an easy-to-use monitoring tool that is accessible in both free and paid editions. It can be downloaded here. It can be used to record keystrokes, clipboard content, run applications, and Internet activities, among other things. Furthermore, you have the ability to remotely remove the logs that have been recorded.
Pros:
Installation is password-protected.
The UI is user-friendly.
Cons:
There is a limit to the number of screenshots that may be taken every day.
premium tech support and invisible mode are only available in the subscription edition.
Ardamax
https://www.ardamax.com/free-keylogger/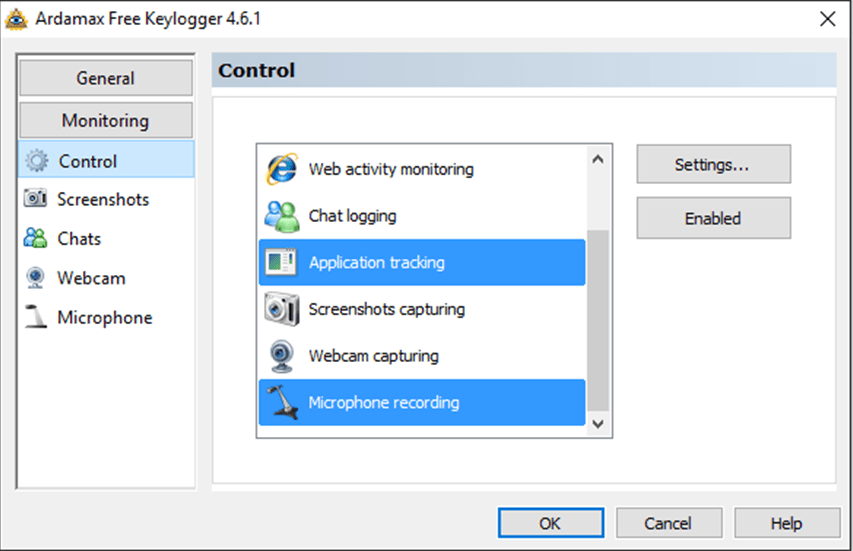 Ardamax is yet another remote keylogger that is free to use and has a simple UI. Capture images, record audio, record keystrokes, and clipboard contents, and even track the use of apps and websites with this tool. Even while it doesn't follow emails or attachments or download files, it can still capture keystrokes and web URLs, according to the company. It has the ability to run invisibly, but managers also have the option of making it visible on the devices of their employees.
Pros:
It is possible to record mouse click activity.
It is simple to install while maintaining good performance.
It supports more than 20 different languages.
Cons:
There is no built-in report generating that is complex.
Actual Keylogger
https://www.actualkeylogger.com/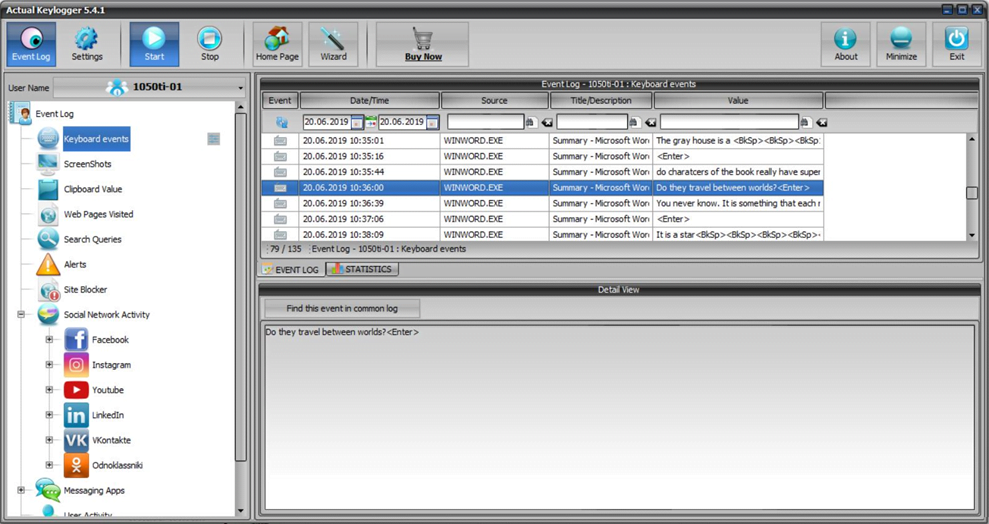 The Actual Keylogger's user interface is not significantly different from the interfaces of other similar products. The events are also displayed on the dashboard, along with their accompanying description and timestamp. Monitoring messaging apps and social networking sites can be configured separately in the tool's configuration settings. What's more, Actual Keylogger allows administrators to create a website blacklist, which can include categories such as gaming and adult websites, as well as shopping and social media sites, among others.
Pros:
Available in 12 languages. Tracks system inactive time It allows for clandestine operations.
Cons:
It is not possible to track file activity
It is also not possible to stop certain programs.
it is not possible to record mouse screen clicks.
BlackBox Security Monitor Express
Note: No official website.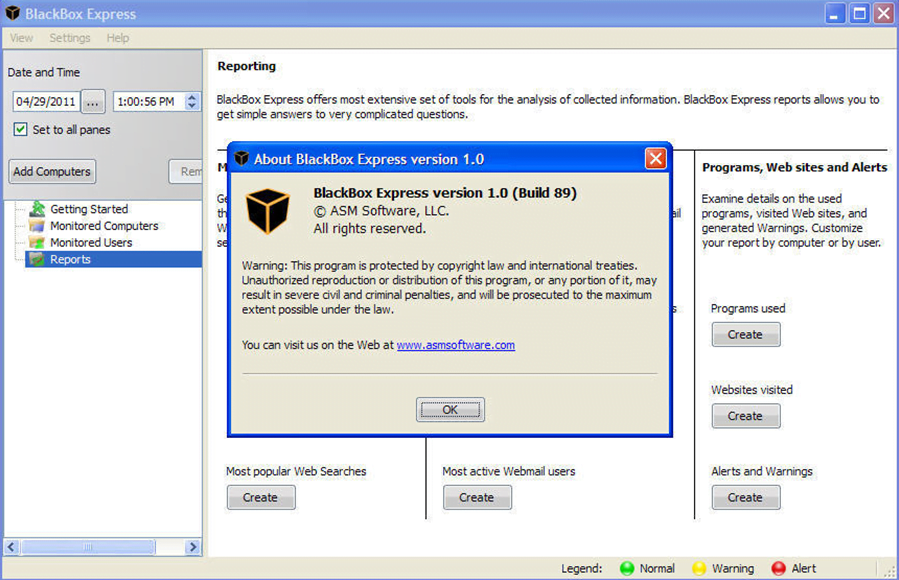 BlackBox Security Monitor Express is a powerful tool for monitoring activities and app usage in real time. It also has the ability to record keystrokes and take screenshots. This tool can be quite useful if you need to keep track of all of the emails that a user sends and receives.
Pros:
Configurable warnings and alarms
It can monitor all network activity.
It can be used for network security.
Cons:
There is no shortcut key for launching the tool.
Revealer Keylogger
Note: No official website.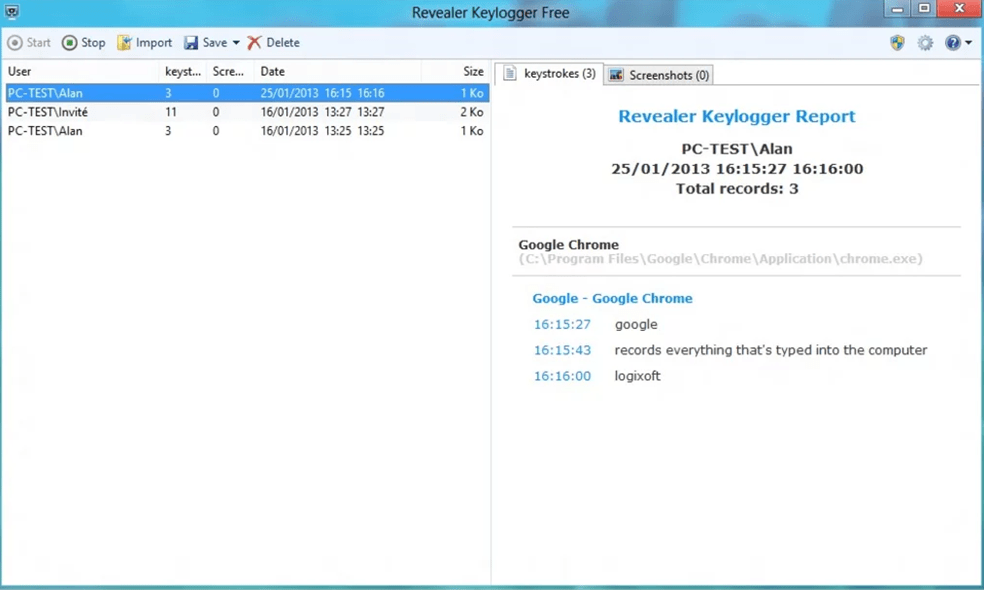 In addition to supporting different languages and providing password security, Revealer Keylogger is one of the most effective Mac keyloggers available.
Furthermore, it is also compatible with devices running the Windows operating system. It enables you to customize the tool's launch options and even allows you to execute it with elevated capabilities if necessary. It has the ability to record keystrokes as well as track the applications and programs that are being used.
Pros:
Simple to use interface All active features are fully functional in the free version.
Cons:
The majority of functionality, including screenshot capturing, is only available in the paid version.
The features available in the free version are overly simplistic.
Kickidler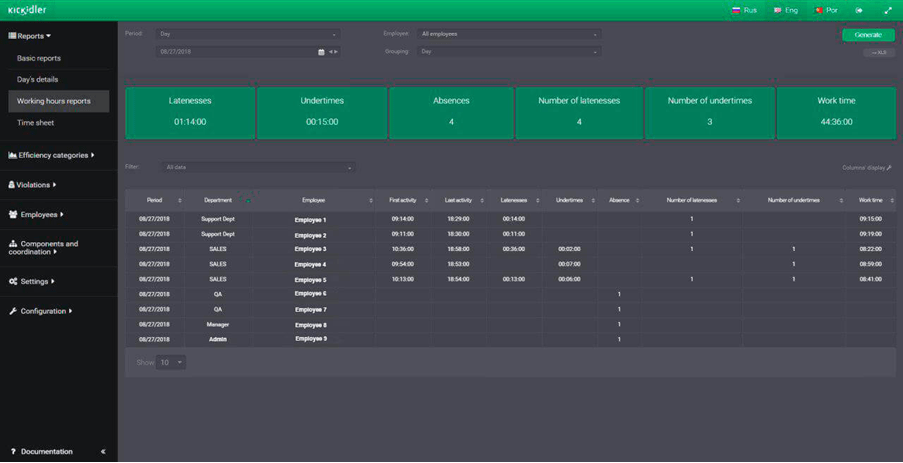 Kickidler is available for free to teams with a maximum of six remote employees or less. The fact that this technology may be accessed from anywhere is a huge plus. Consequently, if you observe any strange keystrokes or activity on the user's device, you can take control of the device to prevent further damage.
Pros:
It doesn't interfere with antivirus software; it is simple to set up and administer.
It provides excellent integration.
Cons:
There are no traffic or email monitoring options available.
The most recent software update was released in 2014.
Refog
https://www.refog.com/free-keylogger.html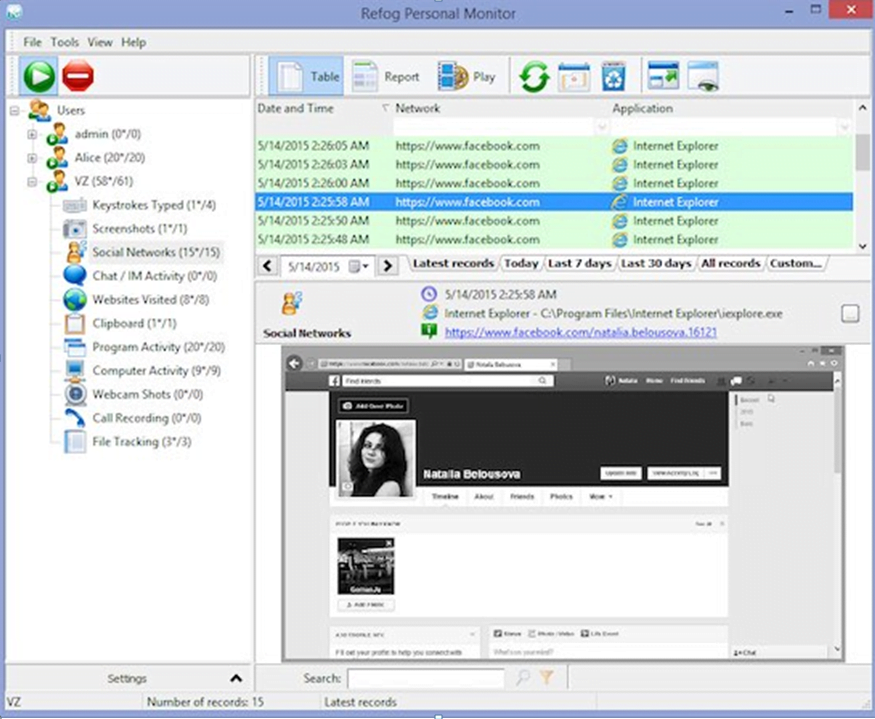 Refog does not necessitate the use of complex technical knowledge. This remote keylogger for beginners is the best because of its user-friendly interface. It is possible to collect information such as web surfing history and even typed text using this program. On social media sites, web pages, and even in chats, it collects the keystrokes made by the user. Throughout the process, it displays the date and time of the visitor use. To make things even better, Refog can keep track of all of your actions and file activity, including anything you copy, paste, or delete.
Pros:
It has the ability to record a large number of actions and a user-friendly interface.
the ability to examine recorded activities remotely in real-time, and accurate time monitoring.
Cons:
There are no remote reports available with the free version.
Real Free Keylogger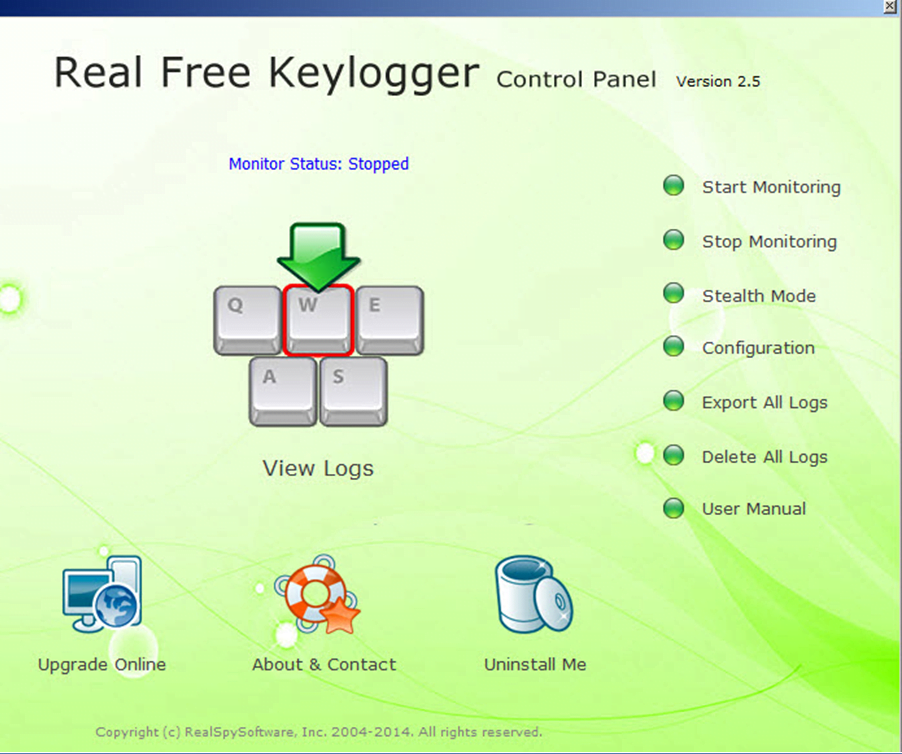 The ability of the Real Free Keylogger to capture all keystrokes is one of its most compelling selling points. Unlike other tools that have a selective tracking capability, this keylogger will record all of the activities that you require it to record. Furthermore, managers can create a password that will allow them to access and read the logs only when they have the password.
Pros:
It is possible to record all keystrokes.
It has a highly straightforward design that makes navigating simple.
Cons:
Stealth mode is only accessible in the premium version.
It does not have the extensive features that other keyloggers offer.
It is legal to use keyloggers; but, is it ethical?
The ability to legally monitor the activities of employees is a very powerful instrument. The best keylogger software, like any other weapon, is only as effective as the motivations of the person who employs it. In terms of legal ownership and control, firms have the power to determine how many hours their employees spend at work. When surveillance and monitoring are overdone, however, they can have a negative impact on staff morale and productivity.
Visited 1 times, 1 visit(s) today