Are you looking for the best Email Marketing services in 2021? Price, dependability, technical support, template designs, ease-of-use, deliver-ability, integrations, and any additional features you require should all be considered when deciding on the best email marketing software. The best Email Marketing services should make it simple to create emails, segment your mailing list, customize your messages, and check analytics results, among other things.
And, most significantly, they should be delivered to users' primary inboxes. Email marketing is ultimately about delivering the correct message to the right person at the appropriate moment. In this post, I've mentioned and ranked the best email marketing services providers to assist you in the following areas:
Choose the best option for email marketing services and software you based on your requirements. You will save the most money. Here are my recommendations for the best email marketing services and software to experiment with this year:
10 Best Email Marketing Services & Software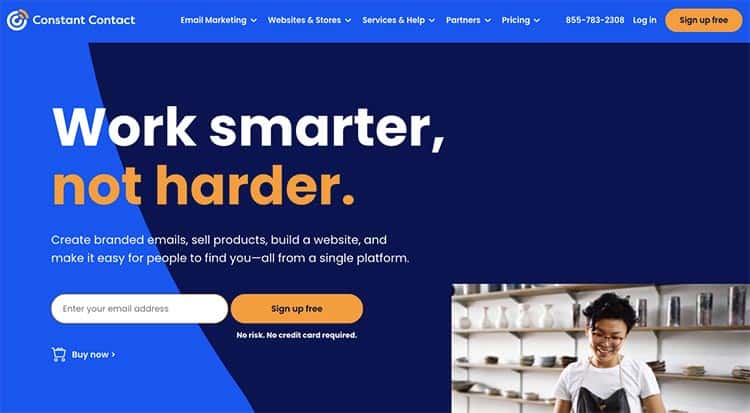 Constant Contact has been in the Email Marketing services business since 1995, and the name "Contant Contact" was first used in 2004 to refer to the company. As of 2015, they were a member of the Endurance International Group, which also includes companies such as Bluehost, HostGator, and Domain.com as well as other web hosts.
According to the company's website, its ultimate purpose is to assist small businesses in navigating the promise, power, and potential of the internet. Their platform includes more than 100 modern, mobile-optimized templates to engage and convert customers, real-time reporting and analytics, and extras like coupons, polls, and events to further enhance the customer experience.
Another one of their most distinguishing characteristics is event administration, which includes the capability of managing invitations, registrations, and tickets:
Depending on how many email contacts you have in your database, Constant Contact's price is tier-based.
Their subscription plans start at $18/month for up to 500 contacts and may be upgraded to unlimited contacts.
Their drip campaigns are simple to use and uncomplicated to navigate through.
The ability to generate simple sequences is available, but not the ability to combine conditions or utilize elaborate filtering.
In the end, if you're searching for specialized capabilities such as event management while simultaneously needing high-quality email deliverability, Constant Contact is the best option for you.
This year, they are my second-best choice for email service providers.
This is a fantastic tool. Depending on the end user's Email Marketing services, email subject lines, preview text, and the message itself might all seem extremely different. Your emails will look excellent in any mailbox thanks to these previews. HubSpot's personalization is another strength.
You personalize text using common merge tags like the recipient's first name, just like with normal tools. HubSpot takes it to the next level. You can also customize material for a user based on their device, list segment, and geographic area. You may also A/B test your subject lines and content to ensure that your email open and click rates are as high as possible.
Then, when you're ready, you may utilize their Smart Send feature to send and publish your email. This tool allows you to change the time of your send to increase engagement. Another advantage of HubSpot is that it consistently sends emails to users' inboxes.
They have a healthy 99 percent email deliverability rate.These large figures are a result of good domain validation settings with DKIM and SPF records, as well as the ability to preview and test emails thoroughly. HubSpot is at the top of my list since their email marketing platform is simply one part of their overall offering.
Their Marketing Hub Starter Package provides the true value. Email marketing is included in this entire marketing platform, as well as everything else you need to align your marketing and sales efforts:
CRM with a lot of features
Sequences that are automatically generated
Optimization for mobile devices
To make appointments, use your personal calendar.
Track email sending and automate outreach with Gmail extensions.
Lead generation, email marketing, and ad tracking are all examples of inbound marketing analytics.
Phone and email support is also available.
I recommend that you start for free and then upgrade to their $50/month Marketing Hub Starter Package.
Sendinblue is a simple Email Marketing services that offers a free plan with unlimited contacts and 300 daily email newsletter sends. If you're serious about developing your list, their Lite subscription, which starts at $20 per month and includes up to 40,000 monthly sends and no daily sending limit, is a good option.
Their free platform is designed to be simple to use. Its ease of use allows you to quickly design professional-looking templates, welcome emails, and website opt-in forms. Their free package also includes live chat and CRM, as well as one automation workflow for up to 2,000 contacts.
You may also see real-time data and generate reports with parameters like open rates, click-through rates, deliverability, and heat maps. You can get started with their Lite Plan for $20/month and save 10% on annual plans if you want advanced email marketing automation software on a budget.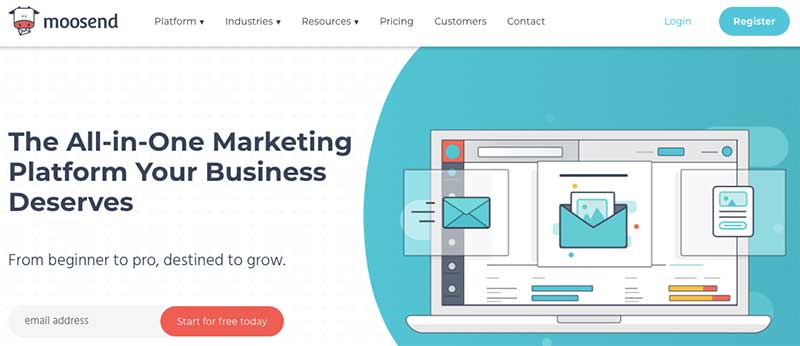 Moosend is an email automation platform that lets you grow your email list, customize your messages, and automate chores so you can focus on your customers. In their campaign builder, they feature intuitive drag-and-drop email templates. You can use this tool to add photos, text blocks, social symbols, and other elements to your emails.
They provide a big selection of responsive email templates with various layouts that look fantastic on desktop and mobile. The automated tools are where Moosend really shines. You can automate communications via upsells, customer interaction, and customer loyalty using their "Recipes" (pre-built automation templates).
Triggers, control steps, and actions are the three fundamental components of any automation. When you combine all three, you'll be able to filter email list segments and send sequences when certain events occur.
Other notable Moosend characteristics include:
Landing Page Builder Tools: Increase conversions by creating custom webpages with email sign-up forms.
Automation Workflows: These templates make it simple to customize communications and maintain customer relationships.
Custom Opt-In Forms: To allow visitors to subscribe to your email list, you may design and develop custom forms.
Customer Service: Phone help is included with each paid plan.
All custom enterprise Email Marketing services include an account manager and email, phone, and live chat support. They also feature video tutorials and a large knowledge base to help you with your problems. The cost of Moosend is determined by the number of email subscribers on your list.
For customers with fewer than 1,000 subscribers, they provide a free subscription that includes sign-up forms, reporting, and the option to send unlimited emails. Paid Moosend plans begin at $8 per month and rise in price as the number of subscribers increases.
Mailerlite is used by over 600,000 people all over the world. They provide tiered pricing depending on the size of your contact list. They're noted for their simple user interface, responsive email designs, and great phone and email service. 24 hours a day, 7 days a week.
If you have less than 1,000 email subscribers, you can start with their permanently free subscription. You can send up to 12,000 emails per month with this free service, which offers limited capabilities. When you upgrade to their $10/month plan, you get access to all of their marketing capabilities, including a landing page builder, integrated forms, and pop-ups.
With Mailerlite, you can track the results of your email marketing campaigns with a click map and data on opens by geography.
They have several fantastic characteristics, such as:
Customer service is available by chat and email 24 hours a day, 7 days a week. Ecommerce integrations with the top Email Marketing services with a strong and easy-to-use landing page builder
Surveys
A Gallery of Templates
Email deliverability is incredible.
GetResponse is an all-in-one web Email Marketing services that may help you expand your company. To aid your marketing efforts, they provide email marketing campaigns, high-converting landing sites, and webinar software. The major standout here is Autofunnel, a solution that comes with 30+ pre-built landing pages, email templates, and sales funnels.
You can also select your end goals. Lead generation, product sales, or webinar registrations: Autofunnel is the answer. They're designed to grow your email list and increase the conversion rates of your funnel:
On the negative, several of their 500 templates appear to be old, and its deliverability is in the middle of the pack when compared to others on this list.
GetResponse is a great email marketing solution for building automated sales funnels and landing sites.
Whether you have a subscription or free plan, Pabbly's Email Marketing services does not limit you in terms of capabilities like marketing automation, list management, autoresponder emails, subscriber segmentation, and so on.
You can send emails without incurring any further fees by integrating in-built or 50+ external SMTPs. You can improve your email marketing performance with Pabbly Email Marketing by launching campaigns and sending bulk emails to all of your potential users in just one click.
It also handles bounce and spam complaints for all major SMTP services, including Amazon SES, MailGun, Mandrill, SendGrid, and others. The cost of Pabbly Email Marketing is determined by the number of subscribers you have. Here's how annual savings compare to the other popular alternatives on this list.
Pabbly Email Marketing has a number of standout characteristics, including:
A 500+ email editor with drag-and-drop functionality.
Email templates that can be customised in any way.
Subscription forms are used to collect leads and business-related information.
To route emails through several suppliers, connect multiple SMTPs.
MX cleaning can help you increase open rates by deleting invalid emails from your mailing list.
Send a follow-up email to non-opened emails automatically.
Use autoresponders to communicate with users without having to connect with them manually. Send emails on a pre-determined timetable to keep subscribers engaged. Its email platform boasts a 99 percent delivery rate, and it's a good choice if you need someone to clean your list and keep your database up to date on a regular basis.
ConvertKit was created by and for creators. They are aware of their clients' requirements and are aware of what it takes to build an internet following. They have appealing forms, use automated emails to enhance conversion rates, and organize your subscribers to maximise interaction.
Bloggers who want to send personalized, text-based emails can use templates that seem like they came straight from Gmail. Additionally, they provide sophisticated email sequences based on both site and email behaviors.
They have some great list segmentation possibilities thanks to their powerful triggers:
To personalize your email funnels, you can utilize complex segmentation depending on different behaviors.
Your text emails appear professional and are free of distracting email branding.
Text-only emails will work best for your blog.
Don't stress about fancy design elements, your brand, or a slew of images. Despite the lack of a free plan, it's an excellent option for bloggers looking to construct high-converting sales funnels, with prices starting at $29/month and a 14-day free trial.
Omnisend takes email marketing to the next level by integrating it with social networking sites, text, push alerts, Whatsapp, and other channels. In more than 130 countries, its email marketing software is used by over 40,000 marketers. Omnisend allows e-commerce businesses to sent more relevant messages to visitors across platforms and devices.
They achieve this by analyzing user device preferences and website browsing activity depending on any custom triggers you create. To segment messages more effectively, you can track user behaviors on your website and then within welcome emails, abandoned cart emails, and post-purchase automation series. You can send 15,000 emails every month and use their automation tools for $16 per month with their Standard Plan.
Interactive signup forms and email elements, SMS notifications, and product suggestions are just a few examples. Users will receive notifications depending on the products they've interacted with on your site, which is great for e-commerce conversion rates. Omnisend is one of the greatest options for omnichannel brands looking to market to (and remarked to) their customers efficiently.
You can sign up for a free 14-day trial, and their monthly subscriptions start at $16.