With the best data migration software, managing data migration across different platforms is straightforward and effective. It can be a daunting experience if you've never done data migration before.
Whether you're a corporate or a home user, the notion of attempting to migrate all of your files and folders, let alone settings and applications, from one computer to another can be daunting, especially considering the risk of data loss if something goes wrong.
You'll want to pick the best data migration tool for the job, whether you're migrating data for security or backup purposes, or updating to the latest version of an operating system. Continue reading to learn how to choose the best data migration software if you're planning a new deployment or update and want to migrate your data.
You'll need the best data migration software for the job, whether you want to update your database or migrate to a new system, recover or backup your data. When selecting and reviewing the best data migration software in this guide, we took into account pricing, convenience of use, implementation timelines, support, and other considerations.
Let's get down to business using the best data migration software on the market.
Top 10 Best Data Migration Software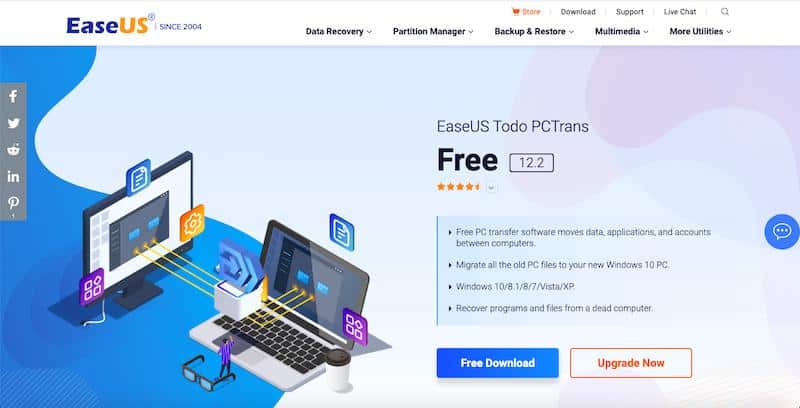 EaseUS Todo PCTrans is a best data migration software utility that allows you to transfer data, applications, and accounts from one computer to another. You can use the software to move outdated PC files between Windows PCs. When you use the tool, all of your programs are pre-installed and ready to use when you start up your new machine.
You won't have to worry about reinstalling the software because it works well the first time. When relocating your data, features like automated file transfer and free 24/7 transfer guidance come in helpful. Additionally, its interface with Microsoft Office, Adobe Software, Dropbox, and Auto CAD offers you access to a variety of extra functions.
Key Features:

Connect the two systems to the same LAN and use the network to transfer your files and apps.
Transfer all of your data to your computer's local drives.
You can create pictures of your data and programs and transfer them from your old PC to your new one instantly.
Another tool, Data Rescue-Recover, can assist you in transferring all of your information and programs from a dead computer to a new one.
It's useful if you need to transfer files from a non-bootable or malfunctioning computer.
Price:
The Pro edition costs $59.95 per year and includes a license for two PCs as well as the option to transfer an infinite number of apps.
Windows 10, 8.1, 8, 7, Vista, and XP are all supported by the software.
For $399 per year, they also offer a more advanced Technician Edition.
This gives you a technical license and allows you to transfer data between several servers. It's compatible with Windows 10, 8.1, 8, 7, Vista, XP, and Server 2019, 2016, 2012, 2008, and 2003.
Start transferring your files with EaseUS immediately for the best data migration software.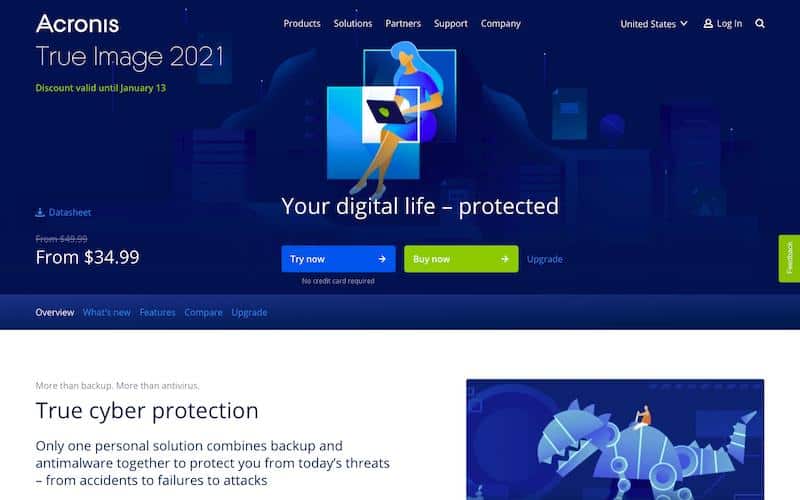 Acronis True Image is a best data migration software that allows you to secure, clone, and move your operating system, data, and files. It can back up a wide range of data and files, including the operating system, boot information, programs, photographs, and more.
The app works on Windows, macOS, Android, and iOS, and it keeps your files and data in the cloud for simple access and safety. With the full backup software, you receive built-in anti-malware functions, which eliminates the need to install and administer many applications.
Key Features:

It converts your computer's hard drive to a solid-state drive (SSD).
You can move data from one HDD to another, from one SSD to another, or between HDDs and SSDs.
Data transfer from iOS to Android and vice versa is possible.
The data is being replicated to a new hard drive.
Cloning and resizing partitions.
To safeguard your data and files, use end-to-end encryption.
One of its key features is Active Disk Learning.
It allows you to make a copy of your system, even if it is currently in use.
While migrating data, this eliminates the need to stop and restart the system.
Price:
There are three pricing options for Acronis True Image:
$39.99 per year is required.
$64.99 per year (advanced).
Premium membership costs $94.99 per year.
Disk cloning, full image to file-level backups, rapid recovery, universal restore, Ransomware protection, and other features are included in all plans.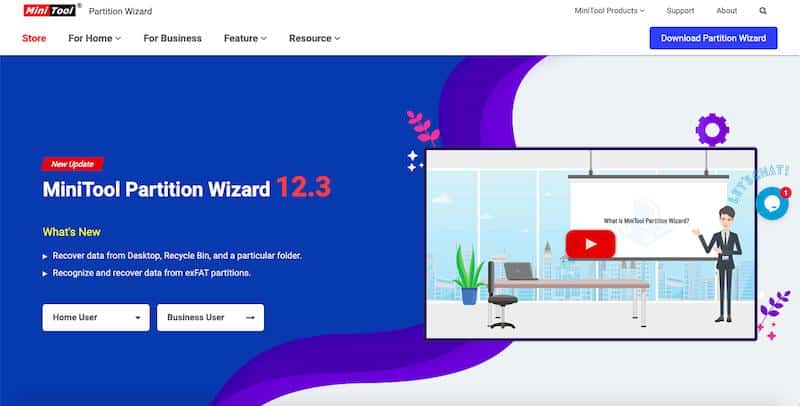 MiniTool Partition Wizard is a data migration software that aids in disc partitioning and migration of operating systems from hard drives to SSDs and vice versa. You may easily backup and migrate data by cloning the disc and partitioning the data. It also allows you to backup data or replace hard drives without having to reinstall other programs or operating systems.
MiniTool is compatible with all versions of Windows, starting with Windows XP and going up to Windows 10. FAT 12/16/32, exFAT, NTFS, and Ext2/3/4 are all compatible file systems.
Key Features:
Cloning a hard drive.
It keeps track of drives and partitions.
Data can be recovered from the desktop, the recycle bin, and a specific folder.
Disk conversion between MBR and GPT.
Without losing data, dynamic discs can be converted to basic discs.
Changing partitions from FAT32 to NTFS.
Move, create, delete, resize, and format drives, among other things.
MiniTool Partition Wizard also does data recovery and disc diagnosis in addition to disc cloning.
Partition Recovery Wizard and Data Recovery are two built-in tools for recovering lost data.
Price:
MiniTool Partition Wizard is available in both free and paid versions, making it ideal for both personal and business use.
The Pro plan starts at $129 for a single license.
Paragon Drive Copy Professional is data migration software that allows you to move your data or operating system from one disc to another. It also helps to organize your disc in order to facilitate data migration. It also allows you to generate backups, manage partitions, migrate data, and clone your operating system on a USB flash drive, among other things.
A variety of copy procedures are available in the utility, allowing you to easily copy an entire hard disc or a partition. In only a few minutes, you can copy or restore data from a 512-byte hard disc to a 4K hard disc. It also aids in the migration of any Windows OS from Windows 7 to Windows 10 and from HHD to SSD and vice versa.
Key Features:
It allows you to migrate your laptop to a new hard drive and clone your hard drive to a larger drive.
Use partitioning functions like divide and combine partitions to keep your disc clean and organized.
You can use the tool to redistribute spare space.
A data hard disc with a varied sector size can be copied or restored.
In only a few clicks, you can restore any sort of backup image.
It also aids in the opening of an existing backup, the protection of data, and the correction of booting issues if your Operating System fails to boot.
Price:
Each license of Paragon Drive Copy Professional costs $79.95.
Each license can be used on up to three computers.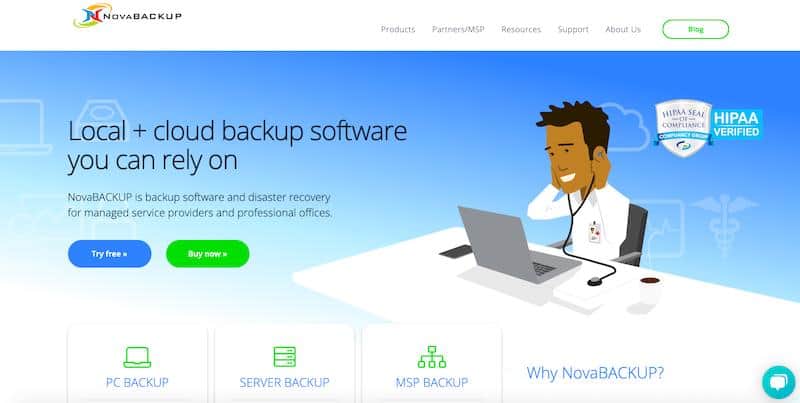 NovaBACKUP PC is a backup and migration software for Windows PCs that allows you to back up and migrate discs, operating systems, and individual files. Local and online backup storage are included with the tool. It's ideal for small businesses and IT professionals that don't want to deal with backups but still need to keep their data safe.
One of the most useful features is the Backup and Disaster Recovery Plan. It protects your PC from data loss and provides automatic data backup and recovery. It also assists you in complying with HIPAA, FERPA, GLBA, and other industry data protection regulations.
Key Features:
You may back up individual files or your entire PC hard drive using a variety of backup options, such as file or image backup.
You may also back up and move your photographs, videos, and information to local devices or use cloud storage services such as Dropbox.
The NovaBACKUP PC interface is compatible with screen readers and is user-friendly for the blind and deaf.
It offers four different types of encryption, including AES 256-bit and Blowfish encryption.
Encrypting a file at the greatest security level affects backup performance, so having a variety of encryption options is vital.
Fast Disaster Recovery: The Disaster Recovery function allows you to create an image backup of your whole PC, including everything from the operating system to your email settings and preferences.
Price:
NovaBACKUP PC offers three pricing options dependent on the number of computers you have.
For one Windows PC, the annual fee is $49.95.
$39.95 per year for a Windows PC.
$59.95 a year for five Windows PCs
All programs include free upgrades and a 30-day money-back guarantee.
DriveImage XML is a data migration software for imaging and backing up pictures, partitions, and logical drives. It supports data cloning, restoration, migration, and backup and is compatible with Windows XP and later versions. The utility creates images using Microsoft's Volume Shadow Services (VSS), which aids in the construction of secure backups. It enables you to recover photographs without having to restart your computer, and the backup files are saved as XML documents.
Key Features:
Image files are used to back up logical discs and partitions.
View and extract files when browsing photographs.
Make a backup plan that is automated.
Direct cloning from one drive to another.
Images can be restored to the same or another drive.
The software backs up and restores NTFS and FAT 12, 16, 32-formatted discs.
DriveImage XML is limited to creating and restoring backups in XML files and does not support partitioning drives.
DriveImage XML is available in two versions: Private Edition and Commercial Edition.
Price:
The following are the DriveImage XML Commercial version price plans:
$100 for a 5-user license of DriveImage XML.
$150 for a 10-user license of DriveImage XML.
A 20-user license for DriveImage XML costs $200.
A 50-user license for DriveImage XML costs $400.
$500 for a 100-user license of DriveImage XML.
All plans in the Commercial edition include a year of free updates and customer support.

DAEMON Tools Pro 8 is a disc emulation and imaging application that works with virtual drives and disc images. In addition, the tool may clone and transfer security technologies such as StarForce, Securom, Safedisc, Protect CD, and others. It retains the media in a specific order for the game or software to operate appropriately while migrating and imitating.
The data migration software or Explorer can mount a variety of image formats, such as.mds,.mdf,.ape, and others.You can also gather images from discs, build both dynamic and fixed virtual hard discs, and securely store critical data.
Key Features:
Data pictures and audio CDs can be edited or created.
Transfer, compress, and password-protect your data.
Restore a USB stick to its original state with this utility.
With RMPS, you can copy discs, make audio CDs, and burn files.
Make a raw disc image from the contents of a USB drive.
Manually change the copying method or mount with a double-click.
Virtual Burner is a program that simulates the process of burning a disc.
You can clone up to 32 DT, SCSI, and HD discs with four IDE devices.
Price:
There are four subscription levels available for DAEMON Tools Pro 8:
A month's plan costs $6.
$30 for a six-month subscription ($5.00 per month).
$48 for a 12-month plan ($4.00 each month)
Plan for the rest of your life: $20.21 (no time limits).
A 14-day free trial period is included with each package.
Clonezilla is a partition and disc imaging/cloning data migration software that aids in data migration and recovery. It also supports Windows, Linux, and macOS and can help with system deployment and bare metal backup. Clonezilla comes in three flavors: Clonezilla Live, Clonezilla Lite server, and Clonezilla SE.
Clonezilla Live is designed for individual system backup and recovery, whilst Clonezilla Lite Server and Clonezilla SE are designed for large-scale deployment. Clonezilla Lite Server and Clonezilla SE can both clone up to 40 systems at the same time.
Key Features:
Only utilized blocks on the hard disc are saved and restored.
All major file systems are supported, including ext2, f2fs, FAT32, NTFS, HFS+, and others.
The boot loader and Syslinux can be reinstalled.
The hard drive partition formats MBR and GPT are also supported.
Clonezilla encrypts images with encrypts, a cryptographic packed file system.
Under Linux, it supports LVM2 version 2.
For a big clone, use multicast.
Price:
It's a completely free and open-source program.
Laplink PCmover is a data migration utility that lets you transport all of your files, folders, applications, and even settings to your new machine. There's no need for license codes or old CDs because most apps are pre-installed and compatible with the new system. Even when the target system is of a different version, it restores and transfers data without leaving any data behind.
Key Features:
File migration is completed quickly.
Selectivity of user profiles.
USB 3.0 is supported.
feature to undo.
Free Transfer Assistance is included.
Price:
Laplink PCmover is available in a variety of pricing options:
Download – $59.95 Physical (+Cable)
Five-pack costs $59.95; a case costs $230.
$420 for a ten-pack
$900 for a 25-pack of
A 30-day money-back guarantee is included with each package.
Macrium Reflect 7 is a backup, disc imaging, and cloning data migration software that uses image-based data migration. The utility creates an exact clone of a hard disc or partitions that you can use to restore the disc. You can simply recover your files and folders in the event of a system breakdown. The data migration software works with local, network, and USB drives and can be used at home or in the office.
Key Features:
The following are some of its important features:
It comes pre-installed with viBoot 2, which assists in the virtualization of Macrium backup images.
It has a number of image reduction options.
The Macrium Reflect Changed Block Tracker (MRCBT) compresses differential or incremental images in less time.
It monitors changes to an NTFS-formatted volume in real time.
Price:
Macrium Reflect 7 is available in four editions for SQL and Exchange: Home Edition, Workstation, Server, and Server Plus.
A Macrium reseller or a third-party supplier can provide pricing.
Apart from that, a 30-day trial edition is available.