After smartphones arrived, the overall percentage of people using a webcam reduced by 20%. Well, it's just in theory but in reality, things would be a bit different. We do know that there are a lot of Windows users across the world compared to the number of Mac and Linux users. So, we'll take a look at the best webcam software for Windows.
Do you think that webcam recording isn't required nowadays? Just record it and save it in order to show the video to your next generation? Well, No! With the help of these best webcam software, you would be able to achieve a lot more things than you could ever imagine!
Best Webcam Software Windows 10
Therefore, we will look at the best webcam software for Windows PC.
Free2X Webcam Recorder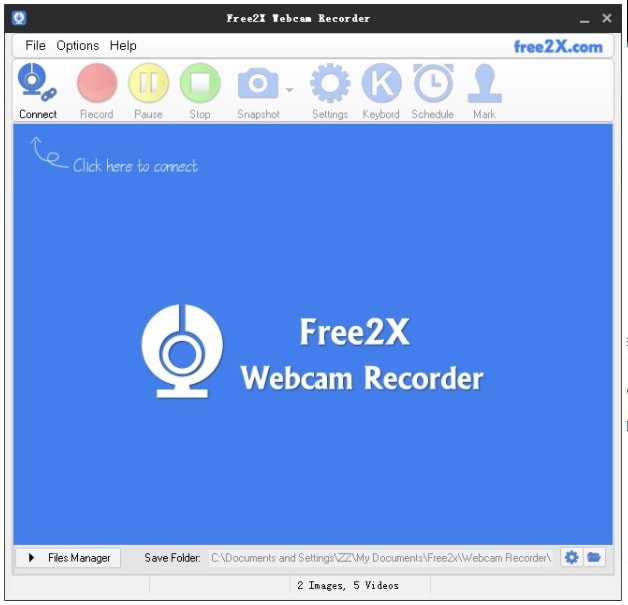 Webcam software such as this is one of the most widely used today, and it may be used for both educational and commercial reasons. Even though there aren't many capabilities available, you can record videos from virtually any webcam or digital video camera using this program. You have the option of saving the video in the AVI, MP4, or WMV file format, depending on your needs.
You can record audio from a microphone, a line-in, or speakers directly into the computer. You may make things more convenient by taking advantage of the ability to create custom keyboard shortcuts. It would be possible to record, take a snapshot, pause or stop the recording using keyboard shortcuts, which would save you time from having to move the pointer and click on an option (which is something that most people do!).
In addition to the ability to capture a screenshot and save it as a JPEG or BMP image file, Free2X also has the ability to record a video.
Features:
Tasks should be scheduled.
MP4, AVI, and WMV are just a few of the file formats available.
Snapshot functionality is included.
Custom Keyboard Shortcuts are available.
ManyCam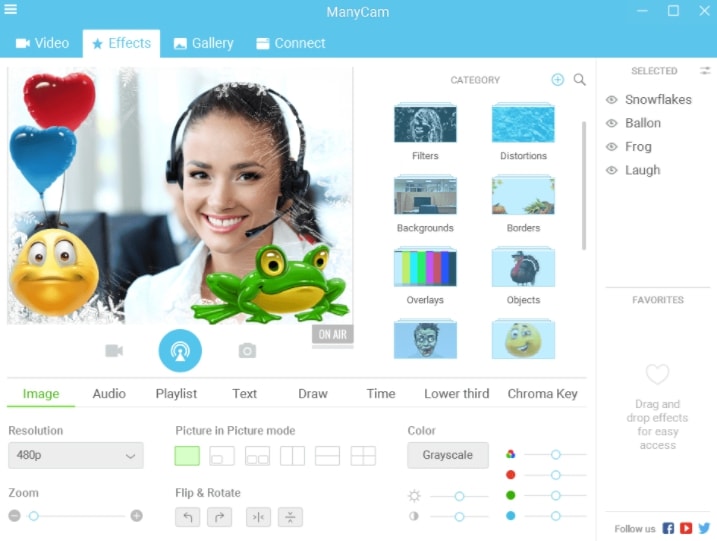 It is another free virtual webcam software program for Windows that is among the best available. It is, however, not widely used, despite the fact that it is effective. It attempts to go one step further than SplitCam by emulating the ability to use the same webcam across several applications, which would allow you to stream the same video source on multiple platforms simultaneously.
However, there is a catch: it allows you to "switch" between different video sources. Consequently, it does not allow both to occur at the same time, but it does provide the ability to switch the video source like a pro. Much to your delight, ManyCam enables dynamic backdrops, which means you may record movies with the Chroma Key technology applied to the background.
Although that is a little out of place technically, it accomplishes nearly the same thing and may be useful in making you appear from any place. In the case of being in the United Kingdom and wishing to appear as though you are seated somewhere else, this could be useful.
Features:
Face masks, filters, and effects in three dimensions.
The color green is used as a screen.
Streaming of video games.
Live Streaming features that are more advanced.
Yawcam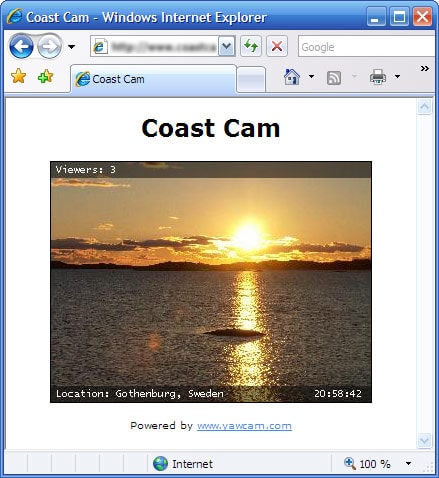 The developer has stated that he wishes to keep things as simple as possible and to provide only the features that are necessary for the majority of users. However, webcam software does not offer simultaneous streaming across different devices, nor does it have the ability to use a dynamic background image in your video.
When a user downloads webcam software, he or she is likely to overlook the resources available. As a result, if you have a Windows-based system that is slow and prone to lag, you should consider using Yawcam instead. There are no advanced capabilities, but it does support the most basic functions, such as video streaming and taking a snapshot.
Additional features include FTP uploads, time-lapse videos, and the ability to password-protect your content.
Features:
Snapshots of images
Detection of movement.
The Task Scheduler is a program that allows you to schedule tasks.
Free Webcam Recorder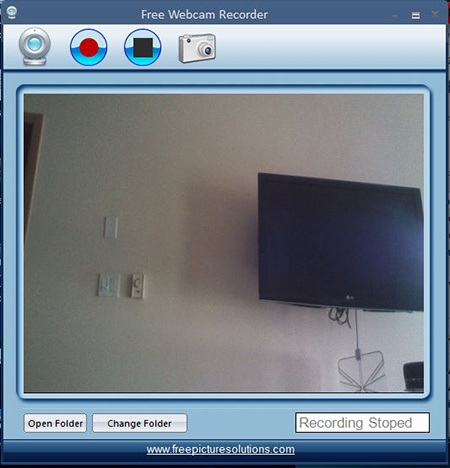 The user interface provided by Free Webcam Recorder is straightforward, but it is very responsive. As far as it is aware, it is compatible with practically all of the programs that you may be utilizing. It's important to remember that this software does not include any additional functionality. It is solely concerned with recording.
Furthermore, the company states that, in order to concentrate on the recording quality, they have not included any of the gimmicky features that are typically found in other software packages. It would, however, be dependent on your personal preferences and dislikes. If all you want to do is a record, this is a good option to consider trying out.
Features:
Snapshots of images
Webcam recording at the most basic level.
Apowersoft Screen Recorder

Apowersoft Screen Recorder is one of the easiest-to-use webcam recording programs available for download for free on the internet. Although the free edition has some limits, it also provides the option to upgrade to a paid version if you want access to premium features. When using the free version, you are limited to recording videos that are no longer than three minutes long. You will also see that the video you captured with your webcam has a watermark overlay applied to it.
In addition, the webcam software recorder allows you to plan recording activities according to your schedule, allowing you to automate the process. To remove the watermark, you will need to subscribe to a VIP account, which is available for a fee.
Features:
Various recording modes are available (Fullscreen, custom area, screen, web camera).
Several different output formats are supported (WMV, AVI, MP4, MOV, MKV, FLV, MPEG, VOB, WEBM).
A built-in video converter is included.
By setting scheduled tasks, it makes it easier to automate processes.
Bandicam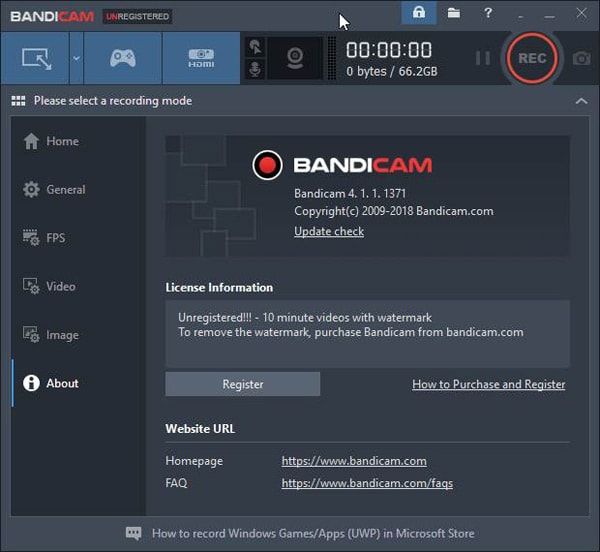 Another free webcam recording program that may be used for a variety of purposes and does an amazing job. Of course, it includes watermarks in the video that you record with it, just like some other webcam recording utilities do as standard. It is necessary to obtain a license in order to remove the watermark.
However, if you don't mind the 10-minute video recording limit and the watermark, Bandicam should be the best choice for your needs and requirements. It also allows you to record gameplay videos, as well as snap screenshots of your computer screen, using the included software.
Features:
Support for screen recording
Support for game recording
Support for webcam overlays
Drawing in real-time
ByteScout Screen Capturing

In general, ByteScout's screen capture tool is a freeware program that enables you to record your desktop screen along with external audio and save it as an AVI file. The user interface may seem a little dated, but it does include a recording option that makes use of the webcam. It, on the other hand, exclusively exports the recorded videos in the format of AVI.
Consequently, if you require the videos converted to a different format, you will need to use a video converter on your computer. Although it is not the greatest webcam software, if you are looking for a small software tool that allows you to record videos using your webcam, this might be the solution for you.
Features:
Make screen recordings of your computer's desktop.
Using your webcam, you can record videos.
Debut Video Capture Software

If you're looking for something more than just the ability to record videos using your webcam, this should be the solution for your needs. What's more, guess what? There are no watermarks on the videos that were recorded. Besides that, it includes numerous other capabilities, such as an inbuilt video editor, the ability to add custom text captions, and other similar features.
Additionally, you can use this video capture to add a custom watermark image to your films without having to go through the effort of editing your video afterward.
Features:
Various recording modes are available (Screen and Webcam).
Custom watermarks and captions can be added.
There are numerous video formats that are supported (mp4, avi, DV, Mkv, Flv, Mpg, WebM, WMV, and others).
The ability to adjust the resolution of video recordings.
Filmora Scrn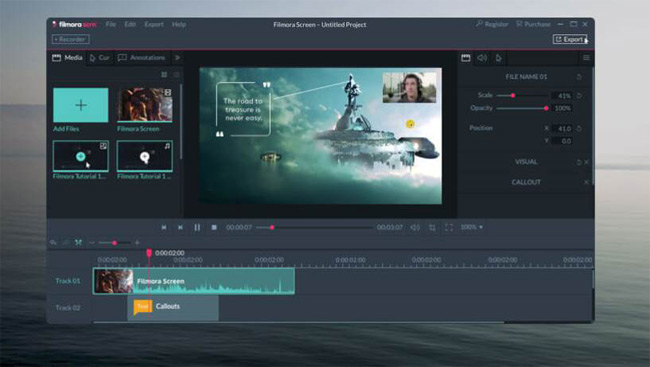 In addition to the ability to record your webcam, Filmora Scrn now provides the option to record your computer's screen (and the gameplay). The user interface is visually appealing, and it takes advantage of GPU acceleration to improve the overall performance of the application. In addition, Filmora Scrn allows you to customize the encoder.
This product comes with a 10-minute video recording restriction and also includes a watermark on the recordings that have been recorded. While this shouldn't be a problem for the vast majority of personal users, it is recommended that you consider upgrading if you intend to use it for business purposes. Despite the limitations, it is unquestionably one of the greatest webcam software applications now available.
Features:
Various recording modes are available (Screen and Webcam).
Video editor included within the software.
The resolution is tailored to your needs.
Movavi Screen Capture Studio 9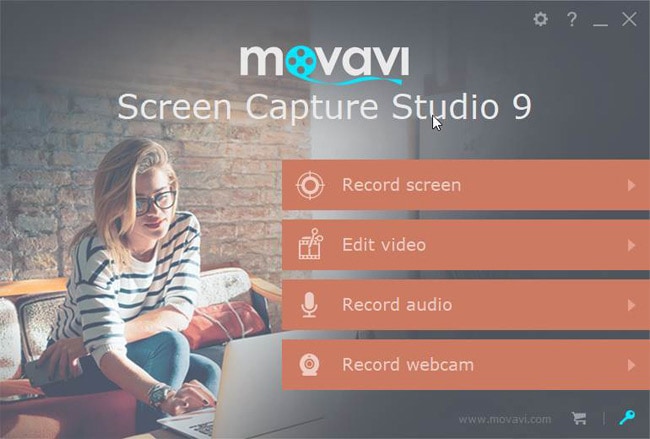 In the event that you need to record something in a jiffy, you may get a free 7-day trial of Movavi Screen Capture Studio 9 by clicking here. It works in a similar way to Wondershare's Filmora in that it enables GPU acceleration. It does not, however, allow you to make changes to the encoder.
While it is not possible to change the encoder, Movavi's Video Editor is a bonus if you install it only for the purpose of editing videos, as it is a very capable video editor in its own right. Aside from that, you can use Movavi Video Converter to convert your recordings quickly and efficiently.
Features:
Screen recording, and webcam recording, are available.
A video editor that is built-in.
The ability to specify a custom resolution is available.
Scheduling of tasks.
Conclusion
At the end of the day, you'll have to choose the best webcam software for you. No matter what's best, but if the software does the job you require, it is what you should consider choosing. Well, all of the software products mentioned here are free and the best webcam app. So, you should try them all in order to decide the best for your use.
Do you happen to know a popular, free yet best webcam recording software that we missed? Do you think that your favorite webcam recording software deserves to be listed here? Let us know your thoughts in the comments section below.