Choosing a video hosting site may seem like an insurmountable task after all of the effort, money, blood, sweat, and tears you've put into creating your video. After all, it's just one more hurdle to clear before you can reap the delectable benefits of video marketing.
Fortunately, we're on hand to reduce that mountain to little more than a molehill in no time. In this post, we'll take a look at the ten best video hosting sites for 2021, including their advantages and disadvantages, primary features, and pricing structures, in order to assist you in finding the best spot for your video hosting to set up camp on the internet!
What is Video Hosting?
To begin, it is necessary to understand what video hosting is and why it is so vital to your business.
The problem:
Due to the size of video files, hosting one directly on your website is likely to use all of your available bandwidth and storage space. Consequently, when others try to watch your video, particularly on mobile devices, they frequently experience playback difficulties and poor video quality.
And with over half of all online video material being accessed on mobile devices, this is a definite no-no. Use a video player that plays multiple size and quality versions of your video depending on the user's bandwidth and device size to get around this problem.
The solution:
Hosting your video on a dedicated video server avoids all of these issues and simply provides you with an embed code that you can use to embed your video on any web page of your choosing.
As far as video hosting sites are concerned, there are numerous options to consider. Which one you choose will be determined by your goals for your video material and the budget you have available. The exposure provided by some platforms is better than that of others, and access to analytics is advantageous in some cases.
Best Video Hosting Sites
So, now that you have some things to think about, let's compare the best video hosting sites for 2021.
When you think of online video, it's impossible to think of it without thinking of YouTube. Since the first video was uploaded to the platform more than 10 years ago, the site has grown from strength to strength, with its user base rapidly expanding. Approximately 6 billion hours of video are seen on YouTube per month, according to Medium–this is difficult to comprehend!
In the unlikely event that you are an extraterrestrial from the planet Zargon (in which case, hello! ), we will go over the basic functions of YouTube. From the standpoint of the viewer, it is really simple to utilize. The categories are listed on the left-hand side of the page, and clicking on a category will take you to videos that match that description.
Whenever you are watching a video, the recommended videos section on the right-hand side of the screen will appear on the screen. This area is based on your previous behavior on the site and presents you with videos that are similar to those you have watched in the past.
Vzaar is a video hosting platform that does not have a public-facing network, but it takes pleasure in being a location where you can not only host your videos, but also manage and organise them. Categories, labels, and playlists can be used to organize your videos so that they are always easy to access when needed.
In terms of pricing, it isn't the most expensive platform available, but it isn't completely free either. Starting at £166 per month (paid yearly) for 1000 GB of storage and 1000 GB of monthly bandwidth, plans are available. If you go over your allotted bandwidth, you will be charged a little fee, so keep an eye on your usage.
Other plans are also available if you need to scale up your business:
Vzaar, like the other sites on this list, has a completely configurable player, advertising options, and the ability to add email capture forms to videos in order to boost conversion rates. Additional features include integration with Google Analytics, as well as a unique video playability index that is proprietary to the platform (VPI).
The VPI assigns a score to your videos out of 1000; the higher the score, the greater the likelihood that the video will be viewed and played.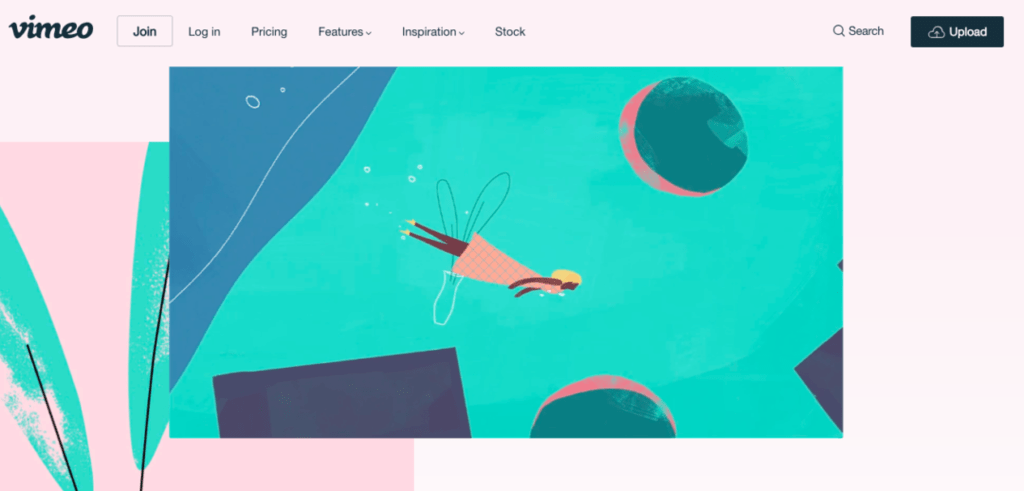 Vimeo might be thought of as YouTube's more formal, older brother (surprisingly, it is actually 3 months older than YouTube). This platform is intended for those who are serious about creating video content, which makes it an excellent place to host yours.
On Vimeo, there are no advertisements surrounding your material, and comments are generally constructive in nature, as opposed to YouTube, where it appears that anything goes. You can also incorporate Vimeo videos into your website by copying and pasting the following embed code:
Many people prefer the Vimeo player over the YouTube counterpart because of the cleaner look and feel it provides. Vimeo is similar to YouTube in many aspects, however it receives significantly less traffic than the latter. Traffic, on the other hand, is not everything.
When it comes to creating videos for your company, it's not always about the number of people who watch them; it's about the quality of those people who do. In order to get more views on your video, you need to target those who are interested in potentially acquiring your product or service, rather than those who are looking for 'funny fail' videos.
As you can see in the table below, YouTube receives far more direct traffic than Vimeo, but Vimeo outperforms YouTube in terms of other traffic sources such as search, social media, and mail.
All of these plans provide you with access to analytics, albeit the quality of the analytics will be less spectacular the more affordable your plan is to begin with. Unlike the 'Plus' plan, which just includes a stats dashboard that includes social stats and custom reports, the 'Premium' plan includes all of that, in addition to engagement and duration graphs and the ability to integrate with Google Analytics.
Vimeo is a good choice if your film is artistic in nature or if you believe the Vimeo audience is aligned with your company's values. Vimeo is another option for embedding videos on your website because it does not display advertisements.
Wistia is a video hosting platform that has been designed primarily for corporations and organizations. It does not make it possible for you to publicly broadcast your videos, but it does make it simple for you to host your videos on your website. All you have to do is copy and paste an embed code, and your movie will play in a bespoke player that has no advertisements!
The lack of a public-facing side could be seen as a con, but Wistia makes up for that by being extremely focused on the business-side of video marketing, i.e. analytics and business-specific functionality.Their analytics dashboard is very advanced, but at the same time it is easy to interpret.
Unlike Brightcove, which claims to have the finest HTML5 player, JW Player claims to have the fastest, with videos rendered "reliably and beautifully on any screen," according to the company. Additionally, when users use the site's intelligent video recommendations, they receive an average of 45 percent more plays and a 20 percent increase in advertising revenue.
Plans are relatively affordable, with the 'Starter' plan costing as little as $5/month on a monthly basis (when billed annually). Users can upload up to 50 videos and receive a hefty 15,000 views as a reward for doing so. In addition, users get access to the following essential features:
Clearly, those on the 'Business' and 'Enterprise' plans have access to more advanced capabilities, such as real-time analytics, than those on the 'Basic' plan. Engagement analytics, on the other hand, are still available to individuals who subscribe to the initial package.

Vidyard, like Wistia, is a video hosting service that is primarily concerned with the commercial side of things. In truth, hosting is only one of the many services they provide. Their primary focus is on boosting the value of your video, whatever that may entail for you in terms of conversions, engagement, and other metrics, for example.
Vidyard allows you to upload, download, and save an endless number of materials, and then share them everywhere to get the most exposure possible. They guarantee 99.9 percent uptime and are already capable of supporting high-definition and 360-degree videos.
Vidyard does not provide pricing information on its website at this time, therefore you will need to contact them directly to discuss your requirements. According to what appears to be the case, all plans are custom-built in a "pick and mix" format, allowing you to select the features you want while disregarding the ones you don't–meaning you only pay for what you require.
A/B testing, real-time statistics, and CRM connection are just a few of the many features that make this platform stand out.
Over the past few years, Facebook has progressively increased its interest in video hosting, to the point that some believe it may soon surpass YouTube in terms of viewership. Hosting your video on Facebook is completely free, and you will also have access to a rudimentary analytics dashboard, similar to that of YouTube.
For example, if you want to embed a Facebook video onto your website, all you have to do is click on one of the three dots under the video and select "embed" to get the embed code:
Despite the fact that more than one billion people every day peruse through Facebook's news feed, videos are still set to play silently on the platform by default. When uploading your video to Facebook, make certain that it can be understood even if there is no sound hosting back.
Additionally, organic reach on Facebook has been slowly declining over the past year, so you may want to consider taking advantage of the platform's amazing ad targeting capabilities as a means to attract the attention of viewers and increase your reach.
Brightcove has a long list of satisfied customers, including Ford, Dunkin' Donuts, and even the BBC, so you know you're in excellent hands. Unlike other platforms, Brightcove plans are divided into categories based on their intended purpose rather than their pricing. A marketing channel, an enterprise channel, and a monetization channel are all available.
Brightcove is primarily concerned with assisting users with increasing the revenue generated by their videos, and it offers alternatives for ad integration as well as a subscription-based business model. Brightcove also claims to have the finest HTML5 player in the business (which is 70 percent faster than any other video player! ), as well as powerful live-stream features, which set it apart from other video hosting sites.
Additionally, the platform integrates with a large variety of MAPs (marketing automation systems) and CRMs, like Hapyak, HubSpot, and Wirewax, among others.
As the company's name and logo suggest, Sprout Video is all about development. The video hosting website is simple to navigate for novice users, and they now provide a free trial that allows customers to enjoy their vast list of features for a period of 30 days without obligation.
If you decide to continue using the service after your free trial, you have three options to select from. All of this is organized into nice tables with catchy names that connect back to the brand, such as the following:
For example, as you can see, the least expensive plan is $59.99 and includes significantly fewer features than the more expensive options. Not to mention that all plans are limited to 500 GB of bandwidth, while there is the opportunity to upgrade to a higher amount.
Furthermore, with one minute of HD video hosting consuming about 30 MB of data, you will almost certainly wind up paying for extra data. As a continuation of the company's drive for expansion, Sprout Video already supports ultra HD videos (up to 8K), and the metrics they follow are really outstanding.
You can check which countries and domains are viewing your video, as well as which countries and domains are not viewing your video. Individual viewers can also be tracked so that you can observe how they have interacted with your videos in detail.
Similarly to other video hosting sites such as YouTube, Vimeo, and Facebook, Dailymotion provides an audience-facing interface, increasing the likelihood that more people will discover and watch your movie (s). Alternatively, users can browse through categories such as "Featured" and "Topic of the Day" by using the search box at the top of the page or by scrolling through the search videos.
Another connection between Dailymotion and the other video hosting sites mentioned is the fact that it is completely free to use them both. As opposed to YouTube and Facebook, it relies on ad revenue to support its operations, and it encourages users to monetize their videos through pre-roll and in-stream advertisements.
Dailymotion is a massive site with over 300 million members from all over the world who watch an estimated 3.5 billion videos every month. It is ideal for growing brand exposure because of its large user base.