Are you looking for the best streaming software in 2021? Over the last year, live video streaming has grown increasingly popular. People have had to come up with creative methods to pass the time while they are stuck at home due to the impacts of COVID19 and the associated lockdowns, as more people than ever before are stranded.
Video gaming is still the most popular sort of video streaming, and Twitch is more popular than ever before in this regard. Twitch streamers broadcasted 22,089,295 times in January 2021 alone, and viewers watched Twitch for a total of 2,173,794,168 hours throughout the same month.
The total live streaming market is anticipated to be worth $184.3 billion by 2027, according to forecasts. However, you are not able to simply turn on your computer (or gaming system) and begin streaming. The best streaming software is not included with any operating system, including Windows, Mac, or Linux.
The first step in streaming is to obtain the best streaming software, which may be found here. A look at what we feel to be the best streaming software available in 2021, including free versions and commercial software with additional ease-of-use and capabilities, is presented in this post.
Best Streaming Software for Twitch and Youtube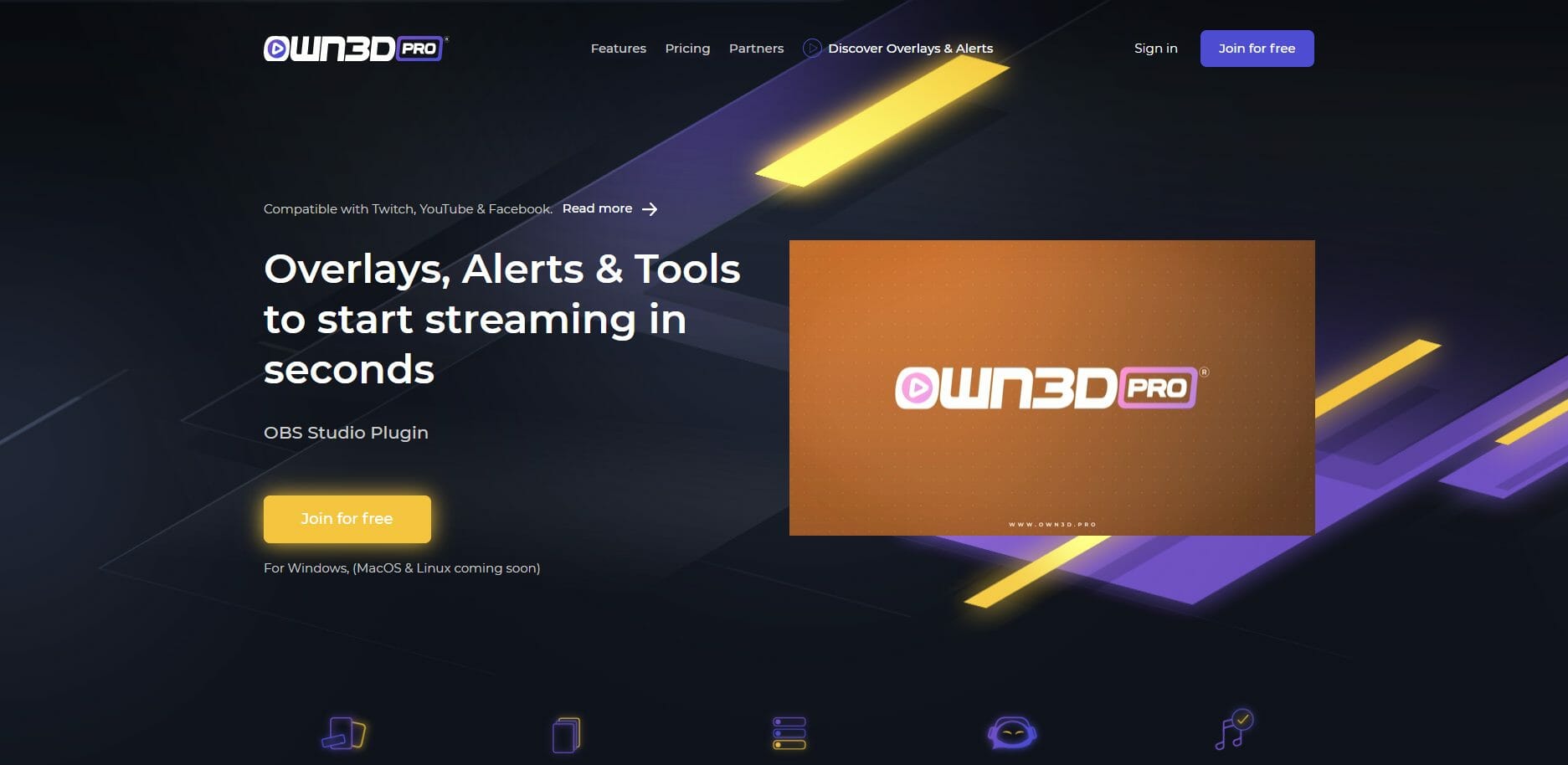 OWN3D Pro is a plugin for OBS Studio, which is open-source best streaming software. OWN3D Pro makes it simple to change the look of your stream. It includes over 575 high-quality overlays and alarms, as well as a huge number of Twitch panels and other features, including the option to create a Twitch countdown and donation page, as well as the ability to integrate a chatbox widget and a Twitch chatbot.
You can also connect to OWN3D Music to add music to your stream without fear of copyright infringement. OWN3D Pro is available in both free and premium editions. Five free overlays, panels and alarms, stream labels, and a countdown widget are included in the free edition.
You can subscribe for one month, three months, or a year to get the complete set of features in the paid version.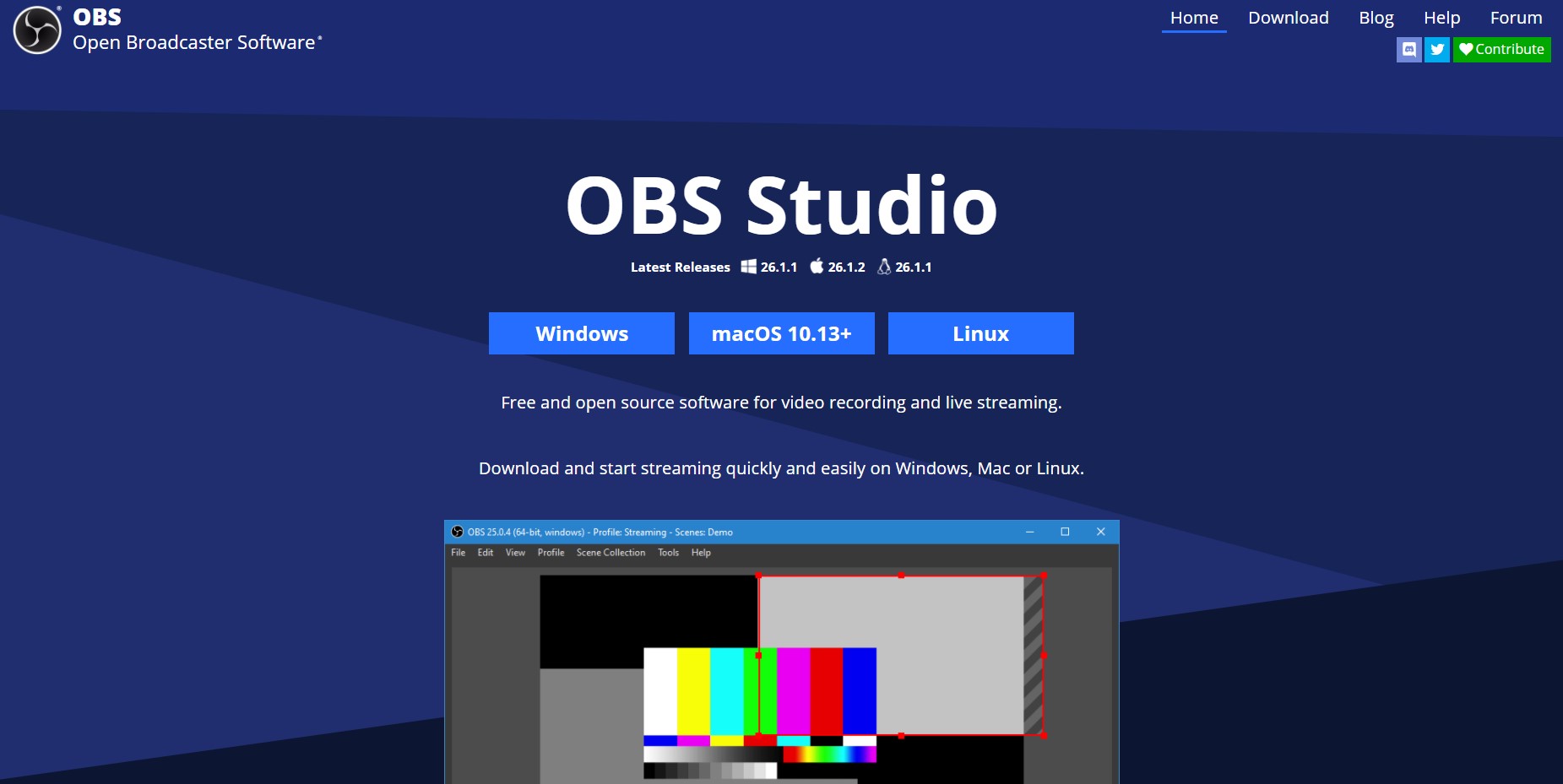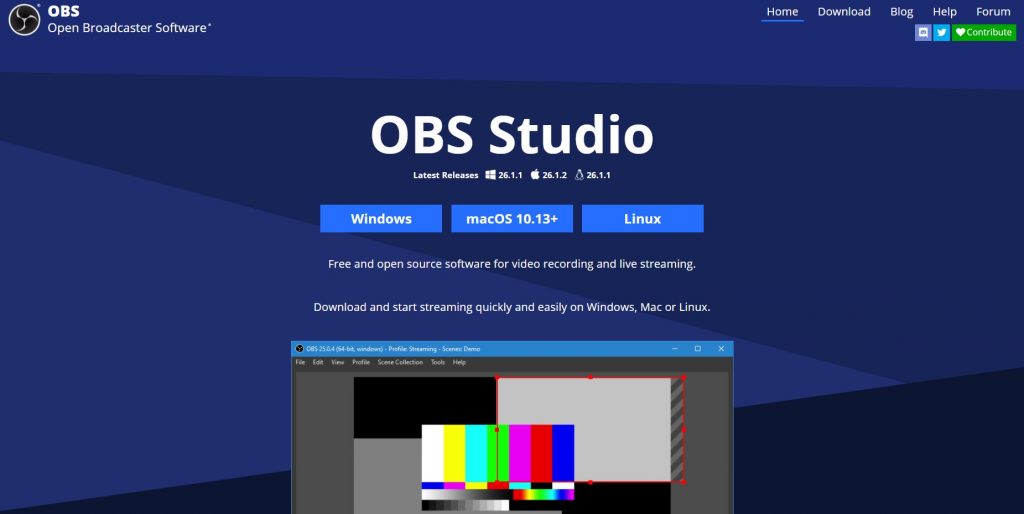 OBS Studio is an open-source video recording and best streaming software. It is available for download for free, although it lacks some of the more advanced capabilities found in paid streaming software. As we've seen, some software businesses, such as OWN3D, create extensions that can be used to enhance OBS Studio's fundamental features.
If you're a "techie," you'll like OBS Studio's flexibility. Those who prefer tinkering with computers will discover more features than others, but because OBS Source is open-source, it lacks the user support seen in most of the commercial competition.
Although there is a high learning curve, if you're prepared to spend time on YouTube or elsewhere online, you should be able to get a lot of support from other users.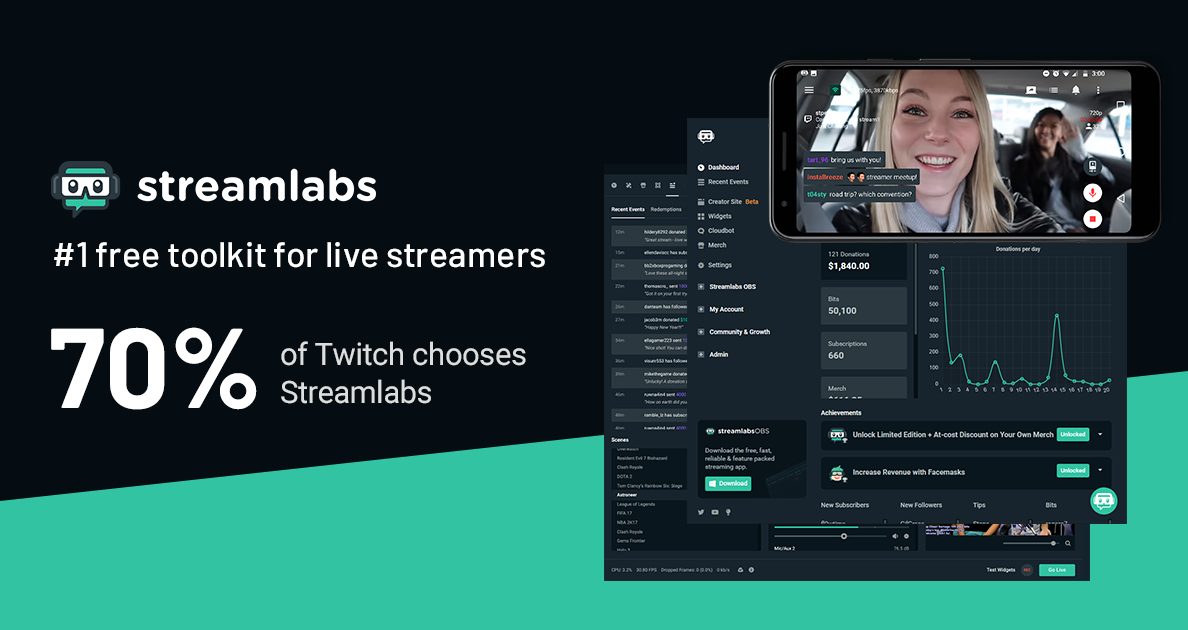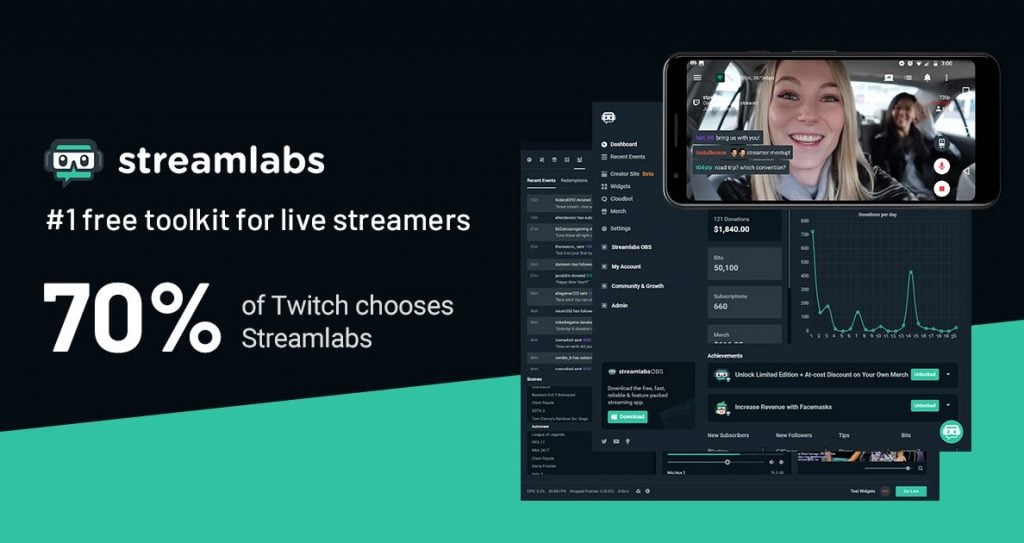 Streamlabs began as a live best streaming software for broadcasters to utilize in conjunction with other live streaming software. Streamlabs OBS now combines the Streamlabs utility with OBS Studio, resulting in a more powerful streaming application with a more user-friendly interface than the open-source tool.
It also provides better customer service. Streamlabs OBS is free, much like OBS Studio. Streamlabs OBS allows you to access a variety of gaming overlays. By purchasing Streamlabs Prime, you can access more overlays, visuals, and streams, multistream to many platforms at once, and receive access to other capabilities.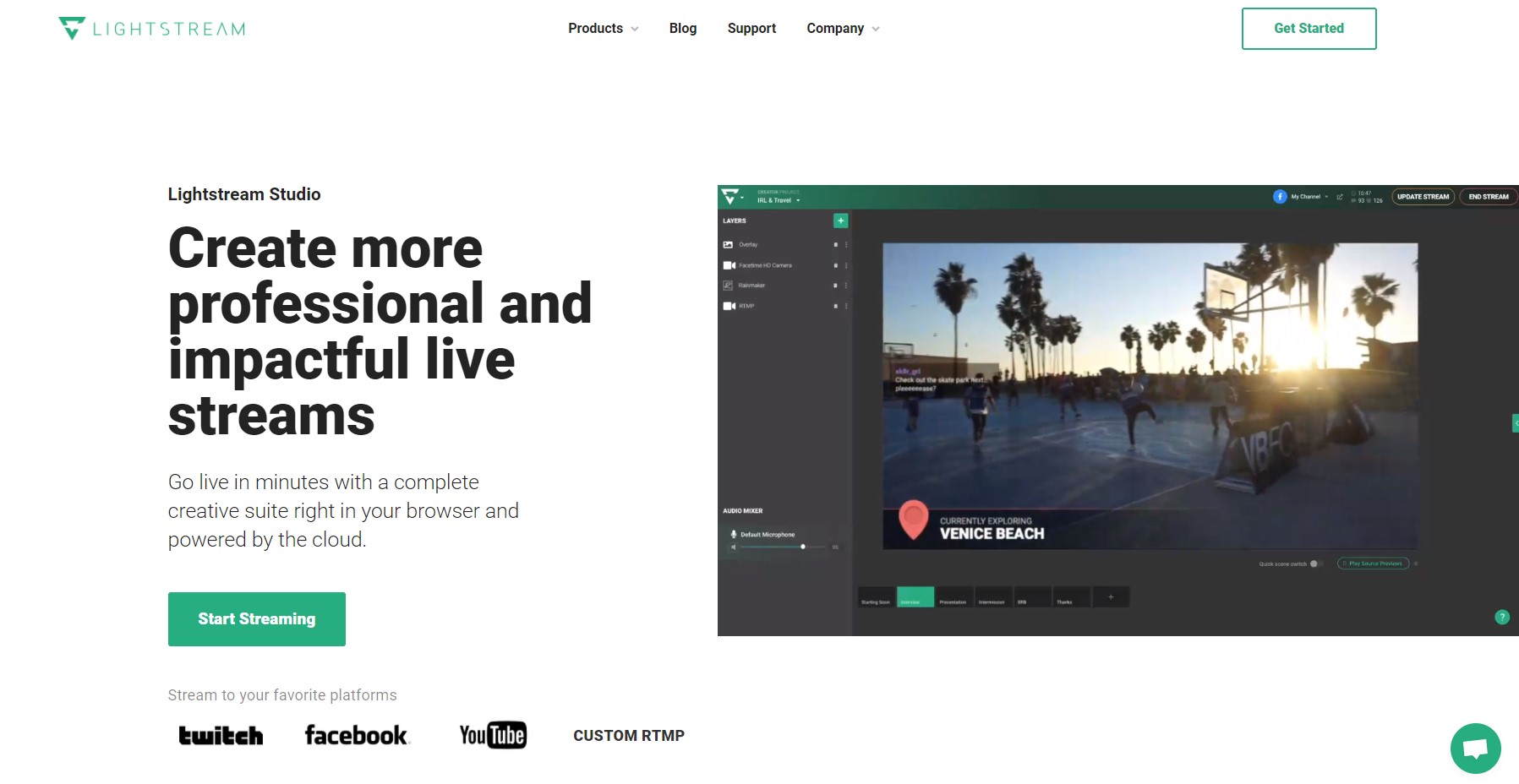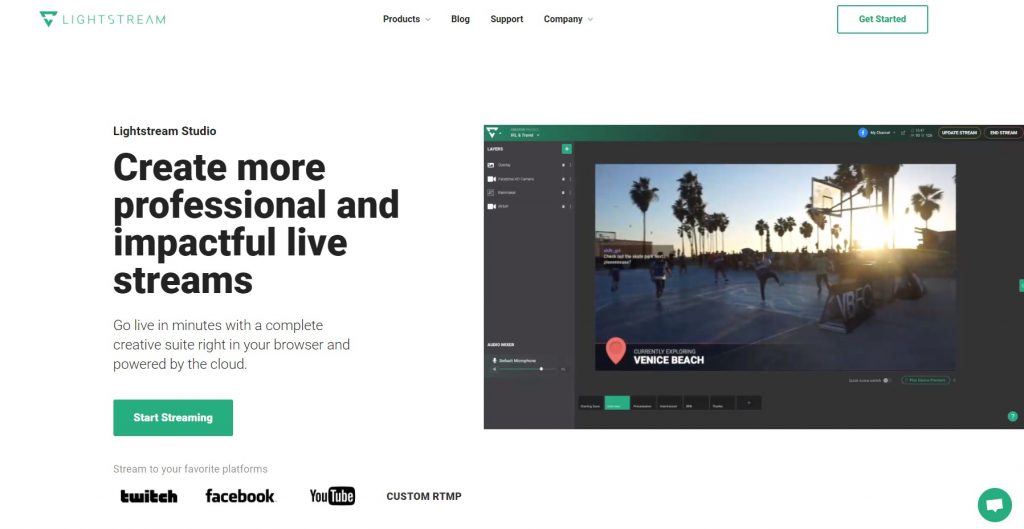 LightStream Studio allows you to stream to Twitch, Facebook, YouTube, and custom RTMP servers. Best streaming software offers cloud-based broadcasting that can be viewed via a web browser. Without a capture card, you can also record Xbox and PlayStation gaming for Twitch streaming.
The Gamer plan costs $8, $12, or $16 per month, while the Creator plan costs $25, $28, or $50 per month. The various rates displayed for each plan signify the various maximum resolutions at which you can stream. If you pay for a year in advance, you will receive a discount.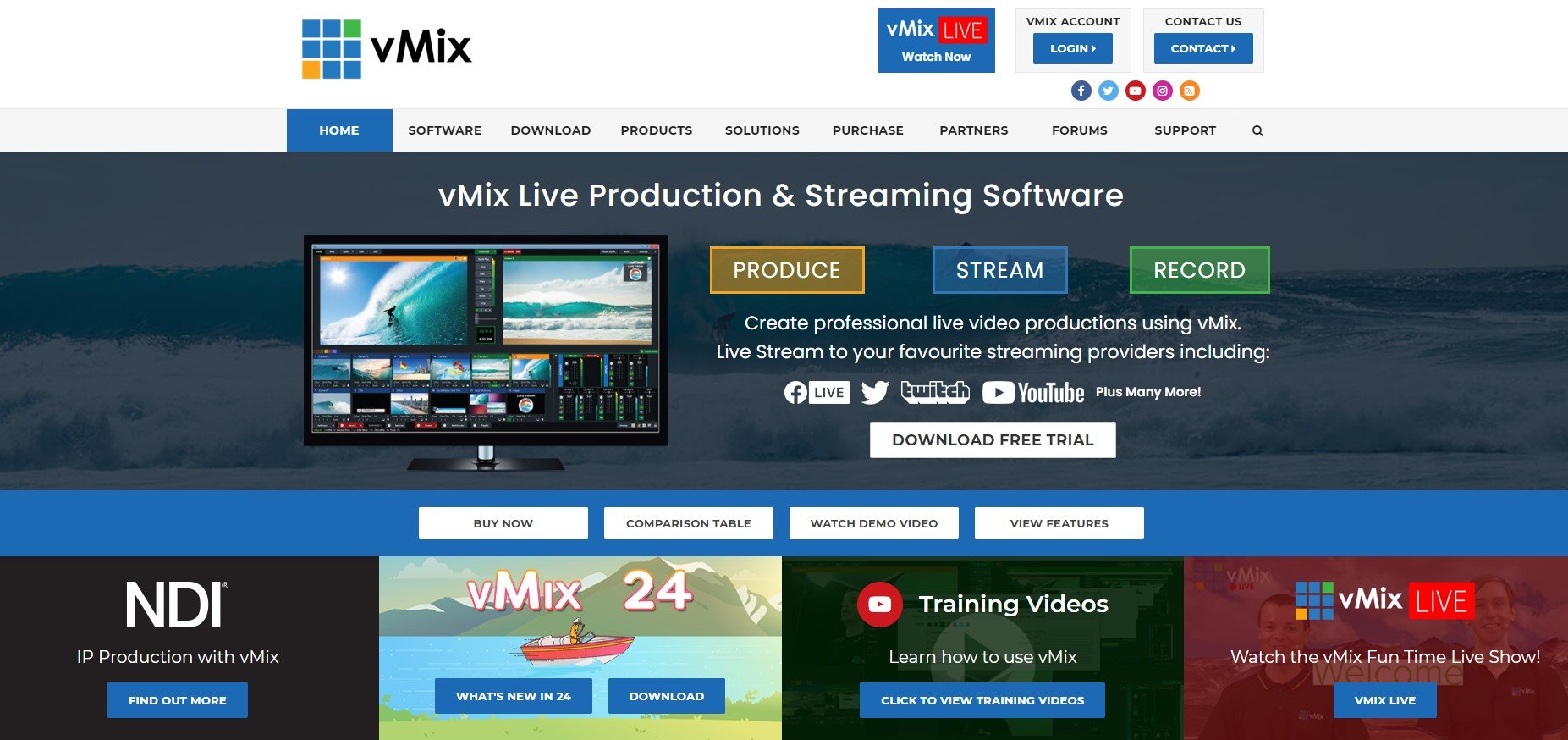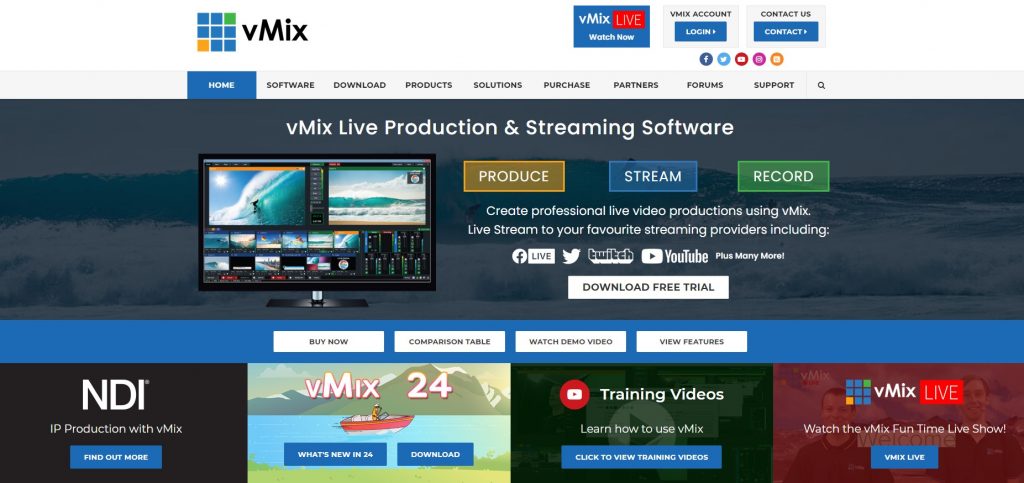 VMix is a PC-based high-end live production and best streaming software. It works with nearly every streaming service, including Facebook Live, Twitch, and YouTube. It comes in five different versions, ranging from a free Basic pack (with four inputs, one overlay channel, and a maximum resolution of 768 x 576 pixels) to a $1200 Pro pack (with eight inputs, one overlay channel, and a maximum resolution of 768 x 576 pixels) (allowing 1000 inputs, four overlay channels, a maximum resolution of 4096×2160, 4-camera instant replays, and many more features).
vMix recommends that you first download and test their free 60-day trial, then ask yourself questions about the specific features you use in practice. You can now choose which plan best meets your requirements. The major goal of vMix's software is to serve as a Software Video Mixer and Switcher that takes advantage of the newest advancements in computer hardware to deliver live HD video mixing, which was previously only achievable with expensive specialized hardware mixers.
It also works as live streaming software, allowing you to broadcast your live performances over the Internet. vMix can live mix, switch, record, and live stream SD, full HD, and 4K video sources, including cameras, video files, DVDs, pictures, PowerPoint, and more, depending on the version you choose.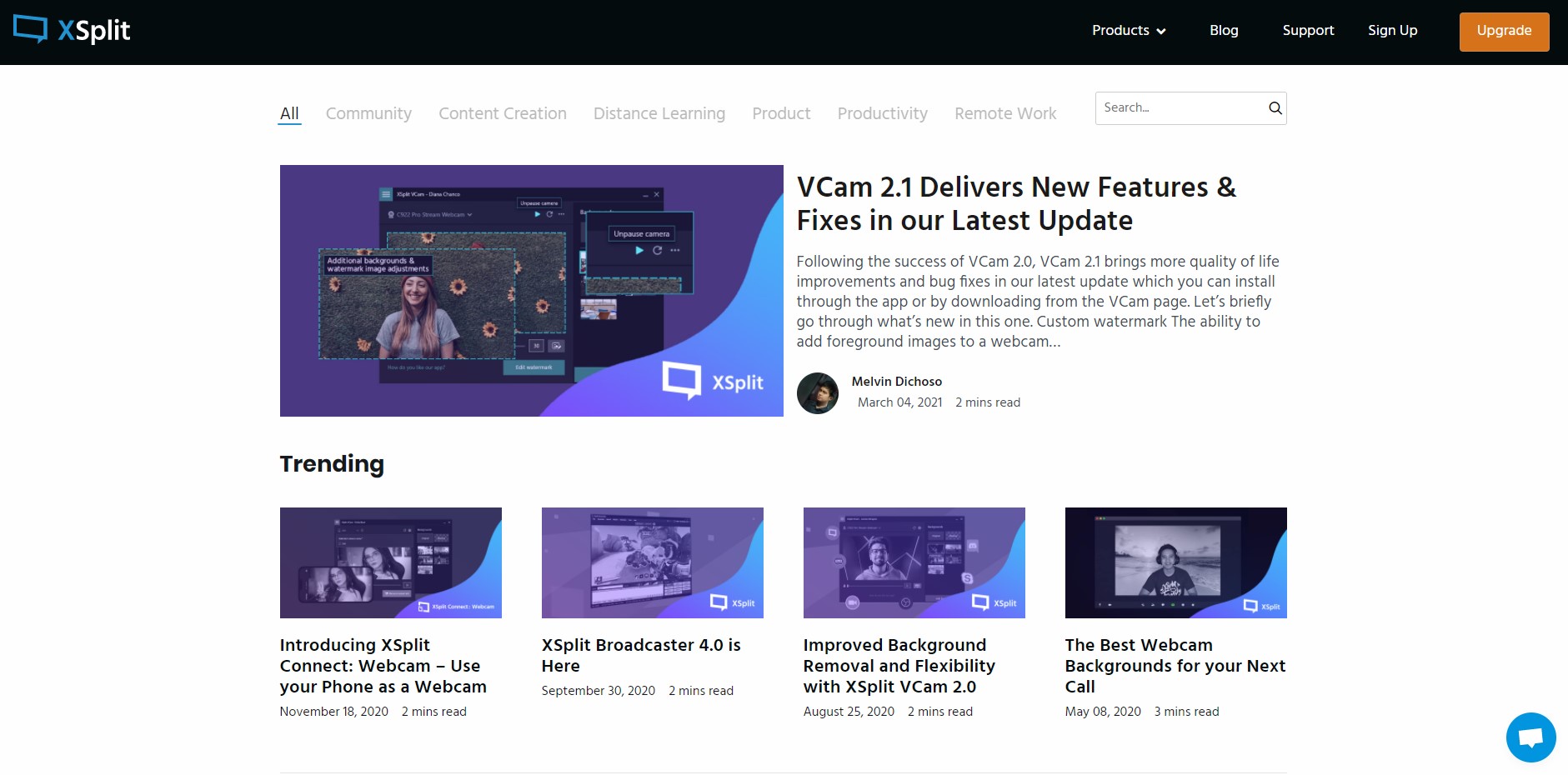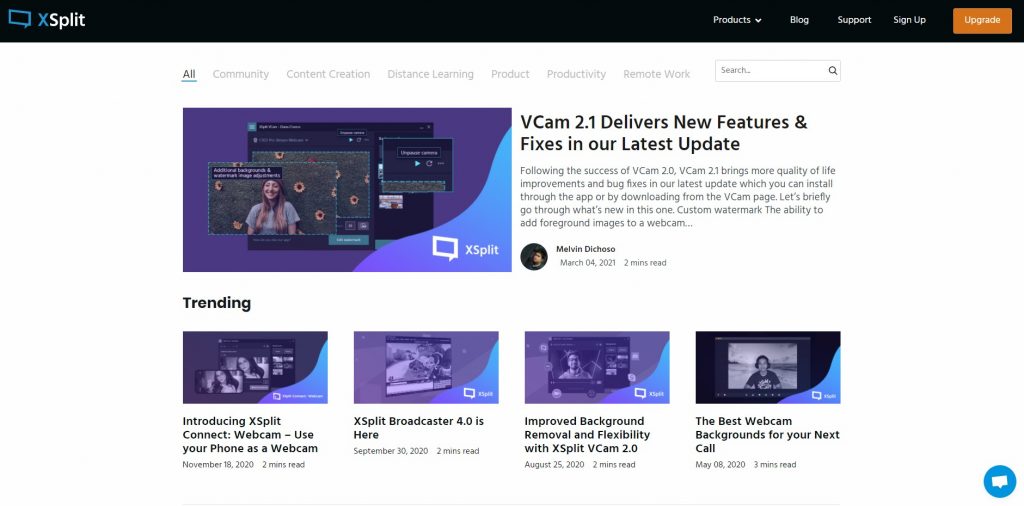 XSplit Broadcaster is a Windows-based live streaming and recording best streaming software. In 4K 60fps, you can stream and record. XSplit Broadcaster allows you to stream to YouTube, Facebook, and Twitch. You can even broadcast to various streaming platforms at the same time.
Stream management tools are included in the streaming software. It comes with a number of transition types pre-installed, and you may even add custom stinger transitions. With the Scene Preview Editor, you may edit scenes before they go live. XSplit supports custom scripts and allows you to write nearly any action or sequence of steps.
7. Gamecaster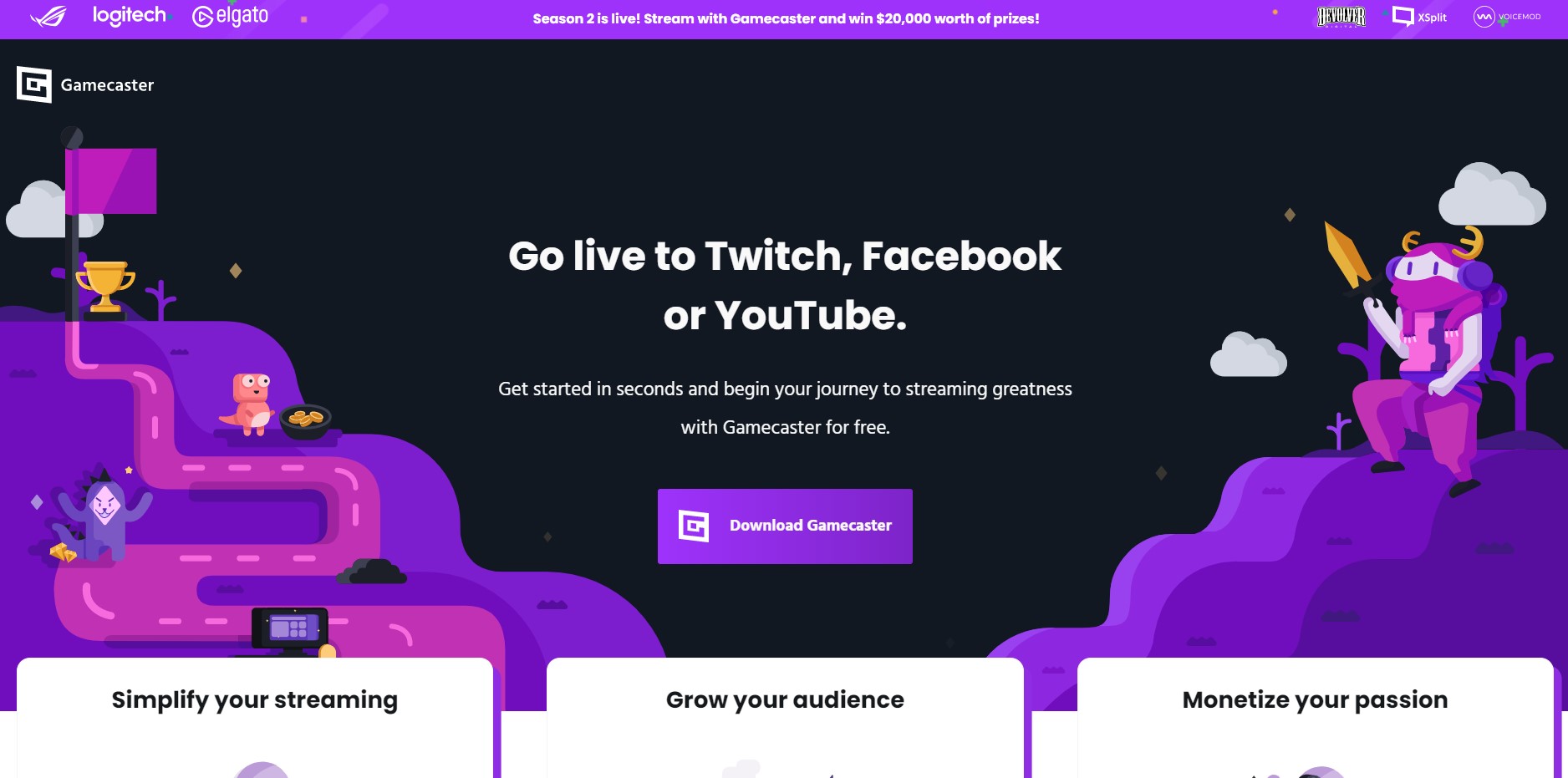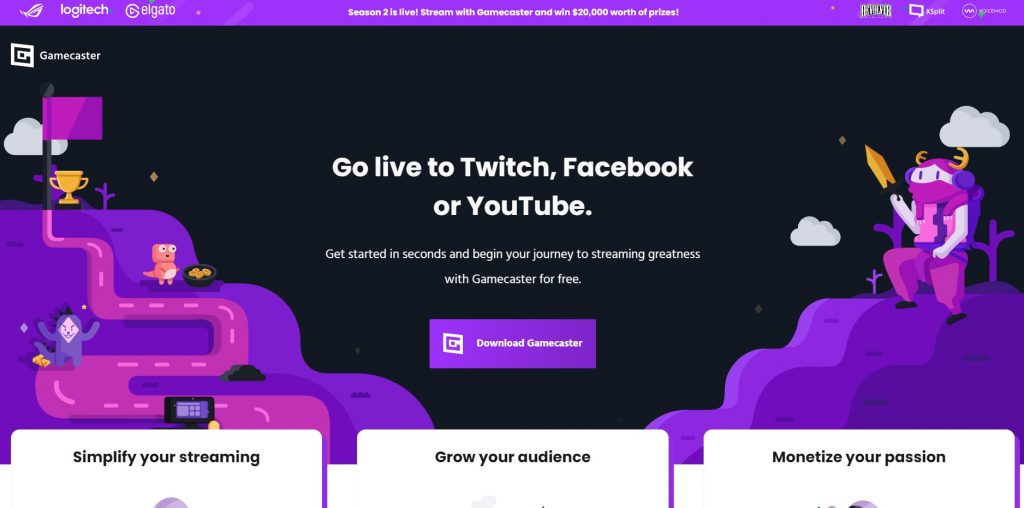 Gamecaster began as an XSplit brand of best streaming software but has since evolved into its own thing. Its name implies that it is mostly concerned with gaming. You may use it to stream 1080p video to Twitch, Facebook, or YouTube. It uses the newest NVIDIA and AMD technology to broadcast without lag. Hundreds of free overlays, such as notifications, trains, goals, and widgets, are included.
Professionally animated overlays are among them. The Scene Editor in Gamecaster makes building complex alerts and widgets a breeze. Elgato, Spotify, Streamlabs, and ReStream are among the many connectors available in Gamecaster.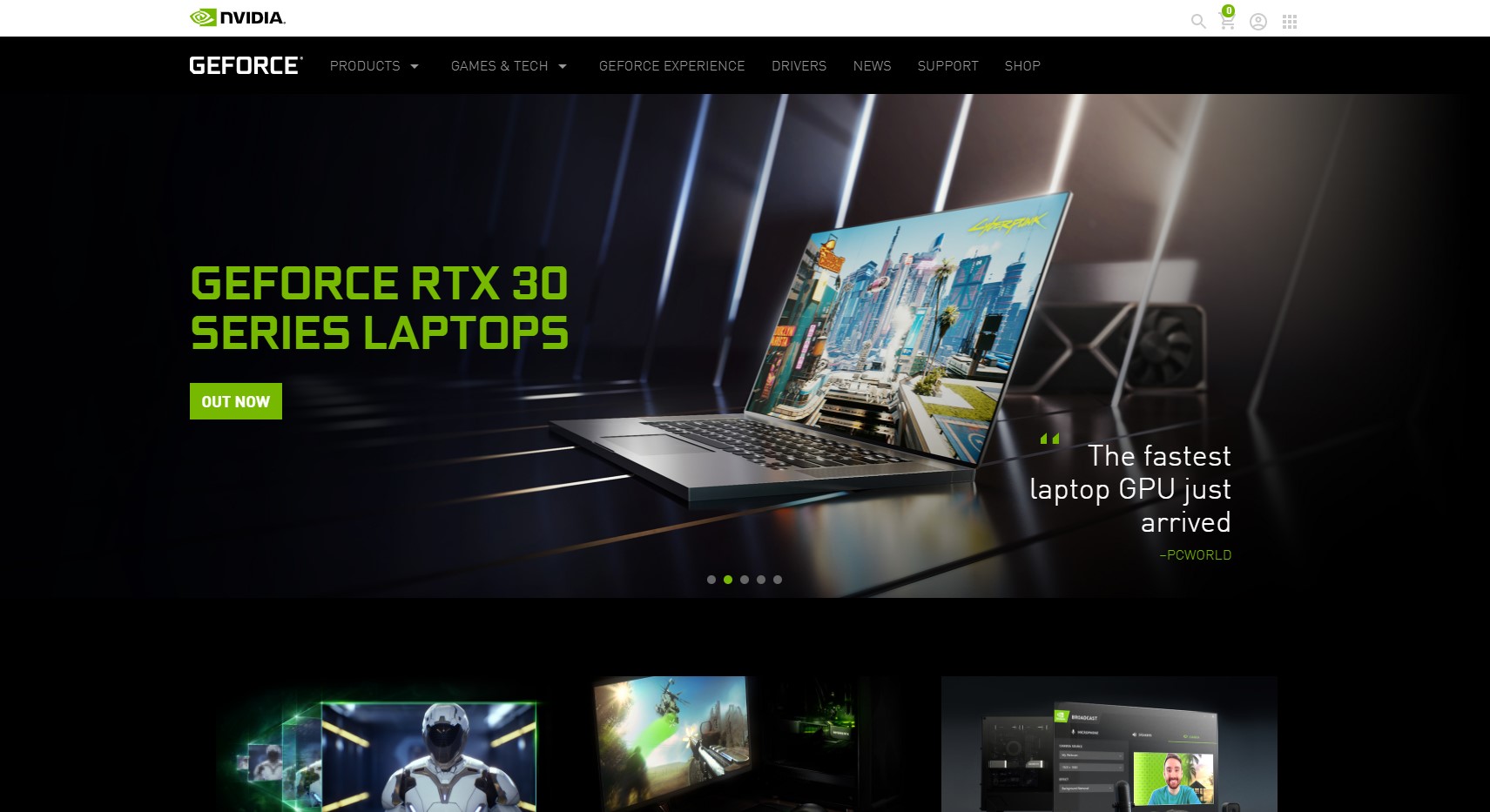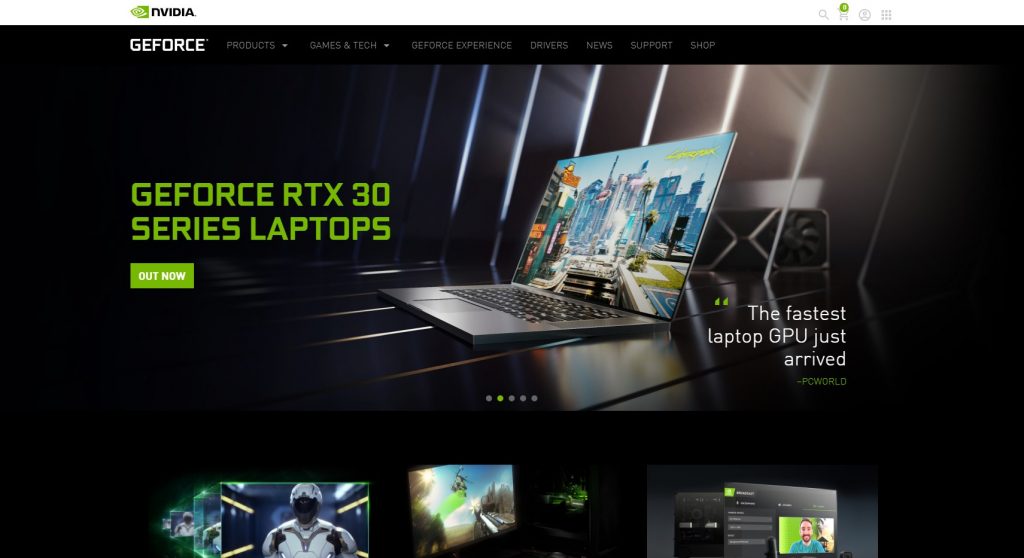 Nvidia ShadowPlay is a gamer's program that comes pre-installed on many Nvidia GeForce graphics cards. You may record and share high-quality gaming videos, pictures, and livestreams using it. It can be used to broadcast live on Facebook, Twitch, or YouTube. It lacks some of the functionality found in more specialized streaming software, and is likely to be utilized by gamers who wish to share their best moments on social media.
It does, however, support cameras and custom graphic overlays to make your live stream more personalized. The DVR-style Instant Replay function in ShadowPlay allows you to store the past 30 seconds of gaming to your hard drive or share it on YouTube or Facebook by pressing a hotkey. You can record gameplay footage for as long as you wish by manually recording it.
Because ShadowPlay is hardware accelerated, it can run in the background. You can also use your favourite ShadowPlay video to make a 15-second GIF, add text, and share it on Google, Facebook, or Weibo.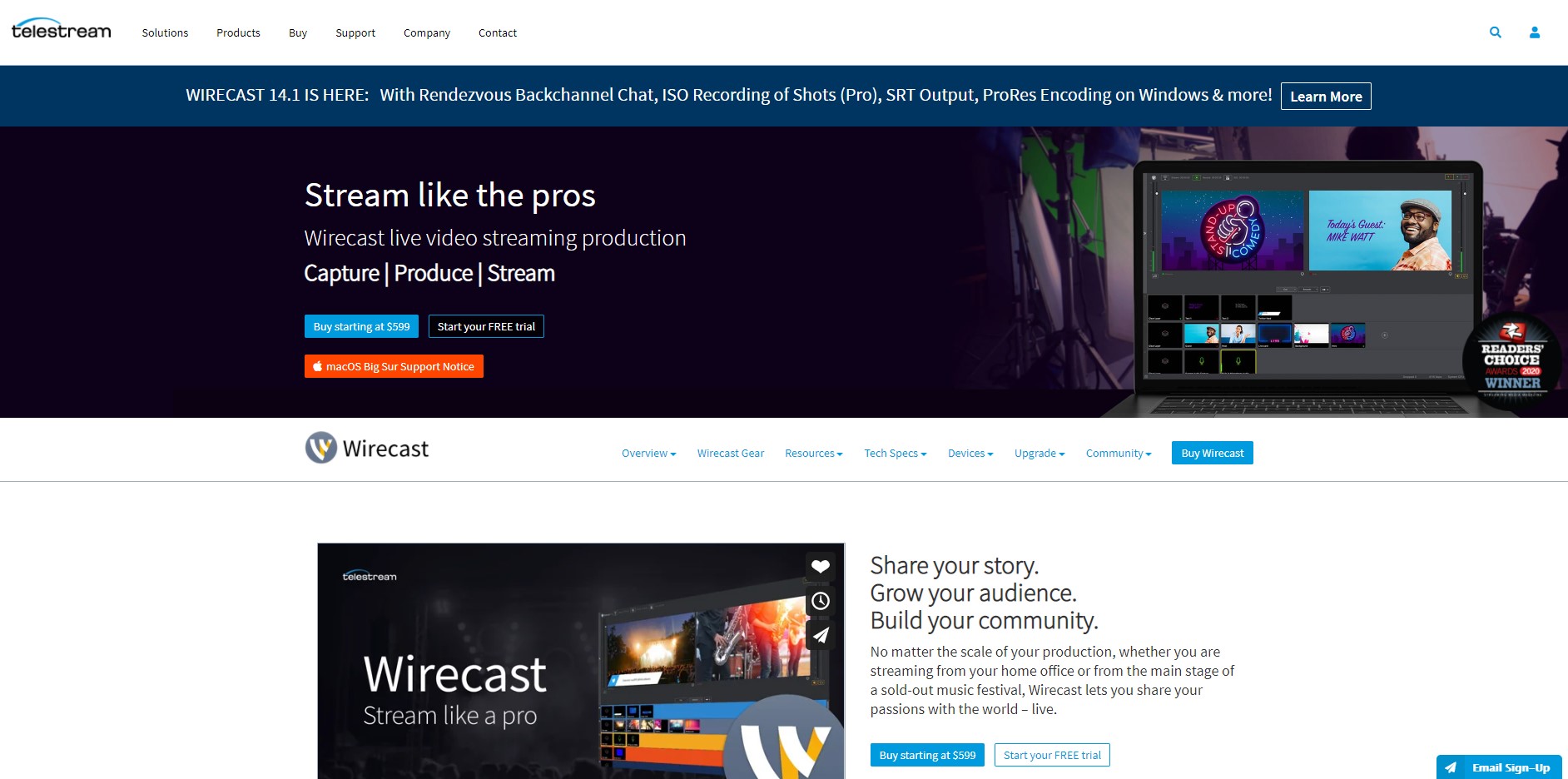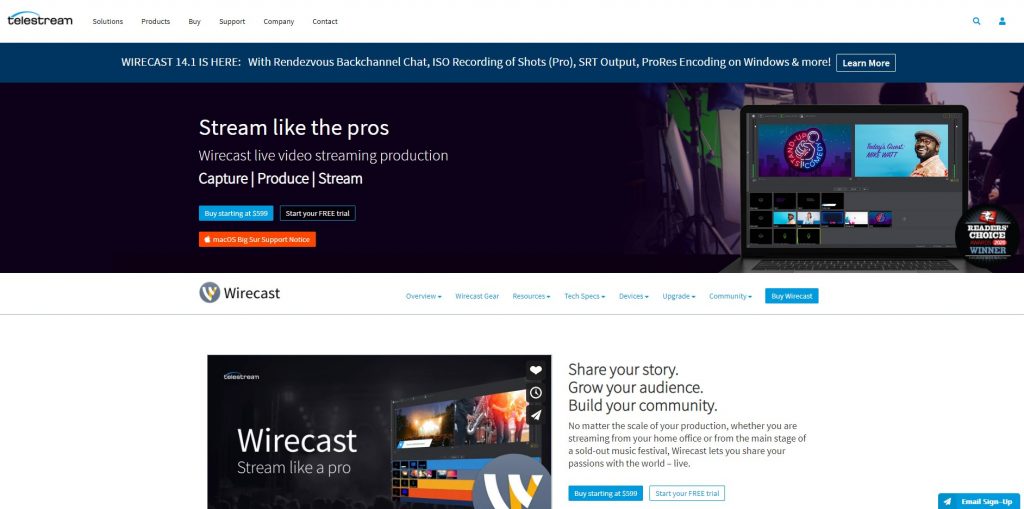 Wirecast Studio and Wirecast Pro are two commercial versions of live best streaming software offered by Wirecast. Wirecast certainly caters to more professional broadcasters than free software users. "Stream like a pro," says Wirecast's tagline.  You can broadcast from as many sources as you want, including cameras, microphones, webcams, IP cameras, and more. You can also capture anything on your computer screen or on other machines, as well as a number of IP sources.
Live web sites can be viewed using the built-in web browser. It can mix up to 8 independent audio tracks and add FX and processing, and it supports numerous professional audio sources.
It has over 100 graphics and titles pre-installed. Wirecast provides direct access to over 500,000 distinct media assets, including films, music, lower thirds, backdrops, and more. Wirecast features replay, scoreboards, clocks, and timers if you're into sports broadcasting. You can utilise Wirecast to stream to Facebook Live, Twitter, YouTube, Vimeo Live, or any other RTMP destination, and you can do it several times.
OneStream is one of the best streaming software for live and pre-recorded video streaming. You may post to more than 40 social media channels using this software, including YouTube, Facebook, Steam, Instagram, Periscope, and Twitch. Up to 60 days in advance, you can effortlessly arrange pre-recorded streams on social media.
Simply upload the video, set a date and time, and then choose a streaming destination. You can use this platform in conjunction with a variety of different streaming technologies when streaming live. The setup is simple, and you can start multicasting in no time.