Are you looking for the best screenwriting software to move your script from paper to screen in 2021? The streaming battles are raging, and there is more international film talent than ever before.
If you're a professional screenwriter wanting to break into the movie business, you don't have to live in Hollywood or rub elbows with movie producers on a regular basis.
All you need these days is a computer, the best screenwriting software, a literary agency, and a creative flair. You'll need the best screenwriting software to move your script from paper to screen.
What is Screenwriting Software?
Best Screenwriting software essentially aids in the creation, editing, formatting, and printing of scripts for films, television, and video games. It assists scriptwriters in adhering to the industry's strict formatting rules, studying and correcting language and grammar, and maintaining document backups.
This software does away with the necessity for manual formatting to bring your script up to professional standards. Screenwriters may add action, dialogue, sluglines, scene headings, transitions, parenthetical, character names, and more using easy keyboard keys.
Today, however, there are hundreds of screenwriting programs to choose from. I selected and reviewed the best screenwriting software to use this year to help you go from the dreaded blank page to a full script.
This article contains affiliate links that may earn you a small commission at no additional cost to you. These are, nevertheless, the best screenwriting tools I've come across this year.
Top 10 Best Screenwriting Software
Here are my top 10 selections for the best screenwriting software to utilize in the Tech industry:
Final Draft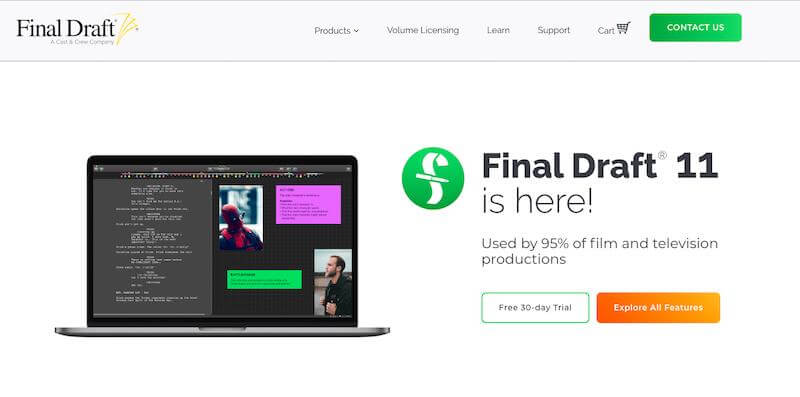 Final Draft is a screenwriting software program that has won numerous awards since it was first introduced in 1990. It was recognized with a Prime time Emmy Engineering Award in 2013 and is widely used by companies such as Netflix, NBCUniversal, Paramount, ABC, Pixar, and others.
Key Features:
The following are the most important characteristics:
Advanced brainstorming and visualization tools for writing teams to use in their collaboration.
Automates the pagination and formatting of scripts in accordance with industry standards.
It enables you to organize and modify "beats," which might include character arcs, plot elements, location ideas, research, and other aspects of your story.
Story maps serve as a link between your visuals and beat boards and the rest of your script.
You can use a visual timeline to outline important milestones and narrative points.
Its fonts are available in over 97 different languages.
Support for text-to-speech conversion.
There are almost one hundred distinct templates to pick from.
Available on and compatible with Windows, Mac OS X, and iOS devices, among others.
Pricing:
Final Draft is presently available for purchase for $199.99 as a digital download, with a limit of two activation per customer per purchase.
They also provide a free 30-day trial period to allow you to try it out.
Educators can get a license for $99.99, which is a significant savings over the regular price of $199.
Overall, it's an excellent value for learning the most crucial piece of screenwriting software available on the market today.
Celtx is a cloud-based screenwriting and media pre-production best screenwriting software that works across several platforms. It is one of the most popular screenwriting apps on the market, with more than 6 million users worldwide. From script to shot, this software gives you with tools that allow you to produce better video in less time than you would otherwise.
Key Features:
Key characteristics include a user interface that is straightforward, easy to learn, and intuitive.
When creating a novel, the author makes use of a rich text editor module.
In addition, it can assist in the construction of production calendars and strip-boards
Built for real-time collaboration and Pre-production management in a single package
Workflows for production are customized by the team.
Cons:
No longer available for free; instead, the emphasis is on the entire pre-production process (in-depth screenwriting features aborted)
The copy and paste feature might be improved.
Without OCR software, scanned scripts in PDF format cannot be exported.
Pricing:
Celtx is available in three different pricing tiers.
The "scriptwriting" plan is available for $20 per month with a one-year commitment.
The 'Video production' plan is available for $30 per month, which is paid annually.
The 'game production' package costs $30 per month and is billed once a year.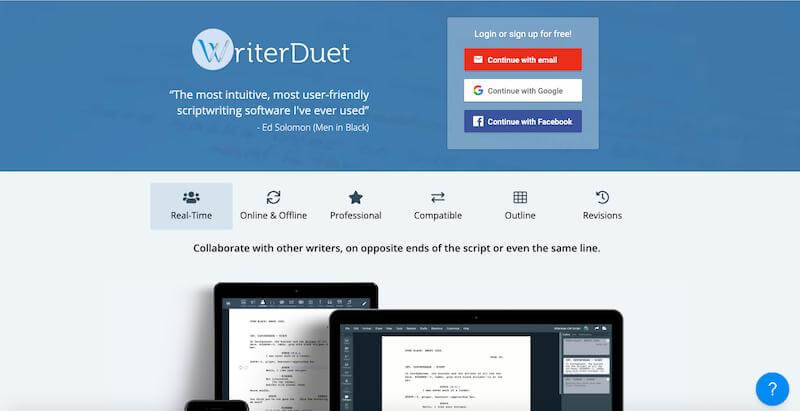 WriterDuet is a fantastic screenwriting program for creating and revising scripts and other forms of media. It meets a wide range of needs and, in addition to screenwriting, can also be used for video editing and gaming. The software's unique selling point is that it allows writers to collaborate in real time from different locations and on multiple devices. It is not a free software application, but it does offer three free scripts when you sign up.
Key Features:
Mobile devices and numerous browsers are supported.
It's completely free to join.
Supports a variety of file formats (offers high customization here as well by enabling changes in script template)Provides
seamless online and offline services.Allows
you to keep track of all your changes.
Software that is simple and easy to use.
When you sign up, you'll get a free, built-in tutorial.
Cons:
Only three scripts are available for free (further scripting requires subscription)
While working offline is feasible, it is not possible to collaborate (you must be online to collaborate real-time)
The 'Pro' accounts are the main focus.
Pricing:
You get three free scripts when you sign up with WriterDuet.
You'll need to upgrade to a premium plan after that.
The first package is called 'Pro,' and it costs $11.99 per month, paid annually.
If you sign up for a yearly subscription, the cost is simply $79 each year.
To purchase the software for the second plan, you must pay a one-time fee of $199.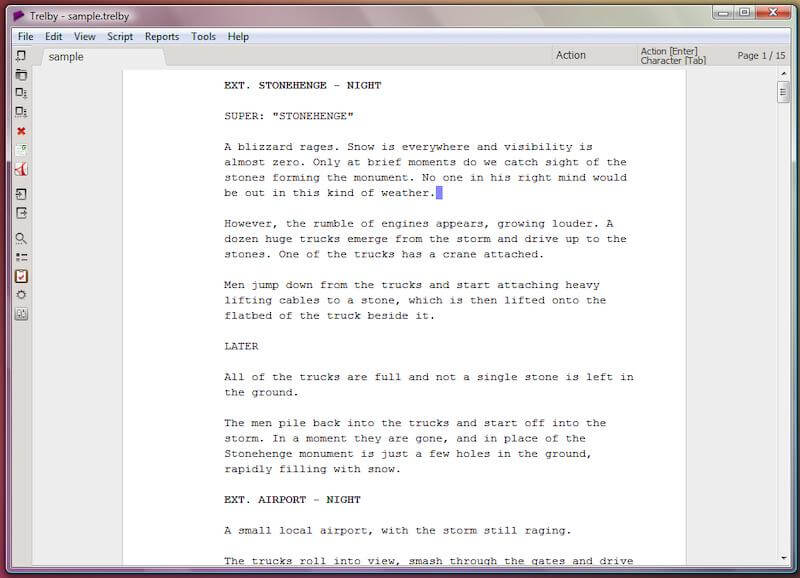 Trelby, formerly known as Blyte the best screenwriting software, is a free and open-source screenwriting application. It is presently accessible on Github and works on both Windows and Linux platforms. Trelby is a GPL-licensed platform that invites developers and screenwriters to cooperate and improve it. It also has a PDF generator built-in that is highly customizable.
Key Features:
The user interface is extremely user-friendly and intuitive (infinitely configurable)
It has a built-in screenplay editor (enforces correct script format, pagination, and spell checking)
Multiple platforms are supported.
There are a variety of viewpoints to pick from.
Options for reporting (scene/location/character/dialogue)
It's possible to create PDFs with bespoke watermarks, which gives you more options.
Has a large, built-in database of character names.
The software's system requirements are modest, making it simple to execute even on older systems.
Cons:
The revision tracking feature might use some work.
Only Windows and Linux are supported (not compatible with OSX)
There are no options for bold, italics, or underlining.
Long-term support is in short supply (most recent updates are many years old)
There is no possibility for online cooperation.
It only supports English as a language as no characters outside the ISO-8859-1 set are compatible.
Pricing:
It is a completely free open-source software application.
The source code can be found on Github.

Scrivener is a screenwriting software application for authors and novelists that was first introduced in 2007. It's one of the greatest screenwriting programmes on the market right now, with features like note organisation, drag-and-drop functionality, and batch editing of several pages.
It runs on Windows, Mac OS X, iOS, and Linux. The finest feature is that it can also be used for project management. It may also imitate a typewriter, a ring binder, and a scrapbook. You may transition from editing a piece of your manuscript to altering the full document in a matter of seconds. It has an easy-to-use and intuitive UI.
Text editing is something you're probably used to (it allows you to use bold, italics, and other formatting options). You may import files from a variety of Word processors and extensions, including Microsoft Word documents, text files, PDFs, and other formats. There's a built-in 'Corkboard' that lets you reorganize files with a simple drag-and-drop method.
Key Features:
All features are gathered on a single platform for simple reference.
Compilation of materials into a single chapter is simple, and there is a 30-day free trial period.
You have the option of selecting your own typeface.
There are video tutorials accessible for simple comprehension.
Cons:
Learning the software takes time.
Different systems do not require the same license.
Some updates are available for a fee.
Pricing:
The cost varies based on whatever platform you'll be using it on.
The Mac and Windows editions will set you back $45, while the iPhone and iPad versions will set you back $19.99.
There are also some student discounts available.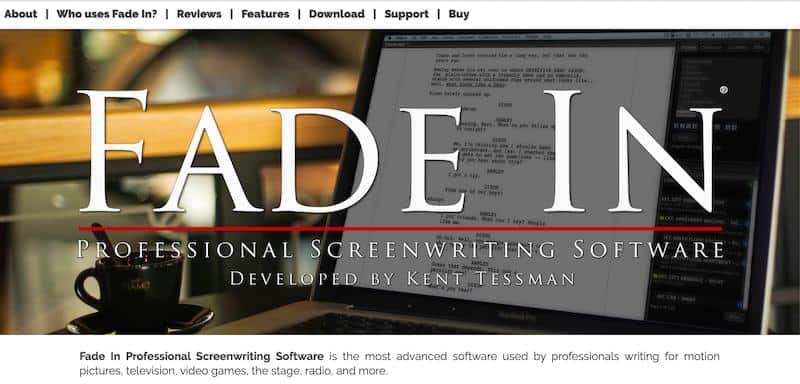 Fade In is one of the top screenwriting software programs on the market right now, having been created in 2011. It's widely used in the movie industry and works on a variety of platforms, including Mac, Windows, Android, Linux, and iOS.
It's also one of the most cost-effective software solutions on the market, with a lot of useful features. It is quickly gaining traction as the next industry standard, thanks to features such as multilingual support, an action-to-dialogue calculator, and well-rounded capabilities for rewrites and revisions. In fact, it has been compared to the software dubbed "Final Draft."
Key Features:
A universal, cutting-edge application interface
Formatting scripts automatically
It has a built-in autocomplete typing capability (suggest words as you type)
Real-time cooperation is available (you can work on projects with multiple collaborators from remote locations)
Complete image support is available (allows you to insert images directly into the document)
There are no distractions on this page, and full-screen mode is available.
Multiple file formats are supported (text, HTML, and more)
It provides cloud-based storage (easy access from any location).
Updates to software are available for free.
Cons:
Working inside and outside the film business may cause compatibility concerns.
The company's watermark is present in the free version.
Pricing:
For a limited period, you can utilise 'Fade In' for free.
After that, you must pay a one-time fee of $79.95, which is currently one of the most affordable prices on the market.
One significant benefit is that future software updates will be free.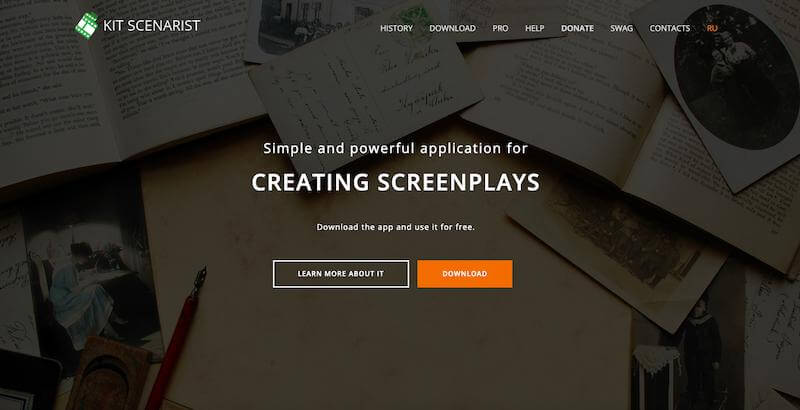 KIT Scenarist is widely regarded as one of the best screenwriting software programmes currently available. It provides one of the most unique full scriptwriting experiences available. The best aspect is that it is free and open-source software with a lot of customization options.
Furthermore, it is used by over 3000 authors worldwide and provides practically monthly updates to keep up with the latest technologies (more than 70 updates to date).
Key Features:
Windows, Linux, Mac OS X, iOS, and Android are all supported.
Has a research module that is all-in-one (collect necessary information, manage a list of characters, and store a variety of materials)
It has a built-in card module (helps you build story development, providing you visualizations to work with)
It has a built-in powerful formatting tool with a script editor, so you can focus solely on writing.
Provides services in a variety of languages.
Scripts can be exported in a variety of formats (PDF, FDX, Fountain, and Docx)
Multiple theme options are available (dark or light)
It has built-in statistical tools.
With built-in character and set management, it's completely integrated.
Cons:
It is possible to collaborate online with many people, however this requires a subscription cost.
After a 30-day free trial, cloud service utilization is a premium option.
Despite the fact that it supports Android and iOS, the compatibility is not free.
Pricing:
KIT Scenarist is a free software package that may be downloaded from the internet.
However, after a 30-day free trial, you must subscribe to a premium plan to use cloud services.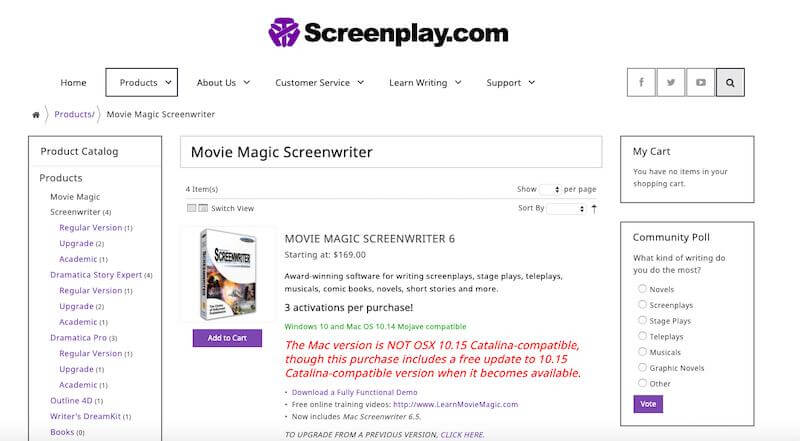 Movie Magic Screenwriter is a multi-award-winning programme that can be used to write screenplays, novels, comic comics, stage plays, musicals, and much more. It provides free online videos to help customers learn how to use the software and also allows them to download a free demo version to check it out. It has appeared in a number of Hollywood films, notably the popular 'Pirates of the Caribbean' series.
Key Features:
Very user-friendly and adaptable
Formats scripts according to current industry standards automatically (real-time, intelligent formatting)
When exporting to a scheduling program, you can tag characters and places.
Has collaborative tools built-in (real-time)
Features are color-coded for easy reference and organization.
Exceptionally adaptable (changes the layout and modify interface)
A custom 'NaviDock' interface is included (this can contrast your script based on a variety of factors)
Professionally created templates are available.
The ability to collaborate in real time with many stakeholders from different locations (iPartner feature)
The 'Text-to-Speech' capability is a feature that allows you to convert text into speech.
It has a notes commander that allows you to organize, access, view, and script your thoughts fast and easily.
Cons:
One of the most costly screenwriting software programs available (although features are not as great as in Final Draft),
Pricing:
There are several pricing options for Movie Magic Screenwriter.
The cost of the Movie Magic 6 is $169.
The upgrade costs $89.95 (for Windows and Mac) versus $69.95 for the 6.5 upgrade (only for Mac).
Each purchase comes with three activation options.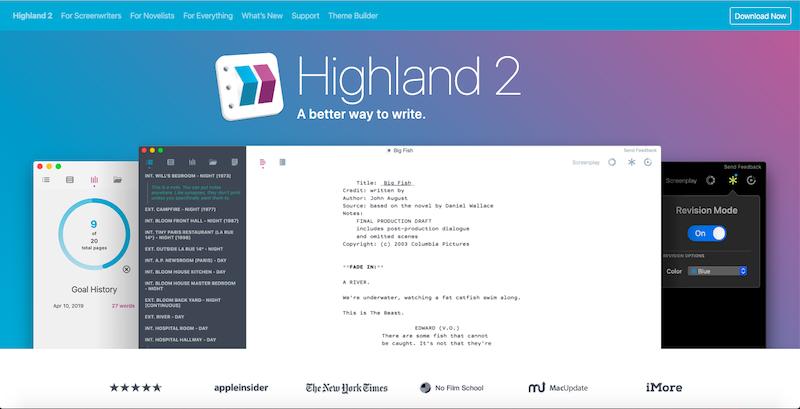 Highland 2 is now one of the best screenwriting programs available. However, it is currently only compatible with Macs. It has a simple, user-friendly interface that allows you to concentrate completely on your writing. It also has a great degree of customization, making it ideal for individuals or teams with a wide range of needs. It has a free version with limited functionality. You must upgrade to a paid version to gain access to greater, more advanced features.
Key Features:
Automatic formatting mode built-in (so you don't have to format)
Take advantage of the 'Sprint' feature, which allows you to keep track of time as you work.
It has a built-in gender analysis tool (the first script writing software to introduce this)
Regular updates to keep you up to date with the latest technologies
Free version with a lot of features (5 PDF templates, two built-in editor themes and much more)
Get automatic plain-text backups at the intervals you specify.
Customer service is outstanding.
Use the 'Scratchpad' function to take and leave project notes, similar to how index cards or beat boards are used.
With the 'pro' upgrade, you can create your own themes.
There are numerous keyboard shortcuts available.
Cons:
The PDF in the free edition is watermarked.
Only the Mac version is available.
Bugs with dual conversation in Play Script mode have been reported.
Pricing:
Highland 2 presently has a free version with limited functionality.
However, if you want more advanced features, you can pay $49.99 for the paid version.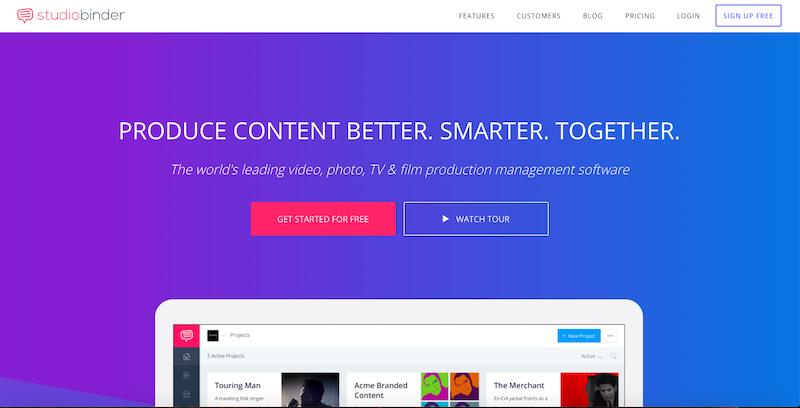 StudioBinder is currently one of the most popular screenwriting programs available. It has a user-friendly interface and is known for its sleek appearance. It also offers handy, fully customized solutions for photo and video production companies to better organize their work by bringing everything together on a single platform. Thousands of companies throughout the world rely on it, including industry leaders like Spotify.
Key Features:
Tables of contents (create and send personalized call sheets and track RSVPs).
You can customize call times and send attachments.
Breakdowns of the script (import scripts and tag elements)
Shot lists and a storyboard builder that are both robust and extremely configurable
Drag-and-drop interface built-in
At the same time, collect and transmit messages to the team, vendors, and clients.
Provides a free version that you can use for as long as you like.
Cons:
For small businesses, the cost is prohibitive.
There are too many options to pick from, which might be perplexing for newcomers (the software is designed with experts in mind).
Pricing:
The free instrumental version from StudioBinder can be used indefinitely.
Individuals and businesses can, however, pay for premium subscriptions.
Individual plans range in price from $29 to $99 per month, payable monthly.
You can save up to 15% if you pay on a yearly basis.
The price for businesses starts at $249 per month and goes up to $1499 per month, with payments due monthly.
You can save up to 15% if you pay your bills on a yearly basis.
Conclusion:
You won't become the next Quentin Tarantino, Aaron Sorkin piece of software. Professional screenwriting software, on the other hand, can make things easier by guiding you through the process of creating a clean, structured, error-free, pitch-ready script.