OCR software converts images of text into scannable, machine-readable online documents that can be accessed from any computer. The most common way of digitizing text so that it can be modified on a computer is through the transmission of paper documents such as passports, business cards, and bank statements.
It is possible to scan and archive any image-based document into an editable PDF format using the best OCR software. Individuals and organizations alike can benefit from these tools, which make document management and cloud storage quick and simple.
In this article, I evaluate and assess the best optical character recognition OCR software based on factors such as speed, ease of use, storage capacity, accuracy, pricing, support, and more.
Let's get down to business with the list of best OCR software.
What is OCR Software?
OCR (Optical Character Recognition) software uses OCR technology to recognize printed or handwritten text within digital files or physical documents. Examining text in a document and translating it into code for data processing are two of its main duties. OCR software is also known as a text recognition tool in layman's terms.
What is the Best OCR Software?
Here are my top recommendations for the best optical character recognition, OCR software to use in 2021.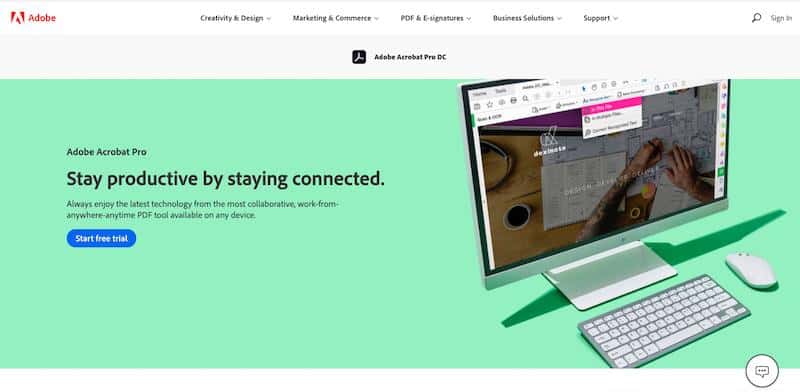 Adobe Acrobat Pro DC is OCR software that extracts text from scanned documents and converts them to editable PDF files. It offers an all-in-one PDF solution for any device. This means you can make and modify smart PDFs, as well as convert PDFs to Microsoft Office and JPG formats. You may also use Pro DC to distribute PDFs, sign PDFs, and print or compress them.
In addition, the OCR tool has a number of editing features, such as text recognition, adding comments, reordering pages, combining files, and so on. Rotate, remove, and crop pages are just a few of the options available.
Pros:
Adobe's photo editing software, photo management tools, and graphic design software all work nicely together.
Use Action Wizard to personalize and create PDFs while saving time and keystrokes.
The Accessibility Checker can be used to check the accessibility of a PDF.
Texts from the paper are automatically scanned and converted into editable documents.
Compress PDF files without sacrificing quality with an online PDF utility for convenient storage and administration.
Convert PDF to PNG, TIFF, or JPEG, among other formats.
For 7 days, there is no charge.
Pricing:
A monthly subscription to Adobe Acrobat Pro DC is $14.99.
For $12.99 per month, you can also create, edit, and sign PDFs with Acrobat Standard DC.
Omnipage Ultimate is an optical character recognition (OCR) program for converting paper, PDFs, and photos to digital files. Essentially, it converts PDF files and forms into editable documents that you can modify, archive, and share. However, the software is only compatible with Windows, so you won't be able to use it on your Mac.
Furthermore, the OCR software allows you to transmit converted PDF files to pre-programmed workflows automatically. Its eDiscovery Assistant allows you to turn single or multiple PDF files into searchable files.
Pros:
It supports a wide variety of file formats, including Microsoft Office, PDF, Word, Excel, PowerPoint, Corel WordPerfect, HTML, and ePub.
Documents can be scanned in any format and sent anywhere on the network.
Use Amazon Kindle Recognition to deliver converted documents to the eBook reader immediately.
Create your own processes to execute recurring jobs more precisely.
The formatting of original papers is preserved by the utility.
Integrate OCR capabilities into apps to provide virtual support for operating systems on PCs and smartphones.
Pricing:
The one-time purchase of OmniPage Ultimate is $499.
You also get a 15-day free trial to familiarize yourself with the OCR software.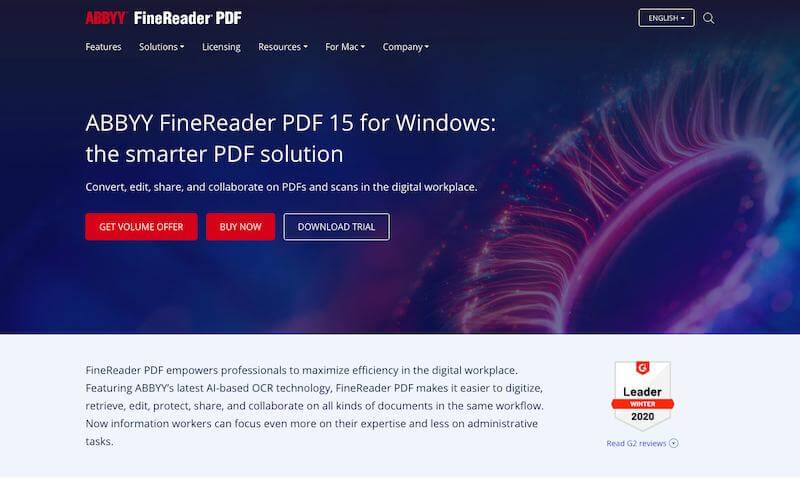 ABBYY FineReader PDF 15 is a PDF solution that uses AI-based OCR software to create and improve all types of PDF documents. It also enables you to digitize, retrieve, preserve, collaborate, and share a variety of documents in a single workflow. It also allows you to modify paragraphs and sentences, as well as the document's layout.
Pros:
Create password-protected PDF files with various levels of security.
Verify the integrity and authenticity of the digital signature.
PDF files can be converted to a variety of editable formats, including Microsoft Excel and Word.
Split PDF files into sections based on page count, file size, or bookmarks.
Use MRC Compression to reduce the size of PDF files by up to 20 times.
Pricing:
There are three premium options available with ABBYY FineReader PDF 15:
A one-time payment of $199 is required.

$299 one-time payment for corporations

Quote-based volume licencing (for large organizations)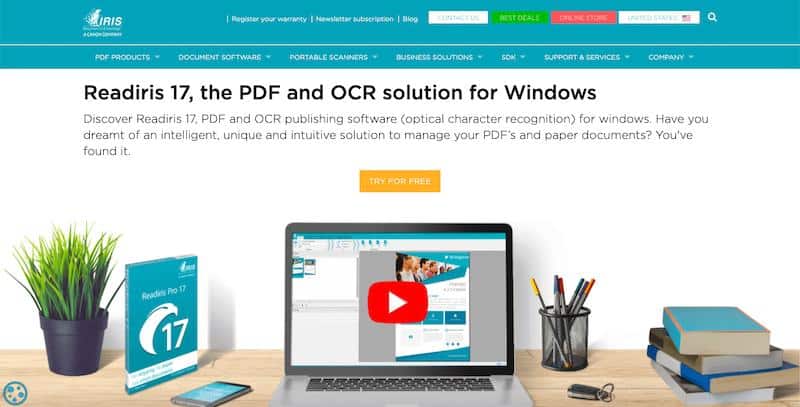 Readiris is a PDF and OCR software that allows you to edit and annotate PDF files, as well as aggregate and split them, safeguard and sign them. With just a few clicks, you can edit, convert, and transform paper files into a variety of digital formats. You may also convert photos, PDFs, and texts into editable formats such as Word, PowerPoint, Excel, and indexed PDF. It also includes a new recognition engine that allows for more efficient document management.
Pros:
All Twain scanners are compatible with the tool.
Adjust and rotate documents that are upside down or skewed.
On an eBook reader, convert books and documents to EPUB format.
Text contained in photographs can be changed.
Readiris understands over 130 different languages.
A money-back guarantee for 30 days.
Online tech support is available at no cost.
Utilize the IRIS iHQC technology to reduce the size of PDF files by up to 50%.
Pricing:
Readiris has three different sub-products:
Readiris PDF 17 costs $49 USD.
Readiris Pro 17 costs $59 USD.
Readiris Corporate 17 costs $89 USD.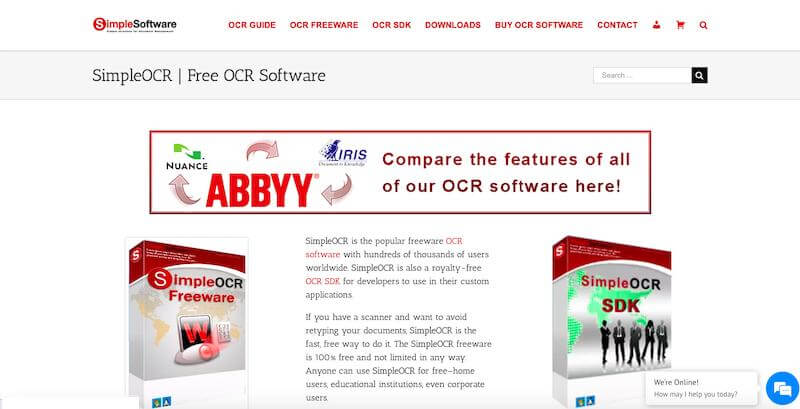 SimpleOCR is a freeware OCR that provides developers with a royalty-free OCR SDK to use in their own apps. It works with all versions of Windows and simply requires a TWAIN driver to maximise scanner compatibility. It comes with a large vocabulary of over 120,000 words to help you recognise words in your documents quickly. Additionally, you can use the text editor to add new terms.
Pros:
Use Zone OCR to extract more text from a specific section of the document.
The transformed files can be saved in DOC or TXT formats.
It allows you to extract plain text.
TWAIN scanners are supported.
The program recognises both French and English.
It is available for personal use at no cost.
Pricing:
It is possible to use the software for free.
The premium versions, on the other hand, start at $25 and go up to $2500.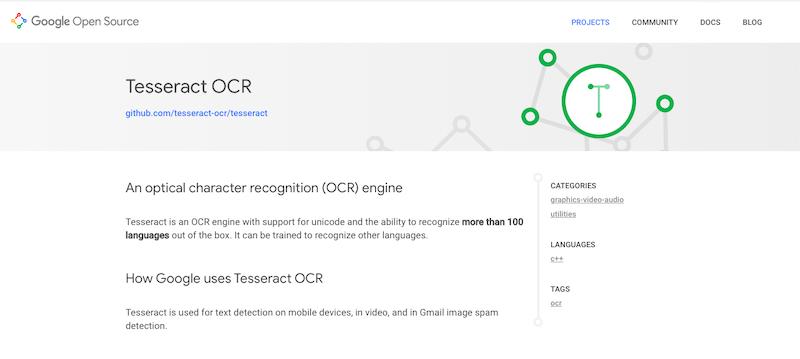 Tesseract is a free OCR programme that is distributed under the Apache License. This open-source software also includes support for output text formatting, page layout analysis, and hOCR positional data. It also makes use of the Leptonica library to support a variety of picture formats.
Text detection on mobile devices, videos, and Gmail image spam detection are the most ideal applications for the program. It can also detect texts that are spaced proportionally and monospaced.
Pros:
It arranges text blobs into aligned text lines.
Windows, Linux, and Mac OS X are all supported.
Tesseract can detect and correct tiny caps and fuzziness.
Other scripts and languages can be trained into the software.
It uses linguistic analysis to determine the most likely words from a given set of characters.
Both proportional and non-proportional words are detected by OCR software.
Pricing:
Tesseract is a completely free open-source programme.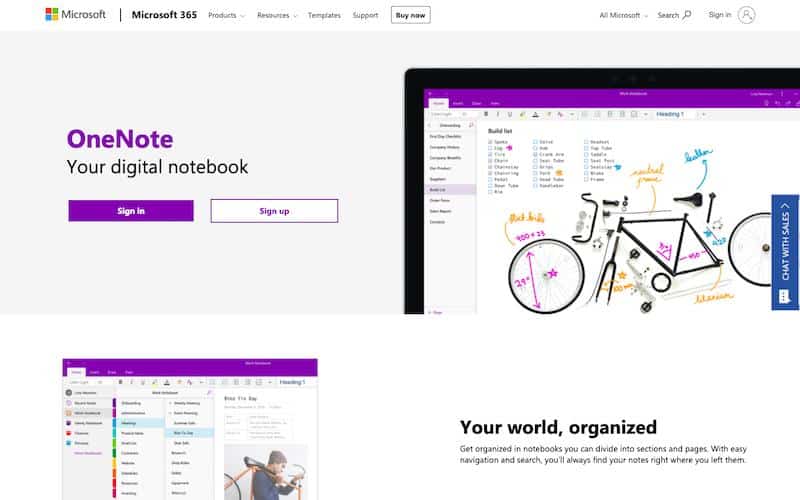 Microsoft OneNote is an OCR programme that allows you to take notes, gather information, and create digital forms, screen clips, and notes, among other things. It also allows you to change text by copying text from a photo or file printing and pasting it into your notes. You may now split and arrange your notes into parts and pages, as well as navigate them using a search bar.
Furthermore, all of your notes are automatically stored, and you can locate them just where you left them. You can also use highlighting, font, or ink annotations to update your notes. Not only that, but OneNote allows you to collaborate on notes with your colleagues. This function also allows you to share your thoughts with coworkers and employees.
Pros:
You can use a stylus or your fingers to doodle on your notes.
To your notes, you can add files, internet movies, and audio notes.
It can accommodate up to 6 people.
Per person, up to 1 TB of storage is available.
Other Microsoft Office Mobile apps, such as Word, Excel, and PowerPoint, are also available.
Pricing:
There are three pricing options for Microsoft OneNote:
$149.99 Office Home & Student (One-time purchase)
Microsoft 365 Personal is available for $69.99 per year.
$99.99 per year for Microsoft 365 Family
With the Microsoft 365 Family package, you also get a one-month trial.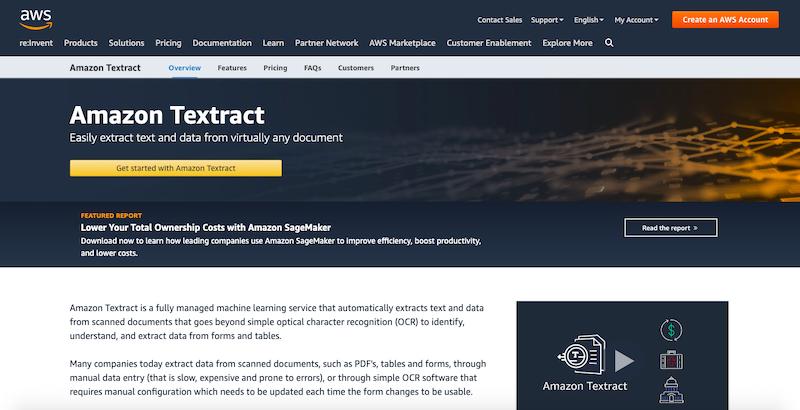 Amazon Textract is a machine learning software that extracts data and text from scanned documents automatically. It also employs OCR technology to extract data from forms and tables and detect printed text and numbers automatically. In addition, the OCR software works with Amazon Augmented AI (Amazon A2I) to review the text recovered from scanned documents.
Pros:
It's a web-based programme, but you may also use the command line to download it.
You can convert up to 1000 pages for free with this program.
The Web, Windows, macOS, and Linux are all supported.
Pricing:
The following pricing plans are based on the type of data extracted:
$0.0015/page for Detect Document Text API (OCR)
For pages containing tables, the Analyze Document API costs $0.015 per page.
Examine the Document API for pages that contain forms: $0.05 per page
Analyze the Document API for tables and forms on pages:

$0.015+

$0.05 per page
For the first three months, new customers can utilise the Detect Document Text API to analyse up to 1000 pages per month and the Analyze Document API to analyse up to 100 pages per month.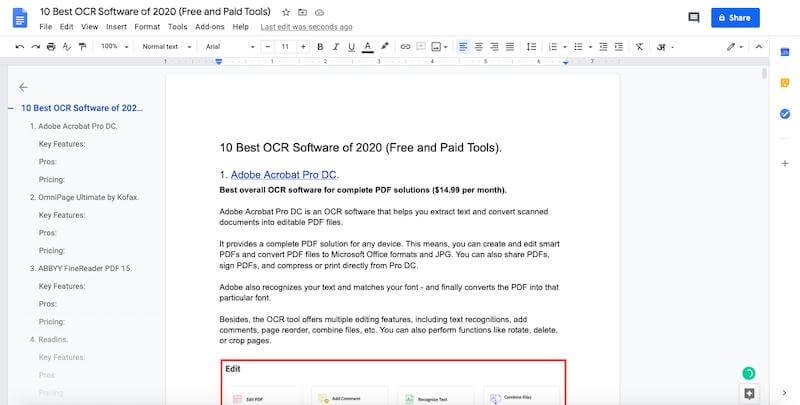 Google Docs is a web-based word software that includes text and paragraph formatting, as well as editing and style tools. It also has a free OCR feature that allows you to transform PDF files into editable text. You may even share your documents with others and offer them real-time access to them. Google Docs also allows you to see who is editing your document and what changes they are making.
Pros:
Typing with my voice
Free templates are available for a variety of documents, including resumes, reports, and more.
You may use Google Docs from your phone, PC, laptop, or tablet at any time.
Google Docs accepts all file types.
The total number of words can be simply determined.
Check your spelling and punctuation.
Pricing:
Google Docs is a free service.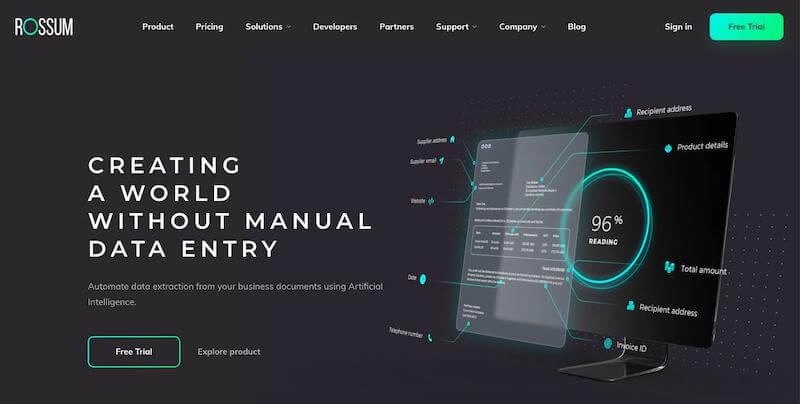 Rossum is an AI-based OCR software that extracts data from invoices and eliminates manual data entry. They claim to be able to accurately capture 98 percent of data from any business document or invoice. Not only that, but they also assist in the reduction of errors.
Furthermore, Rossum is template-agnostic and can capture data from any sort of invoice, regardless of design. After the document has been converted or scanned, you can add or change data and provide feedback. Furthermore, Rossum urges customers to analyse and inspect invoices for which their software is uncertain.
Pros:
PDFs, JPGs, and PNGs are among the formats supported.
Data can be exported in CSV, JSON, XLSX, or XML forms using their software.
NBD email is supported by the software.
A single account can be accessed by an unlimited number of people.
Scanning numerous papers at once is possible.
Pricing:
Plans that are based on quotes.