For brands of all sizes, having visually appealing design that appeals to their target audience is essential. Whether you need this software to help you launch a blog like this one or edit product photos for your eCommerce business, choosing the best graphic design software will help you take your brand identity to the next level and make it stand out from the crowd.
In light of this development, Adobe Photoshop has emerged as the de facto standard in the field of image editing and graphic design software. Although various alternative visual design software applications have arisen over the years to meet the diverse demands and preferences of designers, Adobe Photoshop remains the industry standard.
Not only can having a capable graphic design software increase productivity, but it also aids in the incorporation of spectacular creativity into real-world design. This article will go over the top ten graphic design software options, which will be ranked in order of quality in the next section.
Best Graphic Design Software
So, we'll go over the top 10 graphic design software tools, which will be ranked according to their quality in the following half of the article.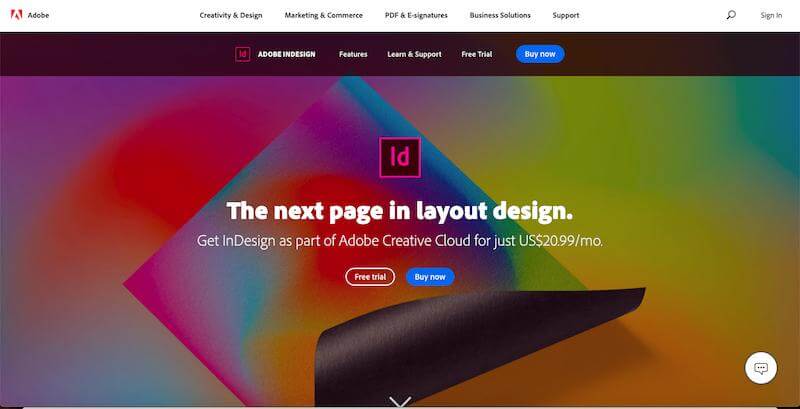 If you work in the publishing industry, Adobe InDesign is a must-have piece of graphic design software. It has outstanding capability for creating beautiful magazines, information sheets, and brochures that can be simply exported to PDF or HTML.
Pros:
Graphic designers can blend graphics and text together to streamline and optimize files more efficiently.
Indexes, keywords, anchor text frames, footnotes, tables of contents, and captions with hyperlinks can all be tagged.
It offers HTML exporting, which allows web developers to export clean, straightforward scripts for use in implementing website layout designs.
For WordPress sites, this is ideal.
It can assist you in removing unnecessary div tags and content grouping from HTML files.
It has the ability to resize numerous objects at once and adjust their width and height.
Designers can use the Eyedropper tool to apply position or size to another object in the document in real time.
It is a desktop publishing industry standard.
Cons:
For new users, the less intuitive user interface can be daunting.
It is not intended for widespread use.
only suitable for business use.
It's a little more pricey than other similar software on the market.
The integration of PDF comments needs to be perfect.
Price:
InDesign is available from Adobe for $20.99 per month as a subscription.
The total cost of the Creative Cloud is $52.99 per month.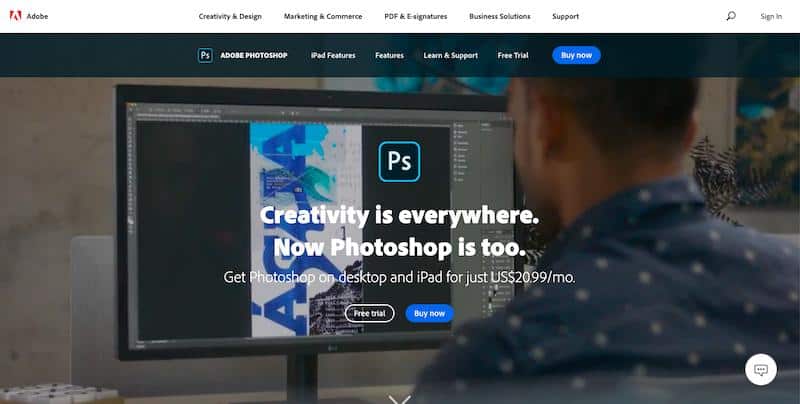 For graphic designers, Adobe Photoshop is synonymous with photo editing and manipulation. It is one of the most popular picture graphic design software available on the market, and it comes in a powerful package that includes strong graphic design capabilities as well as photo editing capabilities.
Pros:
It provides a free mobile application for users.
Its user interface is simple and intuitive, and it provides a great deal of aid for simple operation.
You've got an extensive collection of typographic and drawing tools.
It is fully equipped with 3D design capabilities.
With Adobe Creative Cloud, you can create a library and manage your photos.
Transferring files between multiple apps in an efficient manner.
Responsive graphics are included with a variety of design tools.
Editing of animation and video layers is possible.
Users can customize the canvas size, create custom brushes, work in 3D, isolate elements from backdrops, and perform a variety of other tasks.
Cons:
Adobe now includes Photoshop as part of a Creative Cloud subscription, which can be expensive.
The recurring payment turns out to be more expensive, and consumers who want to purchase software for the foreseeable future are unable to do so unless they purchase a perpetual license.
A wealth of functions may be overwhelming to a first-time user.
Support for raster and vector images, such as the SVG file, is limited in this version.
Price:
Photoshop is available for a monthly subscription fee of US$33.99 per license, payable to Adobe.
Adobe Illustrator is a powerful graphic design software that can be used to create illustrative artwork, page layouts, business logos, website mockups, and nearly anything else. It's also an industry standard in vector creation software.
Pros:
It generates pictures based on mathematical equations rather than stored pixels, ensuring clean and sharp lines that may be printed in any dimension.
It generates graphics files that are quite tiny in size so that designers may simply share them via email attachment.
Adobe Stock gives you access to over 90 million photos, graphics, templates, and videos.
Using Adobe font integration, you may choose from thousands of fonts and use the one that's best for your project.
Integration with other Adobe products is tight.
Cons:
It is more expensive than other vector-based graphic design programs.
For new users, the sheer number of features can be daunting.
To use it effectively, there is a severe learning curve.
It has the potential to take up a lot of space on your computer.
Price:
Adobe Illustrator is available for a monthly fee of US$9.99 for personal use and US$33.99 for business use.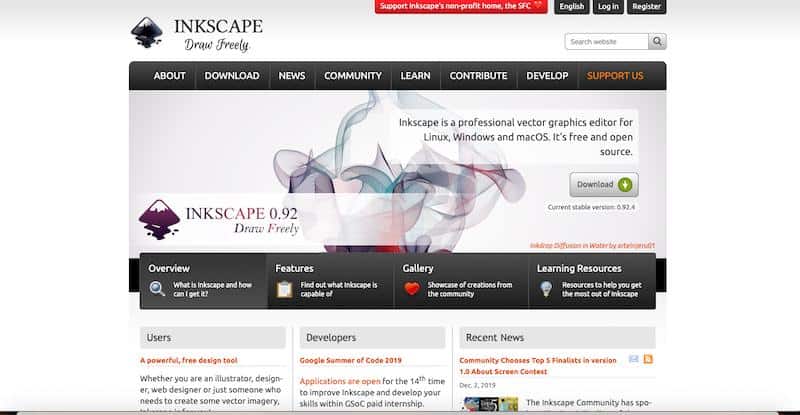 Inkscape is a free graphic design software that can assist designers in creating scalable graphic designs that do not stretch or blur when resized. It's a user-friendly alternative for those interested in vector sketching as a pastime or as a beginning.
Pros:
With the paragraph type, users

may

easily create individual text lines without frames.
Multiple gradients are supported, and a separate tool for creating complex combinations is included.
It comes with Bezier handles to make node movement more fluid.
Inkscape has a number of well-designed and feature-rich tools for creating, editing, and converting vectors.
It also has the ability to download or create ready-made plugins.
Users can save time and effort by utilizing several preset categories of filters.
Cons:
Before exporting, Inkscapes' streaming text must be transformed into plain text, for example.
The Mac version is not error-free.
It takes a little longer to process than other graphic design software.
Illustrator compatibility isn't guaranteed.
Price:
A yearlong subscription is $198, or $16.50 per month.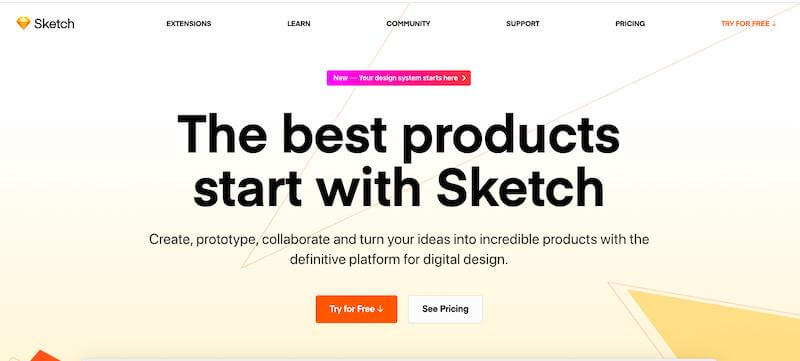 The sketch is a vector-based graphic design software that excels at app, web, and interface design. It's great for generating UI/UX prototypes with interactive elements.
Pros:
It facilitates cloud-based sharing and collaboration.
Through a simple file sharing process, designers can share the full interface on the cloud.
Users can mirror designs on larger devices for design viewing to see how they might look in different devices.
Any layer or group can be exported as a PNG file.
Sketch saves all modifications to the design step by step, preventing the design from being lost.
Designers can breathe a sigh of relief!
Libraries with conventional Android, iOS, and Mac icons are available to users.
It has a short learning curve.
Cons:
Because it's a new design tool, it's not yet finished and needs a lot of work.
It has limited illustration skills, which can make complex illustration work difficult.
When accessing from the cloud, screens do not render in high resolution.
It's solely for Mac users.
There is no option for automatic layout flow.
Price:
A yearly subscription to the service costs $99 per year.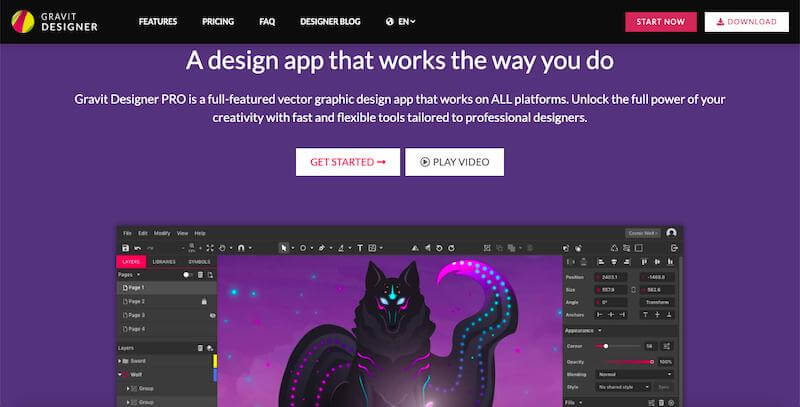 Gravit Designer is a web-based graphic design software tool that produces high-resolution vector graphics. It's one of the best tools for graphic designers, product designers, and web designers.
Pros:
It has a modern, fully customizable, interesting, and simple to use user interface.
Gravit Designer provides an implicit approach to

design

social media posts for a variety of platforms, including Instagram and Facebook. The software's web and desktop editions provide natural flexibility.
It supports a variety of file types for export and import, as well as scalable vector graphics editing.
Users gain non-destructive Boolean knife and tool support, making it a powerful tool for user interface design.
Designers can quickly open several documents and navigate to the

papers

tab.
Its Pro edition allows you to save an unlimited amount of data

in

the cloud.
Cons:
There isn't much information about the software available from official sources.
There isn't a feature for real-time cooperation.
Designers are unable to test prototypes on cellphones to see how they will appear.
To work, fonts require an active internet connection.
Price:
Gravit Designer is completely free and has a restricted set of functionality.
For $100, you can

get

Gravit Designer Pro.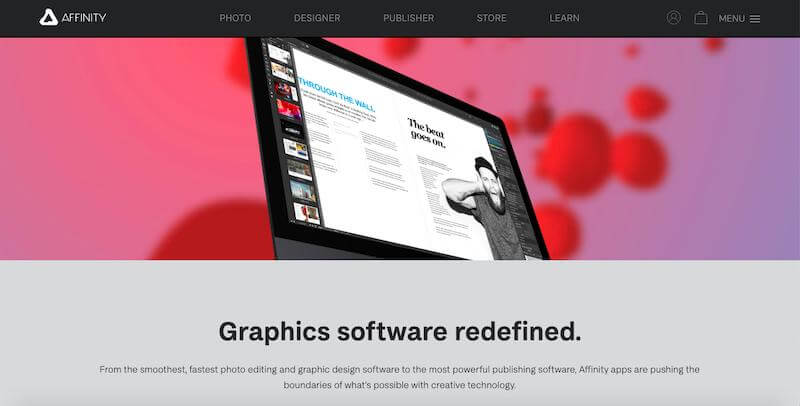 Affinity Designer is a simple graphic design software, powerful, and less expensive replacement for Adobe Illustrator. It's a great value for money option that's also easier to use and faster than Illustrator.
Pros:
Designers can use dynamic on-screen guidelines to guarantee that objects and designs are measured and aligned correctly.
Users may make attractive vector graphics by using rope and window stabilizers to generate smooth and accurate curves.
Boolean operations are capable of not only joining shapes, but also of effectively moving and altering certain of them.
It comes in a variety of hues to complement your designs.
Users can also

apply to

a large number of artboards for their work on a single project.
Its iPad app is just as capable as its PC counterpart.
Cons:
Doesn't export AI files
There isn't a natural perspective grid.
In Designer Persona, there is no vector eraser.
Some elements that are available

in

Illustrator Pricing Plan are missing.
Price:
Designers can purchase Affinity Designer for $49.99 as a one-time

software

.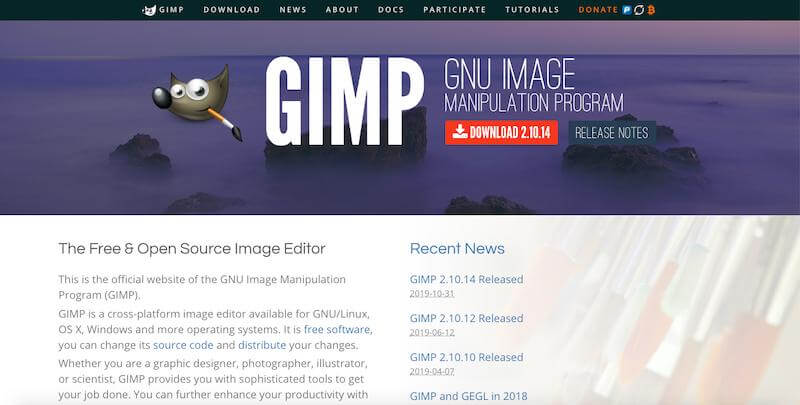 GIMP is much more than a photo editor that provides many of the same capabilities as Photoshop for free. It has a number of professional-level features for fine-tuning photos and creating original artwork.
Pros:
Users can use tools like cloning,

pencil

, and

airbrush

to sketch out their drawings.
GIMP provides lessons for each function to assist users.
Its Layers function enables designers to design a new image on top of an existing one.
For users who are new to the world of picture editing, it has a clean and easy-to-use user interface. It also has the option of working on a modular and single-window interface. It is very lightweight and makes efficient use of CPU resources, resulting in fast performance.
Cons:
For Mac users, the user interface isn't flawless.
Adjustment layers allow you to combine numerous photo alterations in a non-destructive fashion.
There isn't much of a developer community.
As a result, it is updated significantly more slowly.
Price:
It's a totally free version of design software because it's an open-source platform.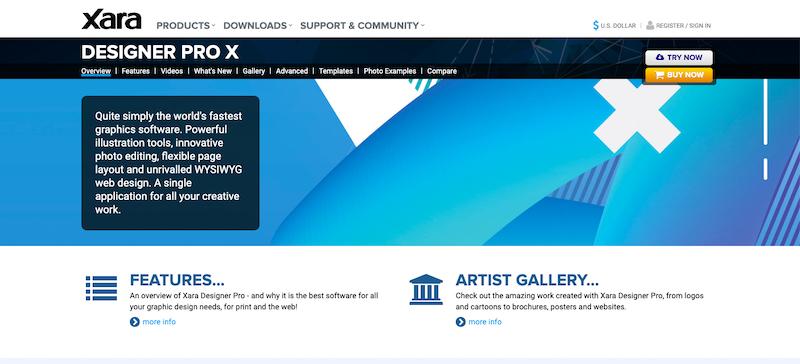 Complex features and tools are available in Xara, as well as advanced graphic design software. The software is widely used to make graphics, edit pictures, and design web pages for web and print design solutions.
Pros:
Xara Designer Pro has a lot of editing tools, such as solid dragging, resizing, and rotating of items to get the best results.
It includes anti-aliasing, which improves the clarity of on-screen visuals by softening the edges of objects by merging the edges with the backdrop. It also includes cloud capabilities, which allow you to read, edit, and update documents from any computer or tablet using a web browser.
The zoom tool can

zoom

up to 25,601 percent, allowing designers to examine details more closely.
Designer Pro can connect to Dropbox and Google Drive to sync files.
It supports a wide range of file formats, including bitmaps like JPEG, BMP, GIF, PNG, TIFF, and PSD, as well as photo formats like RAW and JPEG XR.
Layer support, alpha channel, and 16-bit colour and CMYK layer conversion are also supported when importing and exporting Adobe PSD files.
Cons:
It is only available on Windows.
To use all of the capabilities effectively, there is a steep learning curve.
Masking is a complex and difficult-to-understand feature.
Price:
The cost is $299 for a yearly subscription.