5 Best Expense Tracking Software for Business
If you are currently using one of the many fantastic Zoho products to assist your small business, you should go no farther than Zoho Expense to complete your task. It includes all of the functionality that a small business or freelancer could possibly require, and it connects effortlessly with the rest of the Zoho suite of products.
Automatic receipt scanning, the ability to make notes on any expense, the ability to set up allowances for employee expenses while on the road, support for all major currencies, digital receipt storage, and access to detailed reports are just a few of the essential features you can expect. This expense tracking software includes analytical capabilities that can assist you in taking a closer look at your spending habits and patterns.
View liabilities in easy-to-read charts and graphs to obtain a better view of expenditures and to identify which employees may be in violation of your regulations when it comes to expense reimbursements and reimbursement policies.
Benefits of Zoho Expense
Manage all of your debit, credit, and corporate card transactions in one place with one login.
Spending restrictions are simple to implement and might help you prevent overspending.
Approving expenses is a quick and simple process that can assist you in running your business.
Price of Zoho Expense
There is a free plan that supports up to three people, which is available (perfect for freelancers)
Premium plans start at $5 per month per user and go up from there.
Plan prices for enterprise customers begin at $8 per month per user.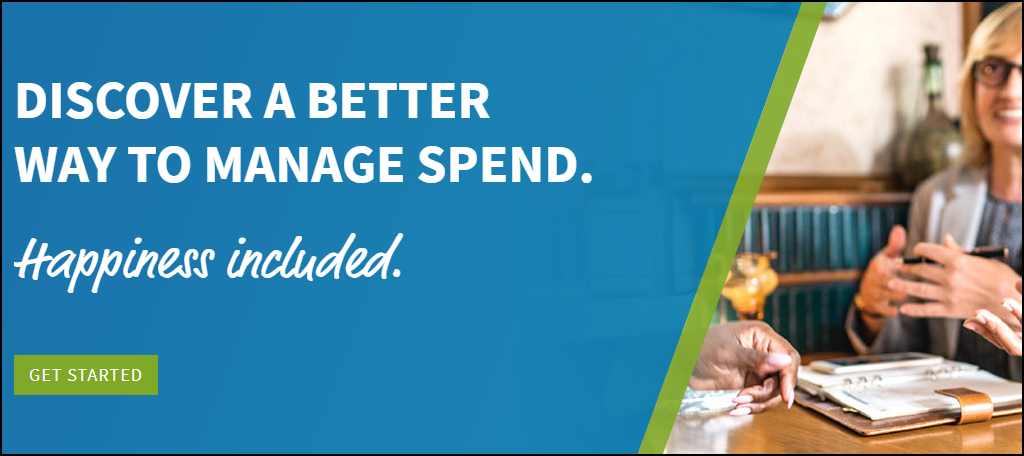 Certify is yet another wonderful option for expense tracking software, and it includes a fantastic expense report app. From generating, submitting, and receiving approval for expenses to determining the overall amount of mileage you can deduct, this program takes care of everything for you. And it's straightforward enough that anyone, regardless of technical ability, can use it.
It cannot be overstated how easy it is to get started with this tool once it has been downloaded. All of this may be done within the 15-day trial period, as well as a thorough review of your account to ensure you have the tools you need to effectively manage your company's spending. You can also communicate with live help at any time of day or night.
Another significant convenience feature is the availability of autofill options for receipts. Simply snap a photo of the receipt and the app will take care of the rest. It's that simple. You can double-check the information that has been auto-filled to ensure that it is correct. Despite the fact that crumpled receipts might have a variety of outcomes.
Benefits of Certify
Top-notch assistance is offered via email, FAQs, training videos, and phone services, among other methods.
More than 140 currencies and 64 languages are supported.
Reports provide users with a more in-depth understanding of their company's spending habits.
Price of Certify
Plans are now available for as little as $8 per month per user (up to 25 users)
In the case of larger organizations with more employees, you must contact Certify for a price quote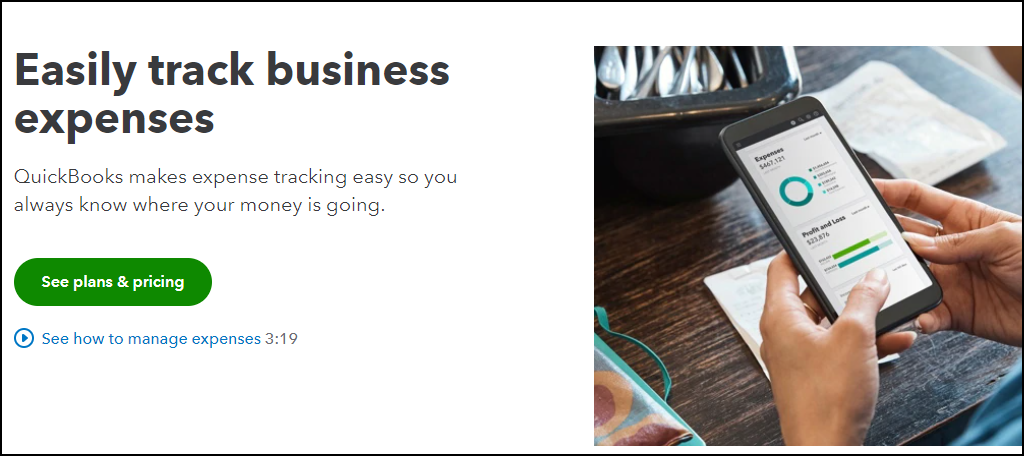 With regard to business-related expenses, you can guarantee your bottom dollar that Intuit has a solution to suit your needs. QuickBooks is the application in this scenario. It is the most widely used accounting tool for organizations, and it devotes a significant amount of attention to the tracking of expenses. If you are self-employed, you may have obtained QuickBooks at no cost if you used 
TurboTax
 to file your taxes in the previous year.
Intuit's products will work together easily because they are all part of the same company. It's also worth mentioning that you may upgrade your QuickBooks account to include payroll support, which is among the greatest services available. In addition to Intuit services, you may connect with other services such as PayPal in a matter of minutes, saving you time and money.
The expense tracker software that comes with Quickbooks is where the majority of employers will spend the majority of their time. Among other things, this program manages sales tax tracking, so you'll be prepared for tax season. It also has receipt snapping, invoice tracking, cash flow management tools, and other features.
Benefits of QuickBooks
There is a free 30-day trial available.
It provides a plan specifically designed for self-employed individuals.
It only takes a few minutes to connect with bank accounts once they have been created.
Price of QuickBooks
Simple Starts plans start at $25 per month, while Plus plans begin at $70 per month, and Advanced plans begin at $150 per month, respectively.
Plans for self-employed individuals begin at $15 per month.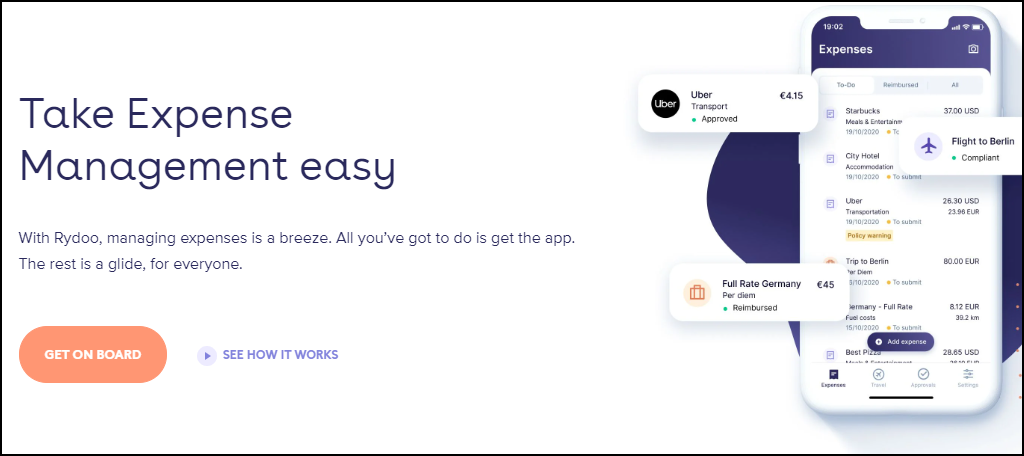 As a result of its inexpensive cost and extensive feature set, Rydoo is considered to be one of the best expense tracking software options available. Because it is designed for small enterprises all around the world, you can expect it to keep track of expenses incurred while travelling. In addition, it features the best expense tracking app available on the market today.
This smartphone software allows you to record anything while you're on the go, which is really convenient. After all, it is at this location that you will make the majority of your purchases. It even lets you purchase flights, hotel rooms, and other travel accommodations directly through the app, with the receipt for each transaction being added to your costs.
Because of this service, employees are able to upload their receipts while on the go, which helps companies expedite the reimbursement process for their employees. As an employer, you can set up automatic approvals for modest items such as coffee, but you can also demand receipts and approvals for more essential items such as hotel rooms and airline tickets.
Benefits of Rydoo
The setup procedure is straightforward, and you have the option of assigning roles to each of your staff.
It has the ability to integrate with a multitude of other software and apps, including Slack.
Through the Uber app, you may communicate with Uber drivers.
Price of Rydoo
Starting at $7 per month per user, Starter is the most affordable option (5 user minimum).
Growth starts at $9 per month per user and goes higher from there. Enterprise options are also available on request.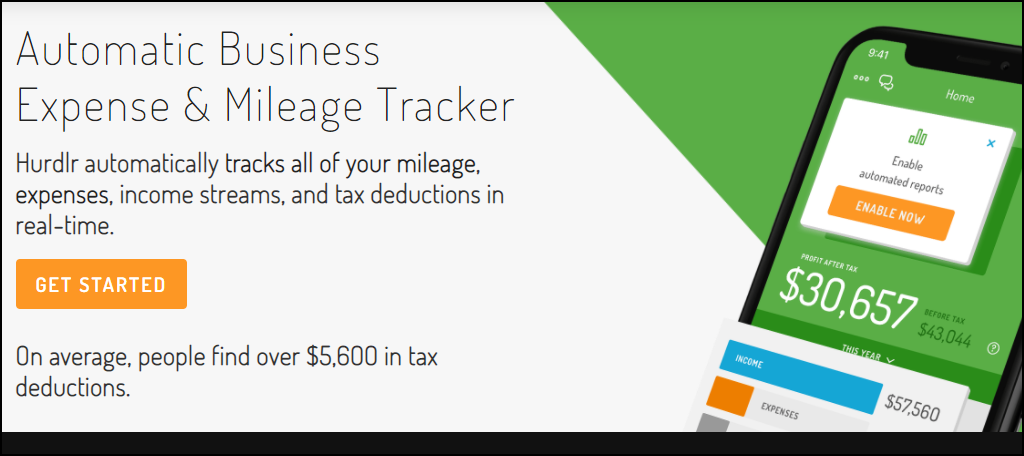 Hurdlr is an expense tracking tool that allows you to handle almost anything from the comfort of your smartphone. It is free to use. Over 8 billion dollars in spending are constantly tracked by the company, and it has saved its customers over $300 million in tax advantages. Wow, those are some remarkable stats!
The mileage tracking feature is one of the most useful aspects of this app. It's critical for many business owners who travel on a regular basis to keep track of their miles so that they can take advantage of the best tax breaks possible. When you use this app, your mileage will be automatically recorded, and the feature can be turned on and off as needed.
When it comes to keeping track of your expenses, tax season can be particularly challenging. It can be difficult to ensure that the correct documents are delivered to your CPA or tax software. It's easy to use Hurdlr because it sends them to the appropriate recipients on your behalf. As a result, when it comes time to file, you'll already have all of the information you need.
Benefits of Hurdlr
View state and self-employment tax computations that are updated in real-time.
All charges are automatically classified to ensure that you receive the greatest possible tax reduction.
At a glance, you can see how much money you owe in taxes.
Price of Hurdlr
There is a free version of the software available with limited functionality.
Premium options are available for as little as $5 per month.
Pro options are available for as little as $10 per month.