As the competition for leads and sales increases, sales teams and business owners require a more effective approach to follow clients through every stage of the buyer experience. Fortunately, there are several options available. Customer relationship management CRM software can help in this situation.
In order to cultivate these client relationships across your channels, customer relationship management CRM software must first provide an outstanding experience for customers before directing them down the sales funnel. CRM software, which make use of email marketing, lead creation, and marketing automation, assist in managing and improving company engagement within a database.
In order to make your decision easier to choose the best CRM software, I've ranked and reviewed the best CRM software based on features, integrations, sales capabilities, marketing tools, support, pricing, and other factors, among other factors.
Let's get this article started.
What is the Best CRM Software?
Based on my extensive experience with several CRM systems across numerous tech companies, and testing both small business and enterprise CRM systems, the following are my top selections for the best CRM software.
Pipedrive is a sales-focused best CRM software that employs artificial intelligence to automate monotonous operations and manage leads and sales. They presently serve more than 90,000 customers, and their platform has been used to facilitate more than $24 billion in transactions.
Pros:
It is simple to add deals, values, win probabilities, and close dates to the database.
Infinite custom fields allow you to collect any piece of client information you desire.
Revenue estimates and recurring revenue can be tracked using custom reports.
Individual sales calls, emails, demos, and events can all be tracked via activity reports.
Lead source data reports inform you where your leads came from and how they were generated (organic, direct, SEM, social, outbound sales, etc.)
"Sales Assistant" generates performance tips and automation recommendations in order to save you time and money.
Pricing:
Pipedrive offers four premium plans: Essential, Advanced, Professional, and Enterprise. Each plan has its own set of features.
These plans range in price from $12.50 per user per month to $99 per user per month, depending on the number of users.

Freshworks CRM software (previously Freshsales) is an AI-based CRM that may be used for lead scoring, email activity, and email capture, among other things. One of its most notable characteristics is that it gives you a full 360-degree perspective of your company.
Pros:
High-level automation and intelligent workflows are provided.
MailChimp, Zapier, Calendar, Piesync, Segment, and others are among the many connectors available.
RESTful APIs for reading, modifying, adding, and removing data from the support desk.
Lead segmentation based on behavior.
Advanced lead scoring based on behavior and traits.
Personalized welcome and voicemail messages are sent out.
GDPR-compliant.
There is a free trial period of 21 days.
Excellent phone and email customer service.
One of the most popular mobile CRMs with a mobile app.
Keeping track of events (tracks previous communication to plan the future approach).
Extremely adaptable.
Pricing:
Freshworks CRM software has four pricing levels, ranging from $12 to $79 per month per user (when billed annually).
You can receive a 360-degree perspective of your organization with Zoho CRM, track important sales and marketing opportunities, and boost conversion rates. Zoho CRM is one of the most popular solutions on this list, with over 150,000 clients worldwide.
Pros:
Customer service is available via phone, live chat, email, and social media.
High-level automation is provided.
It's quite adaptable.
Over 100 third-party integrations, including LinkedIn, Zapier, Google and Outlook email connections, and more.
It's quite scalable.
There is a 15-day free trial period.
There is a smartphone version available (for paid plans).
Ensures data security, integrity, and compliance with regulations.
There is a multilingual option available.
There is a free plan available for up to three people.
Provides a complete calendar management solution.
Import/export of data is available.
Data enrichment, email sentiment analysis, and more are all aided by the predictive sales function.
Pricing:
The 'Standard,' 'Professional,' and 'Enterprise' premium plans cost $12, $20, and $35 per user each month, respectively (billed annually).
A freemium subscription for up to three users is also available from Zoho CRM.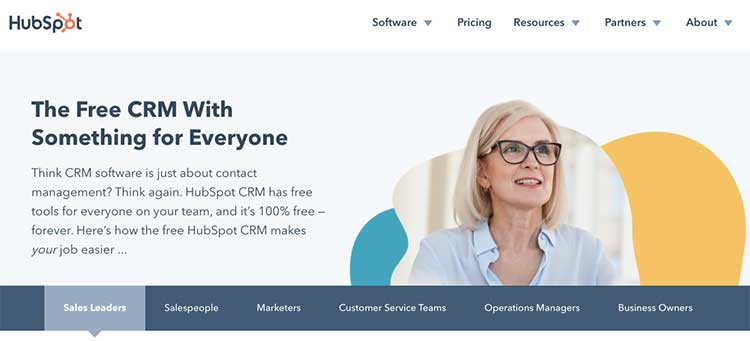 HubSpot CRM is a full-featured marketing package that is well known for its CRM software. Because of its many features and time-saving tools, HubSpot CRM is ideal for salespeople. With the capacity to capture, track, and grow leads within a database, it's also a good choice for marketing teams. They provide a completely free version of their software with the option to upgrade and gain access to their entire marketing toolkit.
Pros:
A completely free plan with the option to upgrade at any time.
Live chat, landing sites, email marketing, ad management, document management, and more are all integrated with their sales and marketing suites.
Email marketing and list segmentation are both free.
For easy access to all messages, create a team email and

chats

mailbox.
This is a fantastic form builder for capturing lead information.
Tools for tracking ROI across paid ads on Google, Facebook, Instagram, LinkedIn, and other platforms.
Pricing:
HubSpot CRM software has a free plan that includes a number of useful features:
After that, you can upgrade to one of their paying plans:
The Starter ($40/month) is a low-cost option.
Professional (monthly fee of $850)
($3,200/month) Enterprise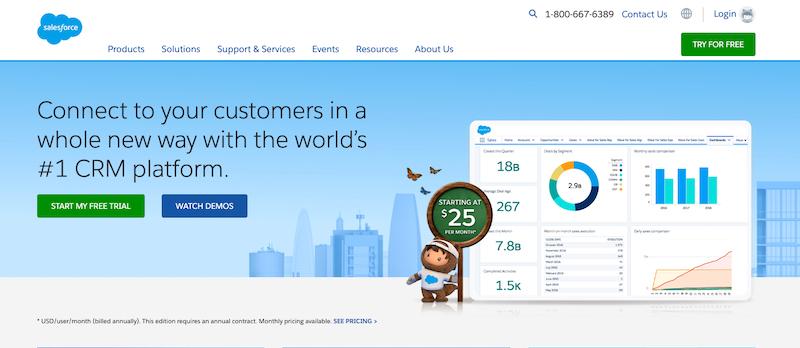 Salesforce is one of the most well-known names on this list, with over a million users around the world. It's a cloud-based CRM software that handles all aspects of a company's operations, including sales, service, marketing, analytics, and more.
Pros:
Customer service is available 24 hours a day, 7 days a week via phone, email, and tickets.
Personalization and automation at a high degree (provide great social experience).
There is a 30-day free trial period.
Cloud-based services (faster and inexpensive).
Linux, Windows, Mac OS X, and Android are all supported.
APIs that are free to use (therefore highly customizable).
Provide business territory management, a sales CRM, and social media management.
Customer service in multiple languages and currencies.
There is a large selection of email templates to choose from.
Einstein Lead Scoring is built-in.
Sales force automation and business intelligence are used to manage leads.
All devices, including mobile phones, are compatible.
Provides communities of partners.
Process builder and lead generation tools are built-in.
There are a lot of third-party integrations (LeadExec, Ambassador, Zuora, Zendesk, among others).
Option for mass emailing to save time and effort.
Pricing:
Salesforce has a wide range of items, thus costs may differ.
However, the subscription plans start at $25 per user per month, and the most expensive plan costs $1,250 per user per month (both billed annually). You can also contact them for a personalized strategy.
Most CRMs rely on human data entry from you and the rest of your sales team, but this is not the case with Salesflare. It makes keeping the best CRM software up to date a snap by automatically gathering all of the data.
Pros:
You'll be up and operating in days rather than months:
Teams take three days on average to go online, compared to nearly two months with comparable CRMs.
Its interface is basic and intuitive, despite the fact that it has a lot of power.
And, even when things become tough, its automatic keeps your staff updating and using it.
More sales; happier customers.
Teams can better track their prospects, ensuring that everyone gets the attention they deserve.
Cons:
No on-premise deployment is available.
Only English software is supported.
Pricing:
Growth, Pro, and Enterprise are the three premium programs offered by Salesflare.
Except for email sequences, permissions, and custom dashboards, the Growth plan includes the majority of the functionality.
The Enterprise package is for people that require support on a larger scale.
The monthly fees start at $29 and go up to $99 each month.
The Nimble is a great, yet basic CRM software application that works with G-Suite or Office 365 inboxes. It has a number of useful features, including the ability to update contacts, quickly access company and contact information, and manage transactions from within your workflow.
Pros:
Sends

out large-scale group emails to help you engage your audience.
To better engage customers/leads, use email tracking.
Gmail, Outlook, HubSpot, Mailchimp, and other third-party connectors are among the many available.
A revised smart contacts app is available (enhanced widget to support

,

calendars, tasks, deals, and more).
It's quite scalable and adaptable.
For 14 days, there is no charge.
The prospector tool enables you to go to a website and obtain professional information about people who aren't listed there.
It has a feature that allows you to send a message to a group of people.
Task management that allows you to create and allocate tasks to different team members.
Mobile phones are supported.
Data security, integrity, and GDPR compliance are all ensured.
Cons: There is only one plan available.
Doesn't one come with an auto-responder?
There isn't a free plan available.
Many integrations require the use of a 'sync' tool to work effectively.
Pricing:
There is only one plan to choose from.
The cost is $25 per month (paid monthly) and $19 per month (billed annually) (billed annually).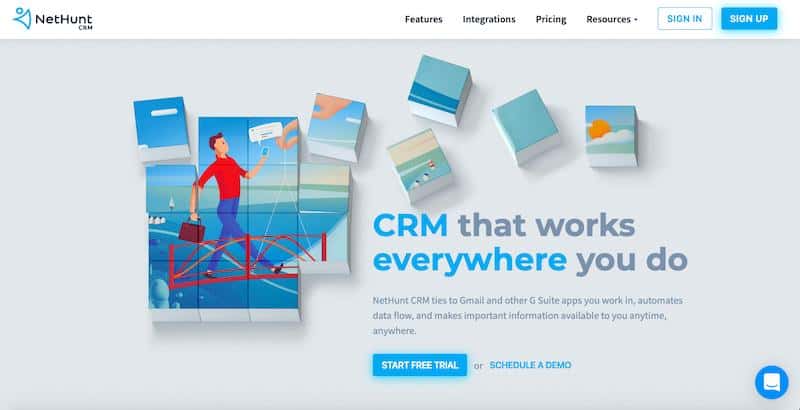 NetHunter CRM software works in tandem with your Google account and other programmes. It gives you all of the G-familiarity, suite's as well as all of the CRM's capabilities.
Pros:
It's fully integrated with Gmail.
There is a 14-day free trial period.
Filter, sort, and save data in the manner that you require.
It's highly adaptable and scalable.
Sends out mass emails that are customized.
With only one click, you may capture potential leads.
The UI is user-friendly and intuitive.
Integration with third-party apps is extensive (LinkedIn, Mailchimp, Twitter, Facebook, and more).
Cloud-based services (inexpensive and easy setup).
platform that is multilingual.
Customer service is provided via email, phone, and live chat.
Mobile devices are supported.
Importing and exporting data is simple.
Cons:
Doesn't work with Linux.
Customer service for tickets is not available.
There is no option for on-premise implementation.
There isn't a free option.
Pricing:
The

'

Professional,

' '

Professional Plus,

'

and

'

Enterprise

'

plans are offered by NetHunt CRM.
The costs begin at $24 per month and rise to $48 per month.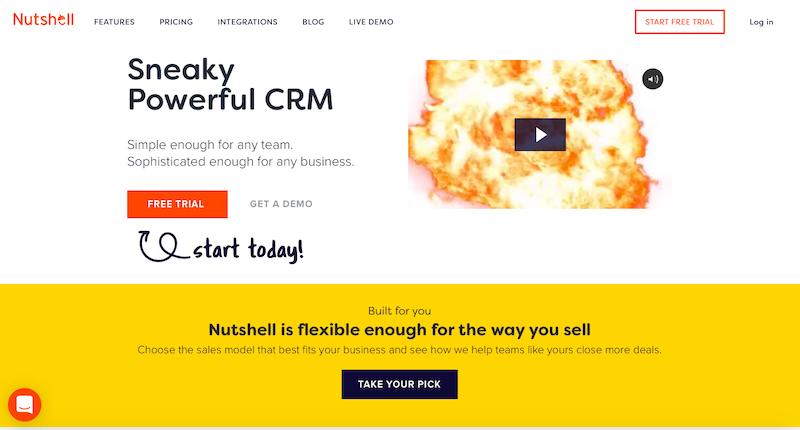 Nutshell CRM is a cloud-based best CRM software that aims to solve a wide range of business process issues. It's a comprehensive solution that can handle all aspects of a business CRM and is ideal for keeping meticulous records. It is powered by Amazon Web Services (AWS).
Pros:
Mobile devices are supported.
Importing and exporting data is simple.
It creates an environment that is conducive to collaboration.
It's quite scalable and adaptable.
Cloud-based services (inexpensive and easy to deploy).
Customer service is available via phone, email, live chat, and tickets.
For 14 days, there is no charge.
Pipeline management in its entirety (drag-and-drop board view, list view, chart view).
Data security, data integrity, and regulatory compliance are all ensured (GDPR compliant).
Takes snapshots twice a day, weekly, and monthly to provide continuous backups.
To protect billing information, the payment card industry (PCI) compliance is required.
Cons: Doesn't allow for the use of several languages (only English).
On-premise deployment is not available.
There are no freemium plans included in the pricing plans.
Pricing:
The first is the $19 per user per month 'Starter' plan, and the second is the $19 per user per month 'Pro' plan (billed annually).
Insightly is a cutting-edge best CRM software that can help you develop your business faster by fostering long-term client relationships.
Pros:
It is compatible with Android and iOS mobile devices.Visual dashboards are provided for displaying and tracking crucial metrics.
Ensures data integrity and regulatory compliance (military-grade AES-256 encryption) (GDPR-compliant).
Calendaring and events are extremely versatile.
It's quite scalable and adaptable.
Filtering and labelling are made easier with this feature set.
Automated email reminders and tracking are built-in.

Free trial for 14 days.

One of the most cost-effective software options.
Customer service is offered by phone, e-mail, and tickets.
There are built-in tutorials for hands-on experience with the software.
Get a macro/micro perspective of your business in real time.
It's easy to use and understand.
Cons:
Live chat assistance and on-premise installations are not available.
Only one language is supported (English).
Pricing:
The costs start at $29 per month per user and go up to $99 per month per user (billed annually).
Insightly also has a free plan that allows for up to two users.