In the last ten years, professional audio production has come a long way. What used to necessitate the use of pricey digital audio workstations (DAWs), audio editing software and recording facilities may now be accomplished with just a laptop and microphone. And, in many cases, audio quality takes precedence over video quality.
Professional audio can sometimes improve a shaky or less-than-perfect visual clip. Poor audio, on the other hand, is far more visible and difficult to remedy with a well-shot video. However, there are so many audio editing software options to pick from when seeking the best application that it can be daunting.
I recall working on a video with a friend and being unable to correct a bad audio track. I spent hours scouring the internet for a tool that could simply remove background hums and p-pops. I eventually found what I was looking for after studying tools late into the night. That's why I put together a list of the top 10 audio editing software for Mac and Windows to save you time.
These tools were evaluated based on their features, cost, convenience of use, export choices, integrations, and other factors. The best audio editing software for musicians, film editors, pod-casters, and everyone in between is covered in this article.
The Best Audio Editing Software
Here are my top selections for the best audio editing software.
For large studios wishing to link their hardware with strong software, Pro Tools is one of the best audio editing software options. Furthermore, Pro Tools has a powerful workflow that allows you to record up to four microphones at the same time. Its Audio Engine has a 64-bit architecture with a low-latency input buffer and is capable of dynamically allocating host processor resources.
Pro Tools also makes it easy to distribute songs. It allows you to stream your music on services such as Apple Music, Spotify, Amazon Music, iHeartRadio, and others.
Here are some of the elements that allow you to create professional-quality sound for movies:
To make greater mixes, you can use up to 768 voices/audio tracks.
The hardware includes a dedicated DSP and high-quality audio I/O.
Routes can be routed in any way you like.
The ability to locate and collaborate with specialists all over the world.
Pros:
Multiple metering standards, such as peak and average to VU, K, and PPM, are used to align with local broadcast norms.
It enables you to compose music as the track is being recorded or entered.
Avid Nitris DX, Avid Mojo DX, and a range of Blackmagic Design video interfaces are also supported by Pro Tools.
It also works with AJA to monitor QuickTime and DNxHD video.
Use the cloud-based collaboration feature to collaborate with up to 10 people on the same project.
Import sessions created with other audio editing software with ease.
During the mixing session, the numerous AIR effects come in helpful.
Pricing:
There are two pricing options for Pro Tools:
Pro Tools costs around $29.99 per user every month (it provides essential tools to compose, record, and mix

audio)

Pro Tools Ultimate costs about $79.99 per user each month (it

provides

ultimate tools for professional audio editing)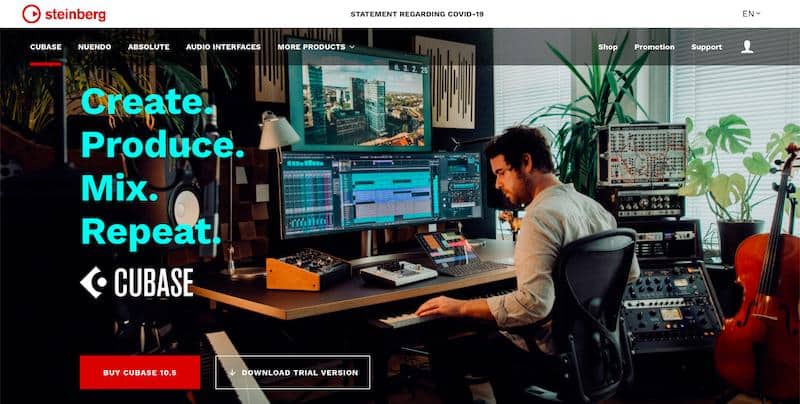 For users who desire to create, mix, and produce music, Steinberg Cubase is a powerful audio editing software. When it comes to audio editing, there are a slew of useful options that may help you improve the mixing and quality of your recordings. Additionally, a variety of adaptable tools aid in the creation of music at a faster rate.
It also comes with a plethora of effects, virtual instruments, and noises to help you give your audio more dimension. MIDI and audio can also be readily edited and sequenced. It can export and import an XML file, which is a plus. You can use the recording automation feature to trigger write, latch, touch, and read modes.
Use the Comp Tool's drag-and-drop interface to quickly compose takes. It has approximately 3,400 patches spread over eight instruments. Over 80 plugin effects are available, including EQ, Delay, Reverb, and mastering tools. Allen Morgan's 150 track presets enable you to arm your audio with amazing music.
Pricing:
A one-time purchase of Cubase costs $329.99.
You can also upgrade to gain access to additional features.
Studio One is a fantastic audio editing software for recording voice and creating amazing beats. It's really responsive and adaptable. Its drag-and-drop interface, for example, allows you to quickly create up instruments with complete pictorial representation.
The drag-and-drop interface makes it simple to perform a variety of other important tasks, such as:
Audio loops, virtual instruments, and presets may all be readily dragged into your session.
Convert MIDI to audio or vice versa by copying FX chains from one channel to another.
By dragging a plugin into your effects chain, you may eliminate problems.
Aside from that, it contains all of the editing features that one would expect from a good digital audio workstation (DAW). From the 'Edit' interface, you may create fades, trim or divide clips, and modify the gain of a clip.
Pros:
It includes a drum editor as well as an acoustic kit.
It has 64-bit floating-point WAV recording and export capabilities.
Using the sophisticated group option, you can edit numerous tracks at once.
Create echoes to constantly vary pitch and delay.
With its Arranger Track, you can efficiently manage arrangements and chord shuffles.
External audio can be fed into the Aux Channel.
Pricing:
A one-time purchase of Studio One costs $449.
Upgrades are also available for more advanced functionality.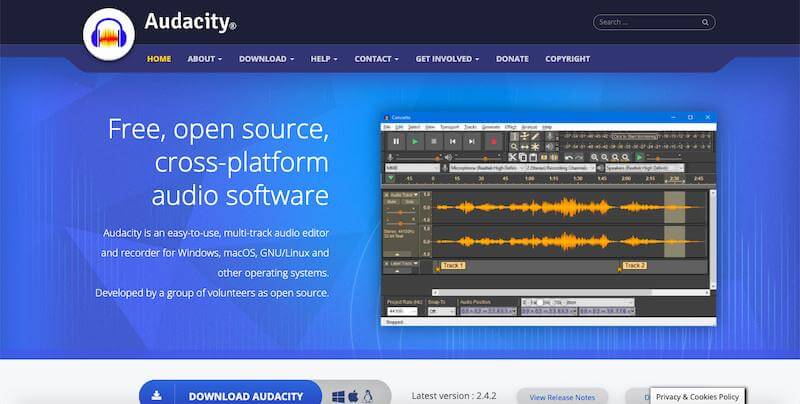 For multi-track editing and audio editing software, Audacity is one of the best open-source and cross-platform audio editing programs. It has a simple interface and works with macOS, Windows, GNU/Linux, and a variety of other operating systems. You can also use a microphone/mixer to record live audio and digitize audio recordings from other sources.
With 16-bit, 24-bit, and 32-bit capability, Audacity also produces high-quality audio. Aside from that, it uses high-quality dithering and resampling to convert formats and sample rates. LADSPA, Nyquist, LV2, VST, and Audio Unit effect plugins are also supported. You can even develop your own plugins if none of these plugins meet your needs.
Pros:
Its plugin manager is capable of handling a wide range of plugin installations.
To go back or forward by any number of steps, you can use an endless number of sequential Undo and Redo.
Export numerous audio files in different formats at the same time.
Its 'Level Meter' keeps track of volume levels in real time or before and after recordings.
Play around with sample points using the Draw tool.
Pricing:
It's a completely free open-source program.
Adobe Audition is a useful audio editing software for broadcasters who want to edit, mix, and recover audio. It's part of Adobe Creative Cloud (CC). Adobe Audition can be used for single-track and multi-track editing. It also allows you to drag & drop files into the timeline, which is a great feature for beginners. Its user interface is simple and modern, allowing you to concentrate on enhancing your audio recordings.
Pros:
Its autodocking tool allows you to dynamically change the sound of speech or music.
Remove hisses, beeps, and background noise by using the Spectral Frequency Display.
This tool also allows you to graphically edit sound-waves.
Add your finished audio files directly to video editing software like Adobe Premiere Pro.
Capture audio from several microphones and mix or modify speech from various speakers with ease.
Both Multitrack and Waveform editing are available.
External equipment, such as mixers or audio interfaces, is supported for improved results.
Pricing:
It provides a seven-day free trial edition.
Business Class: Each user pays roughly $20.99 per month.
Students and teachers receive discounts. Businesses that require several licences are eligible for further reductions.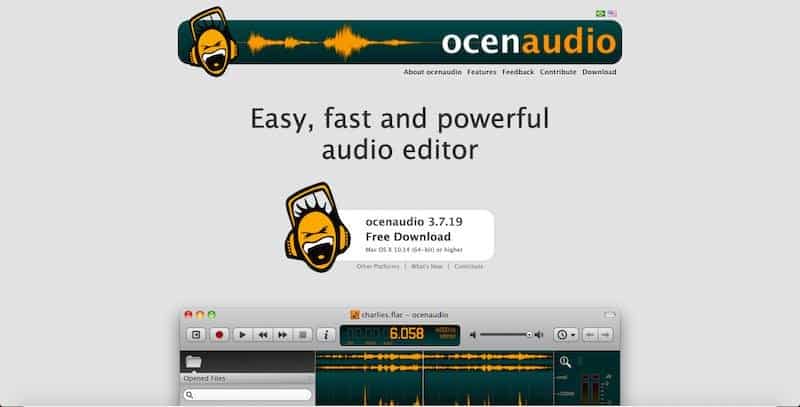 Ocenaudio is a simple, fast, and functional audio editing software that may be used on a daily basis. It has a simple user interface and gives you a real-time display of effects so you can get audio editing done quickly. The keyboard shortcuts in Ocenaudio speed up and simplify your editing process.
Aside from that, it works with files on your local machine as well as ones in the cloud. You can use its vast library of filters for sound modification with the simple press of a button.It also includes a fully filled spectrogram for a more detailed analysis of the audio's spectral composition.
Pros:
Real-time spectrogram adjustments.
Stacking effects are almost non-existent.
For new users, the user interface is simple and straightforward.
Its filters make it simple to achieve the appropriate voice modulation.
You can save time by simply copying and pasting audio segments.
For easier organising, you can convert segments of the audio file into designated "regions."
Pricing:
It's open-source software that you can get for free.
Ashampoo Music Studio is a fantastic audio editing software that also offers full multimedia solutions. It allows you to directly extract audio from videos as well as CDs. To make playlists, you can import entire directories or individual audio songs. Its built-in audio editor rapidly trims and chops audio recordings in the way you wish. Aside from that, the editor can change the volume, split songs, and so on.
Pros:
Automatically rename a few tracks or an entire folder to bring structure to your disorganized playlist.
Volumes can be adjusted in parts of audio files.
You can also turn off the audio for the entire segment.
You can save your final audio file wherever you choose.
At the same time, record audio files from several sources.
It also has the ability to convert audio files into a variety of other formats.
The architecture is compatible with both 32 and 64-bit platforms.
Pricing:
The premium version will set you back $29.99 per user.
It also provides a free trial version of its full-featured software.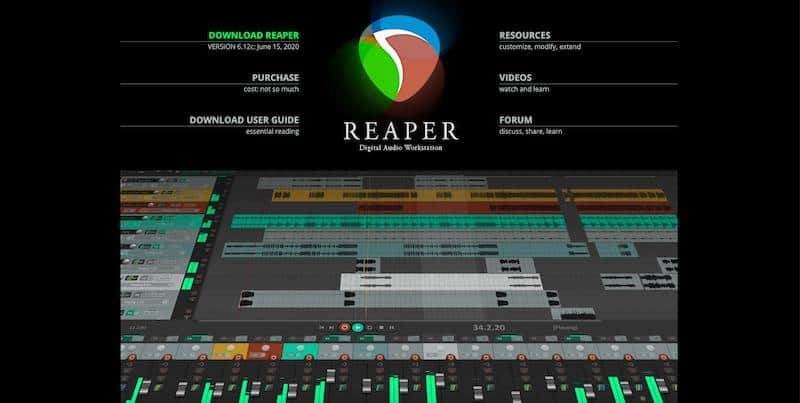 For beginners seeking for a low-cost solution, Reaper is an outstanding digital audio producing application. It works with a wide variety of digital formats, plugins, and hardware. You may also simply tweak, edit, or expand the software as needed.
Another advantage is that it is a well-coded audio editing software with excellent stability and ease of use. You also receive audio and MIDI routing, as well as sophisticated multi-channel capabilities. The crew also publishes regular updates with new features, bug corrections, and feature upgrades. Automation, grouping, modulation, VCA, macros, surround, OSC, control surfaces, scripting, and custom skins are among the other notable features.
Pros:
Enable the loop while ignoring the note-off.

You can personalise the menu and controls to suit your needs.
The envelope control panel assists you in avoiding any possible hangs.
It works with over 20 different audio formats.
It supports a variety of file types, including MP3, WAV, and AIFF.
Reaper also allows you to overdub a video file because it supports all common video formats.
Pricing:
It has two licenced plans to choose from:
Licensing at a discount-$60 per licence
Commercial licences are $225 each.
Individuals or enterprises with a yearly gross turnover of less than USD 20,00 are eligible for the discounted licensing version.
Sound Forge is a fantastic audio editing software for all of your digital audio editing needs. You can edit your audios with professional effects thanks to its extensive set of functions and tools. Additionally, it converts cassettes and vinyl to digital audio. You can also burn and manufacture CDs, as well as generate video soundtracks.
It also includes sound 11 effects from the DirectX plugin to give your audio recording a professional dimension. You can also preview the effects before incorporating them into your final clip. Another advantage of Sound Forge is that its toolbar and interface are totally customisable, allowing you to design your own audio editing experience.
Pros:
Its automatic master wizards allow you to create professional-quality recordings.
The user interface is fully customisable, with four different shades to choose from.
For a comprehensive overview of all the tools, use the Instant Action window.
It will allow you to concentrate on editing and save you a lot of time.
Install a wide choice of chorus, flanger, and creative effects plugins with the quickFX tool.
You can simultaneously edit 6 channels of audio.
Use the Analog Delay function to change an instrument's delay time.
You may obtain the desired voice modulation by using its numerous filters.
Pricing:
Its one-time purchase

pricing start

at about $59.99.
You can also try it out for free.
Sound Forge is a fantastic audio editing software for restoring audio recordings and scanning vinyl LPs. It provides an easy-to-use solution for restoring, cleaning, and digitising ancient audio recordings. This programme makes it simple to improve audio from tapes, records, audio, and recordings. It also includes a sophisticated 1-click solution and a plethora of presets.
Furthermore, the repaired audio file can be exported in any format, including WAV, OGG, MP3, and FLAC. With only a click, you may clean up the sound with a variety of complex audio settings. You'll also have access to an innovative algorithm for altering your audio's pitch and speed. Furthermore, its Auto Cleaning feature takes care of the majority of the audio enhancement on its own.
Pros:
Its 96 kHz/24-bit resolution allows for high-quality voice audio.
It has over 360 presets to assist you in getting the best sound possible.
Its user manual contains all of the necessary tips and tricks for using the software.
RX 7 Elements' De-hum module automatically detects the fundamental frequency of undesired background noise such as humming.
During vocal recordings, use the Voice De-Noise tool to eliminate undesired noises.
You can also rapidly restore a damaged recording.
Pricing:
The paid version will set you back approximately $100 per user.
Audio editing software also offers a risk-free trial.
Visited 5 times, 1 visit(s) today