Are you looking for best Database Software in 2021? The digital revolution has enabled enterprises to generate data at every point of contact with their customers, whether they are tiny businesses or giant corporations. Organizations must keep data in an organized manner while also maintaining its security, whether it be customer data or marketing automation.
90% of organizations with more than 11 employees utilize customer relationship management (CRM) and database software to streamline their data for a wide range of valuable applications. The mobile CRM and database market, which is currently worth $15 billion, saw an 11 percent increase in revenue in 2019.
You must, however, first determine which database software will perform best for your company before implementing it. To make this selection a little easier, I've compiled a list of the best database software to use this year and reviewed it.
Let's get this article started.
W

hat is the Best Database Software?
This year's best database software, in my opinion, includes the following tools:
MySQL
MySQL is a relational Database Software management system that is free to use. The majority of web hosting companies include MySQL as part of their basic packages. As a result, both amateur and professional site designers use it.
Pros:
It has a stronger data recovery capacity.
Those without a programming experience can rapidly pick up on the basics.
Because it is an open-source application, it allows for complete data customization.
Because of its cheap cost structure, it is a more viable solution for small firms and entrepreneurs.
The data development approach is adaptable for both small and large applications.
Integration with the Apache web server is simple.
Cons:
When you restart or refresh the Database Software , queries do not respond.
Having an excessive reliance on third-party plugins
The Linux operating system makes data management more difficult.
Pricing:
MySQL Standard, Enterprise, and Cluster Carrier Grade editions are priced at $2000, $5000, and $10,000, respectively.
dbForge Studio for MySQL is a multi-featured MySQL IDE. An intuitive GUI lets the users work in a visual mode and perform the work routines much faster and without errors. The functionality will satisfy advanced and experienced developers, analysts, and architects and help even beginners perform their work duties efficiently.
Users can benefit from the product's broad compatibility options (MySQL 5.5 – 8.0, MariaDB 5.5 – 10.7, Amazon RDS and Amazon Aurora, and all the popular cloud platforms, such as Azure MySQL, Google Cloud, Alibaba Cloud, and Tencent Cloud). The tool accesses MySQL servers directly without installing any additional libraries.
Pros:
SQL development with quick SQL coding, query auto-completion, formatting, and debugging.
Query profiling with the dedicated tool for planning, analyzing, and optimizing queries to MySQL and MariaDB databases.
Advanced database management with data and schema comparison and synchronization features.
Database administration with specialized tools for backing up and restoring and many options for user management.
Professional data analysis and reporting with graphs, charts, and pivot tables.
Data generation with 200+ high-quality predefined generators and the possibility to create custom generators.
Data import and export with all popular data formats supported.
Cons:
Works on Windows only.
If you use different RDBMSs, you need separate specialized Studios for them.
Some functionality is available in paid editions only.
Pricing:
dbForge Studio for MySQL comes in 4 editions – Express (free), Standard ($179.95), Professional ($299.95), and Enterprise ($399.95). The free Express edition has basic functionality only. A fully-functional 30-day trial is available for the full-featured editions.
Improvado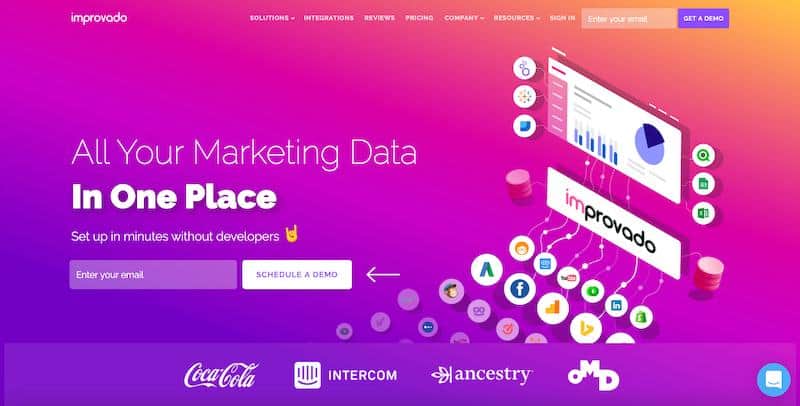 Improvado is a famous database software solution that may help you collect all of your marketing data in real-time for small and large businesses. It's a marketing middle-ware solution that's both versatile and scalable.
Pros:
You can quickly migrate your data and duplicate the online database.
Metrics are compared side by side for faster business decisions.
Data models are integrated in real time while a live connection is maintained on a dedicated database server.
Customer service that is second to none, thanks to the engineering team's extensive training and experience.
Navigation control and a clean user interface
Access to regular status and updates on numerous projects at all times.
Data analysis that is both error-free and enlightening
Users can employ backup software and data recovery options.
Database documentation that has been well-planned and is free of errors.
Cons:
During the analytical comparison
The database frequently ignores the most recent entries.
Pricing:
Improvado's Business package, which costs $100 per month, includes all of the features your company requires.
Small enterprises on a tight budget can benefit from the Enterprise edition's tailored price.
You may also arrange the Database Software demo version to try out its capabilities.
Microsoft SQL Server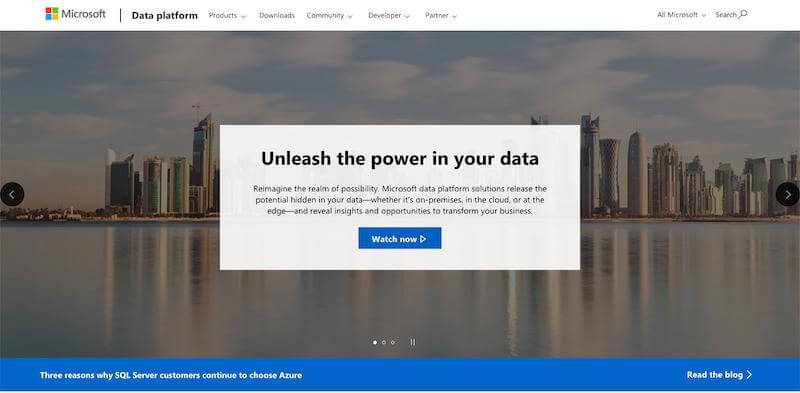 Microsoft SQL Server is one of the most popular and widely used database software systems. This relational database management system server is ideal for storing and retrieving many requests at the same time.
Pros:
It's easier to set up a new database server from the ground up.
Ability to construct several tables, designs, and data without having to use syntax
Make use of the Developer Network
A feature that allows you to create sophisticated queries
Complex queries are handled, and other applications are integrated.
Using Template Explorer, locates a number of names in the database system.
Scripts and views of related objects or groups are combined.
Distributed database management and advanced queries
Software that is more advanced than Microsoft Access
Cons:
The time it takes to execute a large query is frequently longer than the calculated time.
A selected schema makes data maintenance difficult.
Pricing:
The "Express" and "Developer" versions are both free to download.
Paid plans start at $931 and go up to $14,256 per year (one-time cost).
Knack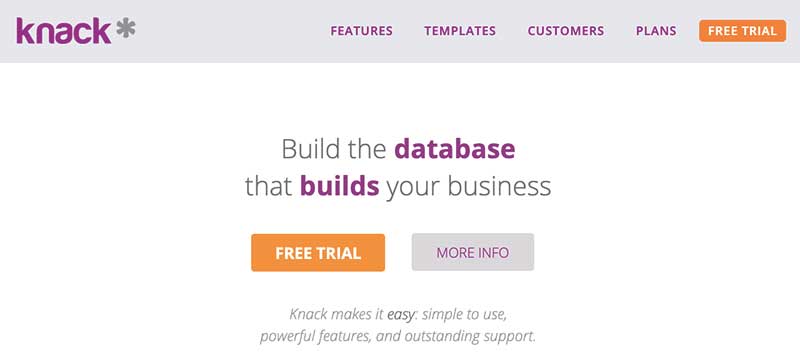 Amazon Relational Database Service (RDS)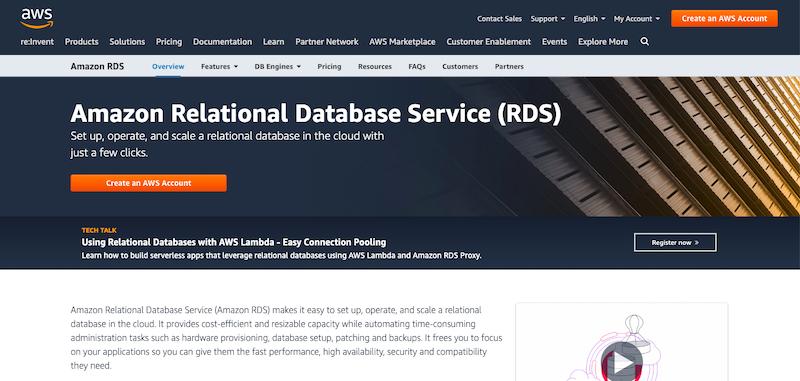 Amazon RDS is a reliable and capable relational Database-as-a-Service (DBaaS) that competes with Amazon Web Services' other capable solutions (AWS). It's a terrific fit for seasoned data scientists, users, and digital-first businesses.
Pros:
It handles large workloads in a single database system.
You only have to pay for the resources you consume at any given time.
Access databases such as Oracle, MySQL, and Microsoft SQL with ease.
It's a popular choice among programmers because of its flexibility and expandable storage via simple API requests.
It provides a solid and reliable performance.
Users have a lot of options and controls.
Customer service that is responsive and capable of
Through its EMR service, it takes advantage of big data tools in a seamless manner.
Cons:
Auto-scale capabilities are restricted.
Users are unable to check server logs due to the lack of actual servers.
It is more expensive than other DBMS choices on the market.
Pricing:
Amazon RDS is a free-to-try service.
Users can only pay for the resources they utilize.
To pay for its services, you can use On-Demand or Reserved Instance.
Although paying for resources utilized may appear daunting, you can quickly estimate your monthly bill with the AWS Simple Monthly Calculator.
SQL Developer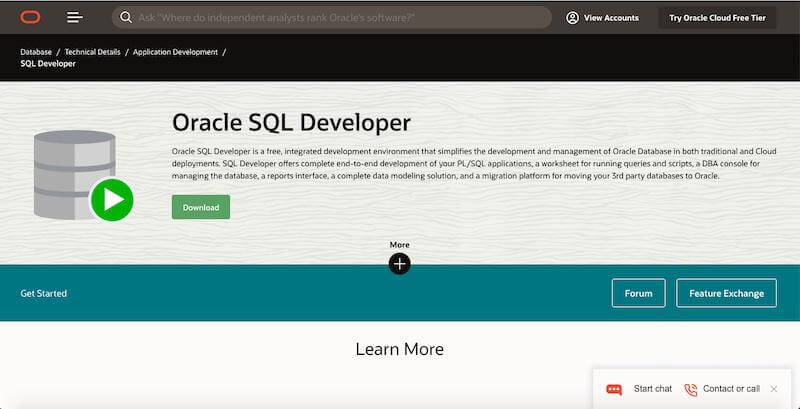 With many database technologies, SQL Developer Database Software provides secure connection features. It offers a great deal of flexibility and a wide range of tools that may be used for any purpose. Furthermore, it aids in the management and development of Oracle databases, whether in the cloud or on-premises.
Pros:
Users can streamline data management.
It gives you access to a variety of database technologies.
For its essential functions, its user interface is simple.
Provides outstanding customer service in the event of a problem or glitch.
The software does not need to be installed.
Simply copy the folder to your operating system.
Cons:
Database queries are frequently changed by automated operating systems.
Storage and resource management, for example, are not straightforward.
With Enterprise Manager, there is no integration with SQL Developer.
Pricing:
SQL Developer is a completely free program.
IBM Informix
Business-critical data is reliably managed and secured with IBM Informix. Database Software has limitless scalability and a wide range of features for harnessing the power of data. It is well-known for providing industry-leading OLTP (Online Transactional Processing) performance at low costs.
Pros:
The basic engine and Warehouse Accelerator module provide cutting-edge data warehouse performance.
In comparison to other RDBMS systems, it may be embedded more efficiently.
From the Raspberry Pi to the state-of-the-art multi-layered distributed nodes computing system, it provides great scalability and compatibility.
Ability to combine relational data with geographical data, JSON data, and other unusual data formats in a time series
Perfect for businesses looking to take advantage of parallel and multi-threaded data processing Intuitive dashboard for monitoring server performance
User authentication mechanisms can be configured using Pluggable Authentication Modules.
The ability to compress data speeds up I/O, replication, and backup procedures.
Cons:
The replication feature needs to be improved.
It's difficult to find people who have worked with Informix before.
Pricing:
Small, Medium, Large, and Extra Large are the four options offered by IBM Informix.
The plans range in price from $1250 to $2200 to $4000 to $8000.
 EMS SQL Manager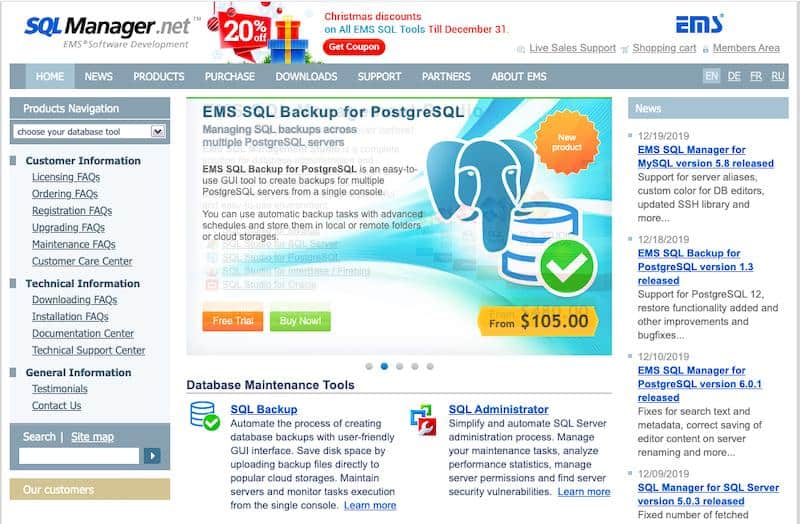 With EMS SQL Manager, you can combine data analytics components into a single dashboard. It also has a strong vendor support team that can handle all of your online database needs.
Pros:
It helps users who only want to keep an eye on an existing database system.
Multiple SQL tools are already linked with EMS.
Multiple SQL queries on the database can be executed more quickly.
Provides HTTP access to the PostgreSQL server.
It comes with a user-friendly and powerful visual database designer.
Data manipulation is more efficient and security management is more significant.
Capabilities to export and import large amounts of data
Cons:
When dealing with several Database Software objects at the same time, it becomes slower.
Providing multi-user access to a system might be complex at times.
Pricing:
EMS SQL Manager is now available for free download.
Oracle RDBMS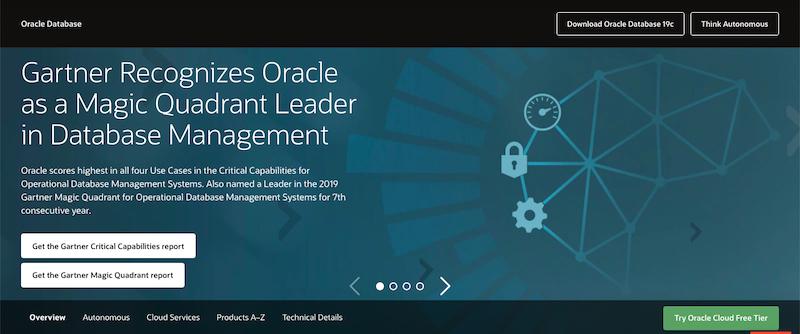 Oracle RDBMS is one of the most popular object-relational Database Software management systems, and its current version has included some important features. Enterprise-scale database technology that may be stored on-premises or in the cloud is available to enterprises.
Pros:
Users can construct partitions to gain more administrative control over their data. Cons: Data security and transactional

process

are not guaranteed.
Complex query optimization that is both efficient and effective
To aid the creation of applications using diverse technologies, dynamic support is provided for easy interface with numerous platforms.
Its intelligent suggestions assist developers in working more precisely and effectively. It provides a solid and steady performance.
Cons:
Its price plan is out of reach for small businesses and startups.
Client apps are plugged in automatically.
The design appears to be a little dated.
When dealing with large stored procedures, it uses a lot of resources and slows.
Pricing:
Oracle RDBMS costs vary depending on the size and type of business you have, as well as the existing software solutions in your IT infrastructure.
As a result, you'll need to contact their customer service representative for specific price information for your company.